RVs typically do not come with centralized vacuums, whether brand new or second hand, any that do are an upgrade by a previous owner adding it to their rig. The amount of dirt that gets tracked in while camping (considering pet fur/mess), how many people/pets are in the RV, and how much carpet is in the RV, can make a vacuum a necessity. If your RV doesn't get that much dirt, you don't have dust/pollen allergies, or pets – a small cost-efficient vacuum (or even a broom) may suffice.
Types Of Vacuums Used In RVs
Vacuums used in RVs are similar to those used in homes and generally categorized as either centralized or portable types. They're categorized as either centralized or portable types. Among the portable types, they can be subcategorized as corded or cordless. Each will have a particular advantage and disadvantage, based on your vacuuming needs.
Centralized Vacuums
Centralized vacuums (also called "central-vac") are semi-permanent or permanently installed vacuum systems. They're intended for homes or garages, but there are compact versions designed for RVs like the Dometic RVAC. They can be surface-mounted or built into an available RV wall panel that has at least 4 inches depth.
They're connected to the RV electrical system, and the stretch hose can shrink and be tucked in when not in use. The price range can range from the Dirt Devil's version starting at USD$243 up to Intervac's USD$378. Installation fees depend if you want to do it yourself or have it professionally installed (price based on square footage). Some central-vac systems will have a baseboard option that allows debris to be sucked up.
In a 2001 study, the pros of centralized vacuum, as explained by The Day are:
They don't recirculate the air (via the exhaust) back into the living space. This in effect makes the air healthier.
Often has more power.
Can increase the value of the RV
Can last up to 10 years (or more)
And, depending on the make and model:

may produce less noise than the average vacuum cleaner
some have self-cleaning filters
Some cons for having a central vac are:
The length (and storage) of the hose may become annoying
Uses more power (check if your RV's electrical system can handle it)
Installation is expensive
Portable Vacuums
Portable vacuums can come in different forms and either have a power cord or rechargeable batteries. From upright or canister vacuums to handheld versions, bag or bagless, air quality features, or automated ones like the iRobot Roomba vacuum there will be one that fits your needs. The aim is to have cleaning efficiency while being compact & portable.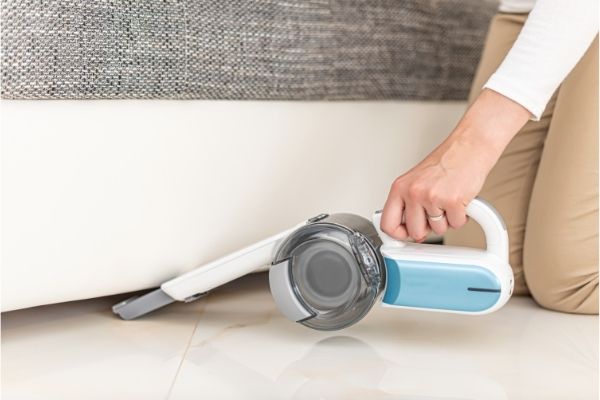 Corded Vacuums
Corded vacuums are designed to have power and maneuverability. Whether upright or a canister, a lot will come with different attachments so that they can adapt to the surfaces (or nooks and crannies) that need to be cleaned. Price starts from USD$34 up to a few hundred dollars.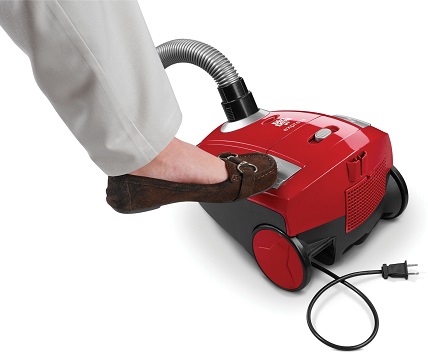 Cordless Vacuums
Cordless vacuums are light, compact, and have rechargeable lithium-ion batteries. Depending on the vacuum setting, some can work between 60-120minutes. Depending on the make and model, they may (or may not) have enough power for a thorough clean. Price ranges for decent models can range from USD$22 and can reach up to USD$800.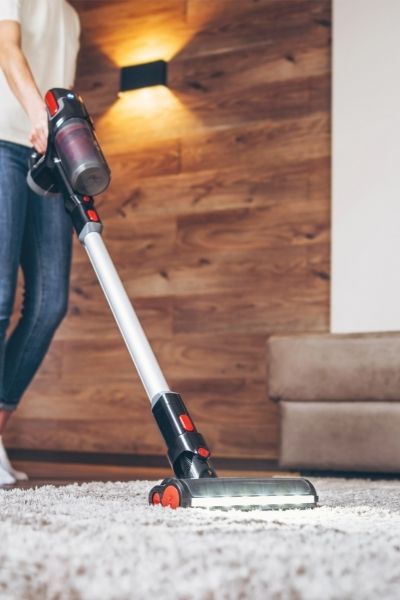 What Makes A Vacuum Good?
The technical and safety specifications, certifications/ISO standards, together with user reviews help determine if a product is good or not. These criteria may differ slightly based on the country's safety standards – like how the SCC has a standard for vacuums and ISO.
Criteria
The vacuum that would fit your RV cleaning needs, will be specific to you. Different manufacturers call the product specs differently, so it's good to understand the basic electrical terminology HERE. The link will also help see if your RV has enough power for your vacuum of choice. Vacuum technical specs are:
PRIMARY SPECIFICATIONS
Electrical Motor Power
Electrical motor power is the amount of electricity (in either Amps or Watts) to make the motor work. This is different from the suction power of a vacuum (Watts Motor Input Power) or the motor's efficiency. Remember that even if the vacuum wattage can range from 40 – 2500W, only a portion of it will often go to airflow and suction pressure.
Airflow Ratings
Airflow rating is the amount of air from the motor air intake (not including the suction hose/attachment), through the filter system, dust bag, and out the motor. Simply put:
Increased airflow = Increased cleaning power (filters, motors, etc.)
Airflow rating is measured in either liters/second (l/s) or cubic meters per minute (m3/m) or cubic feet per minute (CFM or ft3/m). It's different from "air watts" which some manufacturers use to rate the vacuum's air exhaust output. Air watts won't be highlighted too much since airflow is much more important when comparing vacuum specs.
Suction Pressure/Power/Water Lift/Sealed Suction
Suction Pressure or Power is how powerful the motor can vacuum. Other vacuums call this "water lift," "sealed suction" or use atmospheric pressure "PA" (pascals) or "kPA" (kilopascals). A test is done with a sealed water tube, and it checks how high the water level goes when the vacuum is turned on. To simplify this:
Increased suction pressure = Increased larger debris
The table below illustrates this point:
| | | |
| --- | --- | --- |
| kPA | PA | Particles |
| 1 | 1,000 | Dust |
| 8.5 | 8,500 | Dust, hairs |
| 16 | 16,000 | Debris, crumbs |
| 20 | 20,000 | (Average household vacuum) |
Remember that suction pressure and airflow are inversely proportional. This means an increase in one will often lead to a decrease in the other. A decent vacuum should have a good balance of a high airflow rating (120-140CFM) and around 20kPA suction pressure.
SECONDARY SPECIFICATIONS
Filtration
A vacuum's airflow is affected by the type of filter(s) and dust bag used because they add air resistance. Two-stage vacuums are available since HEPA (High-Efficiency Particle Air) and ULPA (Ultra-Low Penetration Air) filters require pre-filtration to remove larger debris and particles. A good quality HEPA filter can decrease the CFM by an estimated 30% since it can remove 0.3µm diameter submicron particulate matter (PM) air pollutants.
Quality
The vacuum's quality often includes its durability. This is determined by how heavy duty the materials used are and the vacuum's warranty. An RV forum showed some users' RV vacuum lasted up to 17-20 years before replacement.
Noise
Sound intensity is how loud something is measured in decibels (dB). For vacuums, the noise has to be tolerable while cleaning. Ideally, a vacuum shouldn't be more than 75dB. Below is the average sound range as examples:

Additional Vacuum Features
With the range of vacuum brands and models, a lot of them will have features and configurations that will make some outshine others. Price, capacity, warranty, weight, power cord or hose length, hose attachments, are secondary specs to narrow down which vacuum fits your need.
What Kind Of Vacuum Do I Need?
If planning to buy an RV vacuum, consider these points:
Vacuum size that would fit a designated storage area when not in use
Kind of cleaning needed (considering allergies, fur, wet surfaces, etc.)
Convenience (handheld or stick, corded/cordless, how easy it is to clean, etc.)
Power available in the RV (whether to plug it in, or charge the unit)
Weight
This table shows the most popular vacuums used in RVs:
PORTABLE – CORDED
 

Price

(USD)

Weight

Surface

Cord length

Suction Pressure

Special Feature

$

2.6lbs

All

15ft

-***

Lightweight, bagless

$

3.2lbs

All

18ft

–

Bagless

$$

3.7lbs

All

15ft

8.5kPA

Washable filter, bagless, converts to a handheld

$$

3.3lbs

All

32ft

17kPA

Can remove pet odors, cyclonic

$$

2.42lbs

Dry surfaces

–

20kPA

Lightweight, washable dual-HEPA filter

$$$

11.5lbs

All

25ft

–

Wet & dry surfaces, remove pet odors
*#1 best seller on Amazon (Oct 2021)
**Amazon Choice
***Amazon User claims it doesn't work on the sand on the tile surface
PORTABLE – CORDLESS
 

Price

(USD)

Weight

Surface

Battery life

Suction Pressure

Special Feature

Bissel Pet Hair Eraser (2390A)

$$

3lbs

All

17min

-***

3-stage filtration

Black + Decker 20V (BDH2000PL)

$$

3lbs

All

90min

(35AW)

Bagless, 3-stage filtration, cyclonic

$$

1.4lbs

All

9.5min

-***

Lightweight

$$$

2.64lbs

All

18-35 mins*

12-23* kPA

65 dB, washable HEPA filter, 5-layer filter system

$$$$

3.19lbs

All

~45min

-***

surface adaption

$$$$

7.85lbs

All

120mins

-***

71 – 85 dB*, HEPA filter, surface adaption
*Depending on the cleaning mode
**no longer sold directly by Dyson (newer models available)
***not published by the manufacturer