Popup campers are a class of campers that are designed to allow you to enjoy RV-style camping using a smaller and lighter-weight camper. By reducing the size and weight of the camper, RVing becomes more accessible to those who don't have large specialized trucks, tow vehicles, or the space to store a traditional travel trailer, fifth wheel, or truck camper.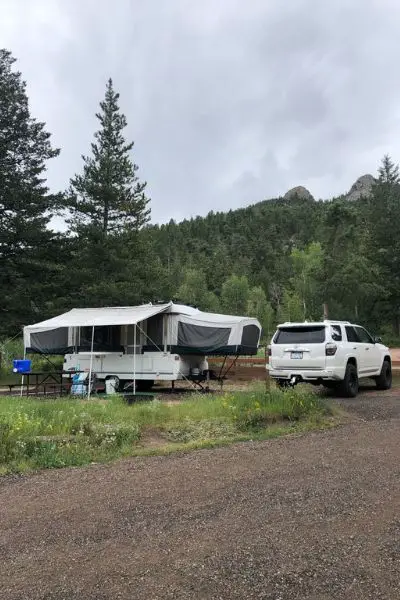 These units allow people with standard cars and basic pickup trucks to enjoy all the benefits of RV camping. The only significant tradeoff is some additional time needed to set up and break down camp. Let's take a closer look at pop-up campers to see if they would be the ideal RV solution for you.
What Is A Pop-up Camper?
Pop-up campers are available as trailers or truck campers. They are designed to collapse into a compact, lightweight unit for travel between campsites. When you arrive at your campsite, the setup process requires you to expand, or "Pop-up" the camper into its useable form.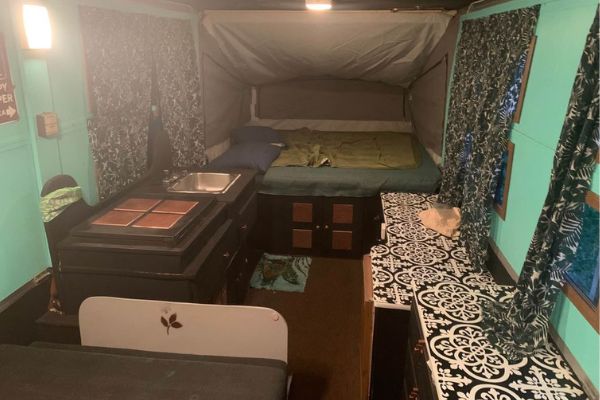 How that is done will depend on the style of pop-up camper you have, but the process can usually be completed with one or two people working in just a few minutes. For a more detailed look at this topic, check out our article What Is a Pop-Up Tent Camper?
Styles Of Pop-up Campers
Pop-up campers make up a very diverse group of campers who are designed to meet the needs of specific niche camping markets.
Tent trailers – The tent trailer is the most common form of a pop-up camper. These consist of a hard-shell base unit and a hard-shell top. The top is connected to the bottom via a set of rails that can telescope or expand to raise the top above the base. The walls are fabric and are connected to the top and base. As the top is raised, the fabric sides are pulled tight to form the walls. Many of these units have bed panels that extend out from the front and rear of the camper, providing sleeping areas at each end.
Toy hauler tent trailers – Toy hauler tent trailers are a great way to take small toys with you like ATVs and UTVs while still being small and light enough to be towed by most vehicles. They achieve this by extending the length of the trailer tongue and adding a trailer deck on top of the extra space. While this "garage space" is usually not covered, it does still provide a separate area to haul your gear from the main camper.
High Wall Trailers. High-wall trailers have a base unit with higher walls. While this does add weight to the trailer, it also allows for taller cabinets and fixtures to be installed into the trailer. Those fixtures can include larger refrigerators, stoves, and other appliances. They are available in two different styles:

high wall tent trailers. These are essentially the same as a standard tent trailer with a higher base wall. This makes the fabric section of the trailer slightly smaller while adding the high wall benefits listed above.
High wall hard-sided trailers. Highwall hard-side trailers provide the benefits of higher base walls in a full hard-sided pop-up camper. Of these, the Hi-Lo brand is probably the most popular. It has a unique system that allows the rigid top half of the trailer to lower down over the base.

Off-Road Pop-up Tent trailer. There are quite a few off-road capable pop-up trailers on the market today. These are differentiated from their on-road cousins by specialized suspension systems, high ground clearance, larger tires, and beefier construction overall. The added off-road capabilities and improved durability does come at a weight penalty. This unit can be quite a bit heavier than a similarly sized on-road model with some units topping 6,000 lbs empty.
A-Frame trailers. A-frame pop-ups are a great option if you want a hard-sided pop-up unit. These campers have a similar rectangular hard shell base to a tent trailer. The upper walls are rigid and fold down onto the base for travel.
Pop-up truck campers – Pop-up truck campers are a popular way to convert a standard pickup truck into a camper. These units range from simple tent systems to complex hard-sided units and many combinations in between. The major benefit to these is twofold. Weight savings, and lower wind drag while traveling. These combine to provide much better traveling fuel economy in your truck when compared to a standard rigid truck camper.
Inflatable pop-up trailers – https://www.opuscamper.us/op-4/. Inflatable pop-up trailers are a new innovation in the marketplace. These units feature a camper base like a tent trailer, but the upper part of the trailer is raised by inflating it with an onboard pump. The air pressure inside the upper structure holds it up while you are camping. When it's time to break camp, that air is pumped out and the upper area deflates into the base for storage while traveling. This would be classified as a soft-sided camper which may limit where you can use it.
Fold-out trailer https://camp365.com/interior-of-cam/. Camp365 is another new innovation in pop-up trailers. This unit features a combination of aluminum and fabric panels which allows it to fold up into a compact, lightweight, easy-to-tow package. Upon arrival at camp, it can be quickly expanded into a solid, full-featured camping cabin. The nice thing about these units is the extremely small dimensions when folded for towing. It is one of the few RVs which can be towed by a UTV down a narrow UTV trail.
Motorcycle pop-up campers. One of the major benefits of pop-up trailers is their lightweight. So much so that there are models which can be towed by motorcycles. Teardrop or folding tent-based campers are the most common. These can have unloaded weights as low as 500 lbs which makes them easily towable by larger modern motorcycles.
Teardrop camper. Teardrop campers are a popular option for quick weekend getaways for up to a couple of people. Many teardrops feature a pop-up rear section. Then traveling this section is down which gives the teardrop camper its aerodynamic teardrop shape. While in camp, it can pop up, giving the camper a more rectangular side profile. This is a common area for the kitchen to be located and it is usually accessed from the outside of the camper.
What Are The Sizes Of Pop-up Campers?
Pop-up campers are generally smaller RVs, but they still span a wide range of sizes. The smallest units, like the SylvanSport Go, come in under 12 feet and under 1,000 lbs empty (1460 lb GVRW). The largest pop-up ever made was the 2010 Coleman Avalon, which came in at an impressive 28.8 feet in length while still retaining a fairly modest GVRW of 4600 lbs. Most pop-up models will fall into the 12' – 22' range with GVRW's at 3,000 lbs or less.
How Heavy Are Pop-up Campers?
Pop-up campers typically weigh in the 1,000 – 3,000 lb range, but there are outliers that fall beyond those numbers. Within the 1,000 – 3,000 lb category, you'll find the majority of the tent and A-frame units which are the most popular options on the market. Within those two groups, the tent campers are lighter with weights from 1,000 – 2,400 lbs or so. The hard sides of the A-frame can add 500 – 1,000 lbs to those weights, bringing them into the 1,500 – 2,900 lb range.
The additional frame and decking on toy hauler models also add weight to the base unit. Expect to add at least 200 – 300 lbs to a popup for an equivalent toy hauler model. The Flagstaff 28TSCSE for example comes with a 12' box bringing the total length over 30 feet. That extra length brings the empty weight to nearly 3,300 lbs.
The higher wall of high wall trailers also adds weight over the standard wall units. Expect to be hit with a penalty of at least a couple hundred pounds. If you have a vehicle that can tow it, the added interior cabinet height could be a fair tradeoff.
Finally, off-road trailers tend to be the heaviest of them all. These require heavier suspension, stronger frames, and beefier construction in general. The tradeoff for that durability is added weight. Some of these units can exceed 6,000 lbs empty. That's beyond what most cars and many vans and small displacement trucks can pull so make sure you read through the specs carefully if you need to tow with one of these lighter-duty vehicles.
What Will You Find In A Typical Pop-up Camper?
The amenities in a pop-up trailer can vary widely depending on the type and specific model. There are a couple of general rules though. First off, just about any amenity, you can find on a large RV can be found on a pop-up. Air conditioning, solar systems, water heaters, stoves, furnaces, microwaves, TVs, outdoor showers, outdoor kitchens, etc. are all available on one unit or another. '
Next, the smaller the unit, the fewer amenities because space limitations just don't allow them to be installed. The amenities that are usually first to go are those that are easily provided by a typical campground like showers and bathrooms. While there are several great pop-ups with showers and bathrooms, these tend to be larger units.
By the time you get down to the smallest teardrop campers, you will almost certainly be limited to using the campground facilities when the time comes. That's not necessarily a bad thing. Many people, even those in fancy Class A's, prefer campground showers to the ones in the RV. They usually have endless hot water, and better water pressure, they don't add humidity to your camper and you don't have to clean them.
When shopping for a pop-up camper, make a list of your must-haves and put them in order. Shop for a unit that has them all, if you can't find one then start scratching off the less important items until you have one or more candidates that fit the bill. Chances are, you'll be pleasantly surprised how little you'll need to compromise and those compromises will likely be forgotten by the time you set off on your return trip from your first camping adventure.
Advantages Of Pop-up Campers?
The major advantages of popup campers are weight, size and in some cases cost. These units are typically very lightweight, which allows them to be towed with just about any vehicle. In fact, some can even be towed by an ATV or UTV. You generally won't need to buy an expensive specialized tow vehicle like you would for a larger travel trailer.
The lightweight and size also mean you can get better fuel economy while towing one of these. Weight and frontal surface area are the two major factors that make towing typical travel trailers very inefficient. These units are lightweight and have a very small front profile while in travel mode. This translates to much less wind and weight resistance which leads to better fuel mileage.
Downsides Of Pop-up Campers?
There are several downsides to pop-up campers. Some of those downsides are style specific. The major general downsides are that they are small, require more effort to set up and break down, and they often are not available with features that you'll find in larger RVs. One of the biggest of those features is a bathroom.
Many pop-up units simply don't have the space for them. Kitchens also tend to be much more basic because of the height limitations of the typical pop-up RV base. The mechanisms involved in allowing the unit to collapse can also be problematic or present additional maintenance issues.
There are a few style-specific downsides to the wall. Many of these units rely on fabric sides to allow them to fold up for travel. That fabric is generally not considered "wildlife proof". Bears and other large animals may be able to breach those walls in search of your food stores, or worse. For that reason, many campgrounds in the western US bear country do not allow soft-sided campers to use their grounds.
If you plan to camp in those types of areas you'll want to make sure you look at hard-sided units. Additionally, any fabric-sided camper will not retain heat well. Even if a furnace is present, don't count on them being comfortable in cold temperatures, and using one for extended cold weather camping would be ill-advised if not dangerous.
What Is The Smallest Vehicle Required To Tow A Pop-up Camper?
The smallest vehicle required to tow a pop-up camper will depend entirely on the specific pop-up being towed. This is true for all towable RVs. Each trailer will have a gross vehicle weight rating (GVRW) and a tongue weight. The gross vehicle weight rating is the maximum camper weight when it is fully loaded and it should never be exceeded.
The tongue weight is the amount of trailer weight that is carried by the tongue when it is attached to the tow vehicle. While this can vary, it should not be significantly higher or lower than the manufacturer's specifications. If it is, then you should adjust how you have your trailer loaded to get back into spec.
Your tow vehicle will need to have a tow rating at or greater than the GVRW of the trailer. Your trailer hitch and ball will have to be designed to tow the trailer weight and support the tongue weight. Finally, your tow vehicle should have a CGVWR, or combined gross vehicle weight rating. The combined weight of the trailer and your loaded vehicle cannot exceed that.
So, if your empty car weight is 4000 lbs, it has a tow rating of 2000 lbs and a GVWR of 6500 lbs then you can tow a 2,000 lb trailer and put 500 lbs of people, pets, cargo, and other stuff in the car before you exceed your weight ratings. For more details on towing a pop-up check out our article What Do You Need To Tow A Pop-up Camper?
What's It Really Like To Stay In A Pop-up Camper?
Like all RVing, it can be a great experience. While your specific experiences will depend on your specific type of unit, I can say that in general, it's like upscale tent camping with many of the comforts of home. Soft-sided campers will allow you to feel the breeze and hear the critters outside, much like when you're in a tent.
Hard-sided campers will give you an experience closer to a full-sized travel trailer albeit perhaps without some of the amenities like a dry bath. Whether you are moving up from tent camping or just getting started in camping, Pop-up campers are a great option to get into an RV without having to make a huge investment in a camper or high-end tow vehicle.
If you choose the one that meets your needs, you'll have everything right there to provide the perfect base camp for your outdoor adventures. That's all any RV really does. For a more detailed description you can check out our article What's It Really Like To Stay In A Pop-Up Tent Camper – Brutally Honest!