Can You Use An Instant Pot In Your RV?
What To Cook?
There's nothing better than coming back to your RV after a long day of outdoor activities to your favorite homecooked meal, warm and ready to go!  An instant pot is one of the best cooking appliances you can utilize in your RV on your next camping trip and the recipe options are limitless!  Cooking in your instant pot provides you with healthy, hearty, flavorful meals in the shortest amount of time possible.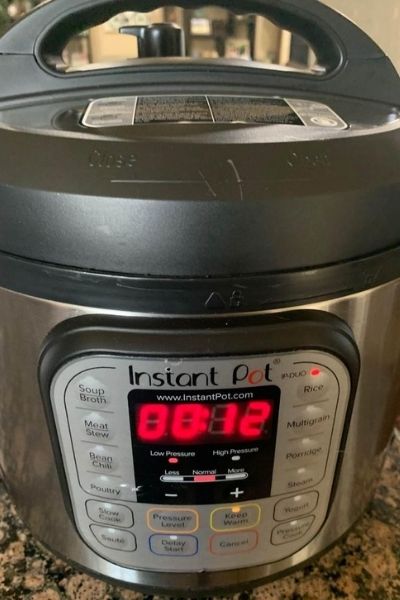 Instant pots are one of the best kitchen appliances for RVs because they don't take up too much space.  They also offer a one pot stop for your entire meal that makes clean up a breeze!  Using the instant pot will help you avoid multiple pots and pans to clean once you are finished with your meal.  
Cooking meals in your instant pot gives you consistently delicious food with a countless recipe options to suit your most savory desires on the campground.  It also gives you the opportunity to preset your cooking options so you can setup your breakfast, lunch, or dinner before heading out on your daily adventures.  Unlike the more traditional methods of slow cookers, the instant pot will cook your favorite 'slow cooked' meals in half the time!
The instant pot has quickly become a household staple in recent years with new technology and multifunction cooking options.  A typical instant pot includes the option to slow cook, sauté, pressure cook, functions as a rice cooker, steamer, and warmer.  Having a multifunctional appliance in your RV helps you save space by allowing you to ditch other appliances that only have one function.
Many RV campers biggest concern when looking to dive into new appliances for their campers is how much power it will use.  Luckily, the instant pot comes in a variety of sizes including 3-quart, 6-quart, and 8-quart options to fit your RV's amps and wattage.  Keep reading to find out which instant pot will work for the power source in your camper!
How Many Amps Does An Instant Pot Use?
Does Instant Pot Use A Lot Of Power?
A standard instant pot ranges from 3-8 quarts and will range from 900-1200 watts. 1000 watts is equal to 8.4 amps, 1100 watts is 9.2 amps, and 1200 watts will use about 10 amps. An average microwave will utilize about the same number of watts. An average conventional oven utilizes 2,000-5,000 watts.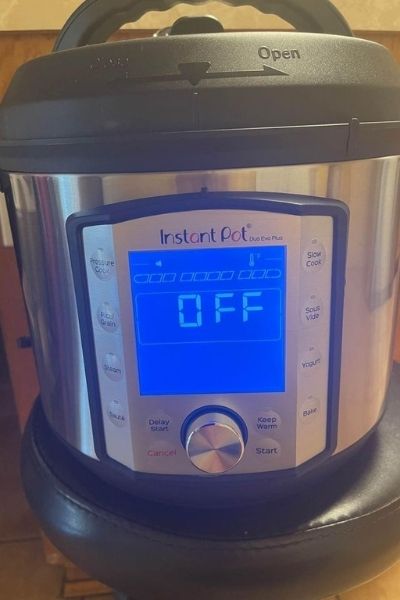 Instant pot product comparison charts provide more detailed information on products, sizes, models, dimensions, weight, voltage, etc. Utilizing the chart provided by Instant Pot Product Support will give campers the most detailed descriptions for the variety of options suitable for their RVs needs. RVs with 30- or 50-amp electrical setups will have no issue powering an instant pot that ranges from 3-8 quarts.
The number of amps used will vary depending on the setting or cooking stage you are in while using your instant pot. For example, while the instant pot is building pressure it will utilize a larger number of amps opposed to when it reaches gradual release of the pressure build, or if you choose the sauté option. Most avid campers prefer the 6-quart instant pot option because of the number of the number of amps and electricity that will be needed.
Can You Use An Extension Cord With An Instant Pot?
According to the instant pot user manual, an extension cord should only be used if the electrical rating of the extension cord is at least 12 amps and 12o volts. Since an instant pot has a polarized plug where one blade is wider than the other, users need to be wary of choosing an extension cord that will meet the needs of a polarized plug.
Choosing an extension cord that does not meet the needs for the amps and wattage of your instant pot is a serious fire hazard. Even when you choose the correct extension cord, you still must exercise caution when considering the placement of extension cords inside of your RV. Cords should not lay over the counter as this can contribute to additional safety hazards.
The Extension Cord To The Instant Pot Gets Hot In RV, What Should You Do?
An extension cord overheating in your RV requires you to immediately turn off the appliance or turn off the circuit breaker to avoid a fire hazard. When an extension cord overheats it is usually a result of overloading or using more watts than the cord is capable of handling. Be careful when removing the cord from the outlet, if it is overheating you should wait a few minutes until the extension cord has cooled before expelling it from the outlet.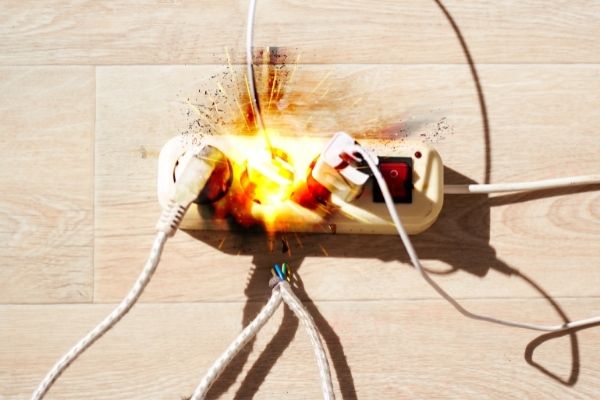 Other common reasons for your extension cord overheating can be a result of too many power strips being used in a single outlet. Be sure when using an extension cord for your instant pot that you only plug that cord into the outlet. Damage cords also tend to overheat, so be sure you are checking your extension cords for damage before using.
Where's The Best Place To Put Your Instant Pot In Your RV?
The best place to keep your instant pot while cooking in your RV is on a counter that has an electrical outlet behind it and avoids any obstruction to the appliance. Having an outlet near by will help you avoid finding an extension cord that works and will promote a safer environment for use because your instant pot cords will not be dangling over the edge of the counter in your RV.
When you are releasing steam from your instant pot it is also important to consider how close your instant pot is to your other appliances or cabinets in your kitchen. Remember, the steam is extremely hot and can damage parts of your RV if you are not careful. Exposing cabinets to steam can soften your paint or warp the wood in the RV.
Keep your pressure-cooking valve away from your cabinets by placing on counter that is not underneath your cabinets. If possible, you can pressure release under the hood vent by placing your instant pot on your stove cover. The hood vent is meant to take in the steam and heat and will help with the natural and open valve options for releasing steam. Whichever precautions you take, don't use a towel or paper cloth to try to redirect your pots steam, this will result in severe burns.
Is It Safe To Leave Instant Pot When Not In Your RV?
One of the best functions of an instant pot is that you can leave it unattended in your RV for the duration of your recipes cook time. Be sure you follow the directions for the recipe you are cooking and avoid overfilling your instant pot. Overfilling can result in in spills that can lea lead to other cooking hazards.
Don't forget that you can set your instant pot to a specific start time. This is called a 'delayed start'. You simply add all your ingredients, select your desired cooking function, and then press the timer key to select the delayed number of hours until your cook time. With this function you can be sure to return to your RV before the cooking process is complete for a manual steam release.
Can You Use Your Instant Pot When You Are Driving Your RV?
You can use your instant pot while driving if you utilize your generator as a power source. Just be sure you have your instant pot in a secure place where it won't fall off your counter tops. Campers who choose to use this appliance while driving often secure their instant pot in their sinks for a secure and safe cooking option.
Keep in mind that running your generator continuously while driving will use up a greater amount of fuel, but most campers enjoy the option of having their meal cooked and ready to serve as soon as they pull off the road!
Do You Need A Generator For Your Instant Pot When Out Boondocking?
The only way to power your instant pot while boondocking is with the use of a generator or solar power with an inverter battery. The generator is the simplest option for using your instant pot while boondocking. A solar power option with an inverter battery will be a much more complex option, especially if you are trying to power a larger size instant pot.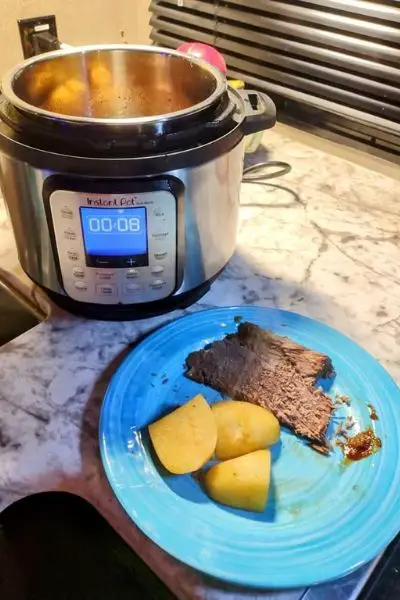 Most solar power options with an inverter will only allow you to utilize a 3-quart instant pot. Keep in mind that you will need 200 watts solar power and 1000-watt battery inverter to power a 3-quart instant pot.
Solar options are the most expensive way to power your instant pot while boondocking. Not to mention, sunlight will directly impact the efficiency of your power and productivity of your cooking. For more firsthand information from an avid camper, view this video for further information on using your instant pot while boondocking.
My Instant Pot Keeps Blowing My Breaker In My RV, What Is Wrong?
An instant pot that keeps blowing a breaker in your RV is since you are consuming more amps than your RVs circuit breaker can hold. The same things happen in your home when too much power is applied to one circuit, and you need to access your electrical box to reset the fuse. A sure way to avoid blowing your breaker is to first make sure all other appliances are turned off and unplugged before turning on your instant pot.
Most instant pots use 9-11 amps while in use and it's a good rule to try and avoid applying more than 80% of the amps of a circuit breaker to a circuit. If your RV has 50 amps, work to apply 40 or less amps of load to your circuit to avoid blowing your breaker.
Circuit breakers were created to avoid causing long term issues with your electricity. They are a safety precaution to protect your electricity's wiring. Keep in mind that if you continuously blow your breaker, it will result in a breaker that trips well before it reaches it it's full capacity.
Tips & Tricks For Using Your Instant Pot In Your RV
As the instant pot has risen in popularity in both homes and RVs, there are many tips and tricks for beginners to consider before starting to use their multifunctional appliance:
Avoid using milk or dairy based ingredients in your instant pot to prevent burning. You can simply add the dairy options once the pressure cooking is completed so your food doesn't burn. Cook times are much different than using a conventional oven or slow cooker. Refer to the cooking timetable from instant pot for a quick reference of cook times for different ingredients.
Another tip people don't consider when using their instant pot is that you can easily cook frozen foods quickly! Simply sauté the frozen food for about 5 minutes to release liquids before pressure cooking. No need to defrost beforehand!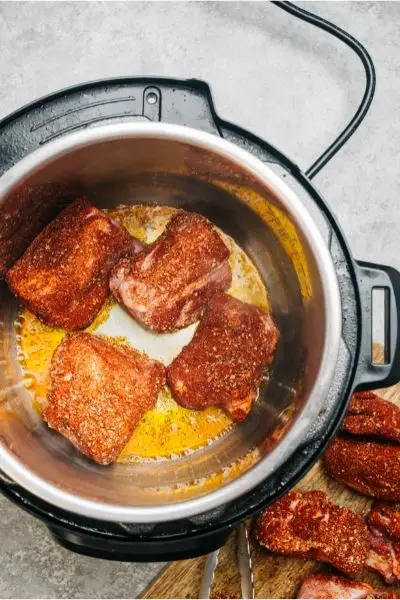 Don't forget to checkout all the additional accessories for cooking while using your instant pot. This includes egg molds or steaming racks, vegetable steamer baskets, and silicone attachments to avoid potholders when removing the inner pot after cooking. The company keeps expanding on ideas to improve cooking with the instant pot based on customer feedback and suggestions.
What Kinds Of Food Is Best Cooked In An RV Instant Pot?
One of the greatest features of the instant pot is that you can cook ALL your favorite foods in your RV in a small amount of time, your options are limitless! Most beginners tend to stick with traditional recipes they would use similarly in their crock pot or slow cooker, but don't be afraid to branch out because the multifunctional features of the instant pot provide you with far more cooking options.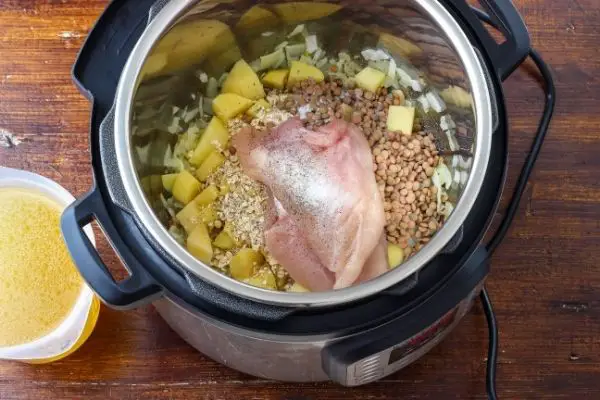 You can access over 1000 recipes from Instant Pot on their website. There are also countless instant pot recipes posted by people every day to give a try! Whether you're in the mood for steak, soup, roasted chicken, saffron rice, yogurt, or desserts, the instant pot can do it all at breakfast, lunch, and dinner!