The Ram Promaster is a van platform commonly used to build class B motorhomes. It's one of three van platform options commonly used in the industry which also include the Mercedes Sprinter and the Ford Transit. Of the three platforms, the Promaster is the least expensive but also has the fewest available options and configurations.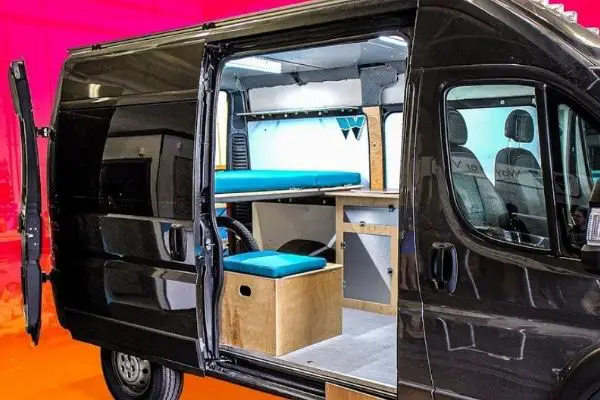 It has fewer engine, drivetrain, and chassis configurations available than the competing manufacturers. However, what it lacks in options it makes up for in providing a solid, unified platform for doing one thing great. That one thing is class B conversion vans.
The body of the Promaster is flatter and squarer than the competition which gives it greater interior volume. This translates to a class B that is easier and cheaper to build out while feeling larger and roomier than the competition.
Overall, the Promaster makes for a great class B motorhome experience which is why it has been adopted by so many of the top builders. Here we'll take a look at a few specific units as well as cover some of the general features and common questions surrounding the Promaster platform.
What Specific Models Are Available In The Promaster Platform?
Entegra Coach Ethos Li. The Entegra Coach Ethos Li is a Class B RV based on the Ram Promaster Chassis which is available in two floorplans. Both floorplans feature a wet bath, galley with a cooktop, and plenty of overhead cabinet storage space. They differ in a few ways. The TL model features the wet bath in the rear and midship dual twin beds which can be bridged to make a king bed. The layout also trades the passenger captain's chair in favor of a forward galley. The AL model retains the extra set of forwarding captain's chairs and has a midship wet bath, and a large folding couch/bed across from the galley in the rear. Either layout includes a long list of great standard features including a screened sliding side door, 12' awning, and a preinstalled 200-watt solar system.
Winnebago Travato. The Travato is Winnebago's entry into the Ram Promaster conversion van market. Measuring 21 feet in total length and starting at just over $152,504, it is one of the best-selling class Bs on the market. That's understandable given this model's reliable performance history and the choice of three excellent, yet distinctive, floor plans. All three-floor plans sleep 2 and feature the choice between two different rear murphy bed layouts and a third option with two twin midship beds. There is an outstanding host of standard features including an awning, heated tanks, a tankless water heater, and a premium energy system that can be upgraded to allow you to travel off-grid for extended periods of time.
Jayco 2022 Swift. Jayco is one of the premier manufacturers of quality RVs in the US. The Swift is their base model Class B RV and for 2022 it is available in two floorplans starting at a very reasonable $131.550. The exterior length is 21' and both available floorplans are designed to sleep 2. The T model features a rear wet bath and two midship twin beds that can be bridged to form a larger bed. The A model has a rear galley and foldaway bed/couch and adds two additional passenger captain's chairs up front. Standard features include everything you'll need for extended camper adventures including preinstalled solar panels, A/C, large house batteries, and a 2800-watt gas generator.
Gala RV FB21. Gala is a smaller producer based in Canada which specializes in quality adventure-oriented class B's. The FB21 is their Promaster chassis model which comes in just under 21' in length and is available on one floorplan. That floorplan features rear twin beds which can convert to a single giant bed. Like all Gala models, the FB21 is focused on an adventure so it features things that allow you to travel off-grid longer than competing models. An excellent example of this is the 45-gallon fresh and grey water tanks that come standard. Water is often a major limiting factor in off-grid travel length so Gala includes the largest tanks in the industry. Other features include a 200-watt preinstalled solar system, dual 6V batteries, a 2000-watt inverter, a large refrigerator that can run on 110, 12V, or propane, a large furnace, and A/C.
Coachman Nova. The Coachman Nova is a class B motorhome built on the Ram Promaster 3500 platform. It measures 21' in length and is available in two-floor plans starting at $134,856. Both floorplans feature a wet bath. The 20C model has a rear convertible bed with a midship wet bath and galley. The 20RB has a rear bath, 2 twin beds midship, and a forward galley. Both have well-appointed interiors and feature an impressive array of standard features including a 13' awning, 220 watts of pre-installed solar power, a generator, industry best R-15 insulation, and a 345 Ah house battery bank, furnace, A/C, and more.
Panoramic RV. The Panoramic RV is a RAM Promaster-based class B that uses European design to bring the feeling of a large motorhome to the smaller and easier-to-drive class B platform. As the name suggests, Panoramic installs large panel windows into the van to give a broad panoramic view whether you are on the road, or in camp. The motorhome is available in one floorplan which includes a rear convertible bed and a forward folding unit that combines with the driver's seat to give a space for one additional person. The interior is beautifully appointed and the panoramic windows provide a bright and open feel. The bedroom is large and the galley is well appointed with a large fridge, stainless steel sink, and dual burner cooktop.
Is A Ram Promaster Camper Van Right For You?
Deciding if the Ram Promaster is the best option for you will depend on several things. First, what is your budget? If you have a limited budget, the Promaster is a great choice. Generally speaking, when shopping for an RV you want to find one that fits your budget and needs. You're better off scaling back your desires to meet your budget than trying to raise your budget to meet your desires.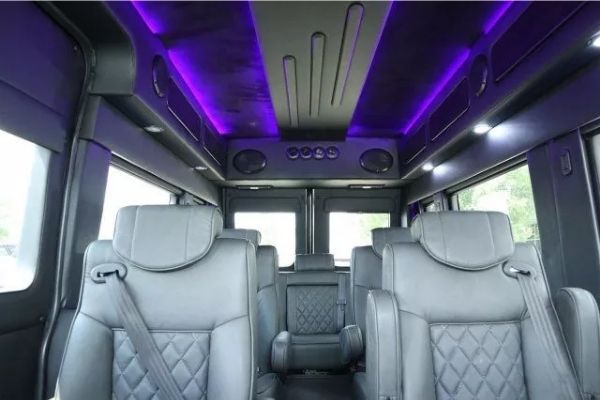 The reason is that buying an RV is only the first of many expenses. After the purchase, you'll need to add accessories, options, and additional gear and then there's always insurance, fuel, and maintenance costs on top of that. If budget is your primary concern we have an excellent article covering the 10 best Class B's for the money.
Next, the major features you won't find in a Promaster are a diesel engine, an all-wheel-drive system, and lengths greater than 21'. If you don't need those things then the Promaster will be just as good as anything else on the market.
Finally, if you are exceptionally tall in stature then compare the Promaster to a 2-wheel drive Transit with the high roof option. The transit will give you an extra 2 inches or so of headroom. It may make a difference in your comfort level when you are in the RV for the long haul.
There may be a slight price bump for the Transit, but it may be better suited to you. Starting in 2023, the Promaster is supposed to offer a new high roof option which may take this advantage away from the Transit, we will have to see. If you're interested in checking out some Transit vans, you can see a few here.
What Are The Positives Of The Ram Promaster Camper Vans?
There are three big advantages to the Promaster. First, it offers a very solid and basic platform to build a conversion van from. There are only a few models to choose from and they are all very similar so you won't see a crazy range of different RVs all build from the "same" platform.
For example, you can have Class B or Class C RVs built on the Ford Transit platform. The staggering number of options available on some of the other platforms can make buying decisions difficult. With the Promaster, it's all about doing one thing, Class B conversion vans, and doing them well.
Next, there is only one engine and drivetrain option. Again, this cuts down on having to weigh the plusses and minuses of a bunch of different options. Fortunately, the one engine and transmission option that is available is rock-solid and reliable and should provide years of service when properly maintained.
Finally, the body shape of the Promaster is flatter and squarer than that of the other van manufacturers. This means fewer curves on odd shapes that builders have to make in order to build the interior out in an RV format. That translates to less work, and lower costs. Additionally, the boxier shape provides for a larger interior volume so the van will feel larger on the inside, even if it's no longer on the outside.
What Are The Negatives Of The Ram Promaster Camper Vans?
The biggest (and perhaps only) downsides are also some of the upsides. First, there are not a lot of options available like higher roofs and extended lengths. There is no 24' option and what they call the high roof option is still lower than the offering available in the Ford Transit.
This won't be a major issue for most buyers. As mentioned in the positives, the limited options make it easy to determine if this platform meets your needs or not. If you need that higher roof, or something longer than 21 feet then you'll need to go on to the Transit or Sprinter.
The other major downside is the lack of powertrain options. Yes, the single-engine is a solid and reliable motor but it is lacking in power when compared to the top optional engines from Ford and Mercedes. While its performance is not crippling, or really even that bad when powering the van doing van things, it will become apparent if you try to tow a trailer or another vehicle. It can even become an issue if you really load your van down with heavy gear.
The lack of a 4-wheel or all-wheel-drive system can also limit where you can travel in your van. For most, this isn't an issue, but if you're an exceptionally adventurous type who wants to go past where the groomed roads end then the lack of an all-wheel-drive option will hinder your progress.
Are Ram Promaster Reliable?
The Promaster currently has one engine and transmission option. The Pentastar 3.6L V6 engine and the corresponding 7-speed automatic transmission have been around since the early 2010s. During the past 10 years or so they have found a home in vehicles across the Chrysler product line including Dodge, Jeep, and Ram vehicles.
Over that time, they have proven themselves to be very reliable when properly maintained. They are designed to be 200,000 mile plus drivetrains and there are many examples with well over 300,000 miles roaming the streets today. As with all modern engines, proper maintenance is key. If you do the work, you should be rewarded with years of trouble-free service from these motors.
Are Ram Promaster Camper Vans A Good Buy?
The base vans are priced about the same as an equivalent Ford Transit (2-wheel drive, base engine). They are easier to build out so the overall cost of a completed conversion tends to be a little bit less than an equivalent Ford Transit-based class B. They are generally significantly cheaper than a Mercedes Sprinter, even base gas-powered 2-wheel drive Sprinters.
For that, you get a solid and reliable van at a reasonable price. By most metrics, that's the definition of a good buy. The only real reason to choose a different platform is if that platform provides something you really need, like four-wheel drive, a 24-foot length, a diesel engine, or a chassis platform to build a larger class C on. With those needs aside, the Promaster is a great buy that deserves a serious look.