Class C motorhomes provides the best elements of the Class A and Class B motorhomes, combining the roominess and amenities of a Class A and the drivability of a Class B. The Class C motorhome is built on a one-ton chassis, the Class C runs 23 to 31 feet long, 7.75 feet to over 8 feet wide, 10 feet high and weighs 10,000 to 12,000 pounds. The sleeping compartment over the cab design makes it easily recognizable. As the most popular style of motorhome, the Class C is a smaller unit than a Class A but provides room for up to eight guests. Like the Class B, the cab resembles a typical vehicle dash and layout.For those requiring, more the Super Class C surpasses the opulence of the Class A by combining the chassis of a commercial work truck with the higher quality of a Class A. Class B + motorhomes pair the spaciousness and amenities of a Class C with the smaller size of a Class B. To compare the different classes of motorhomes, refer to this article on the different motorhomes.
Height and Width Of A Class C Motorhome
The width allows maneuverability from city freeways to narrow dirt roads but tends to run tight when a semi passes by. At 10 to 12 feet high, the Class C easily clears overpasses and allows storage of items such as kayaks and paddle boards on the roof. The width of a Class C can range from 7.58 feet to 8.3 feet with most falling into the 8.3 feet range. Most units come equipped with a ladder and roof rack allowing access. While providing plenty of inner space, the motorhome doesn't feel top heavy or unstable traveling in wind or at higher speeds.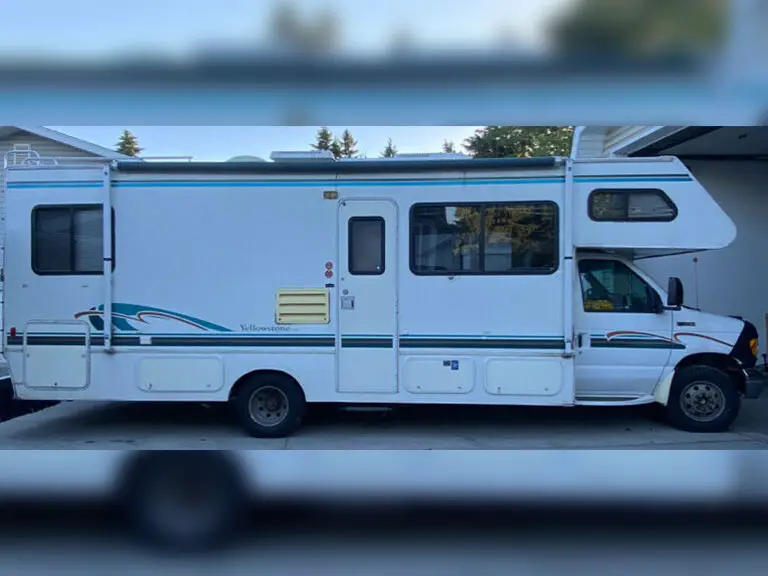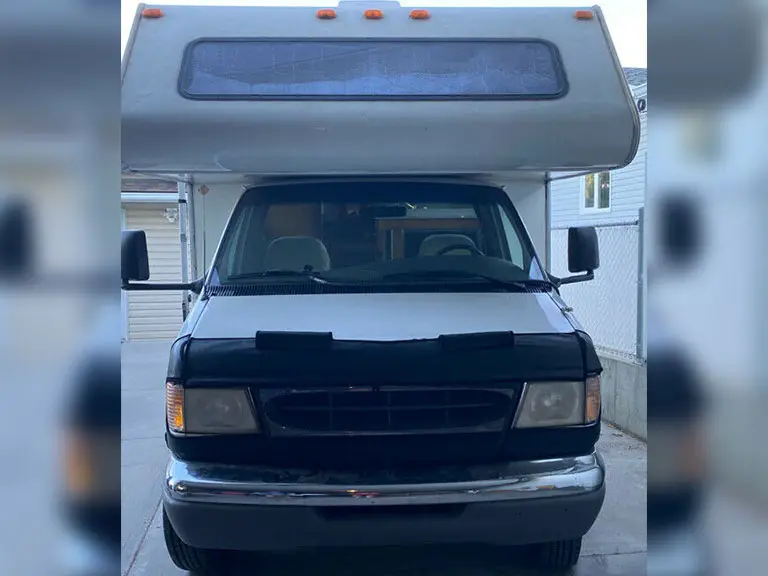 Towing Weight of A Class C Motorhome
With minor adaptations, like a towing package including a heavy weight hitch, trailer towing wire harness, hitch platform and engine and transmission cooling, your motorhome can tow a vehicle. While a trailer brake isn't necessary, the driver may feel more secure with the added stopping power. The motorhome can tow a car, ATV, small SUV or light weight truck, depending on the existing weight of the motorhome, engine and type of motorhome. If you want to get into more details of class C towing or if you are curious about what motorhome can tow the most weight you can check here.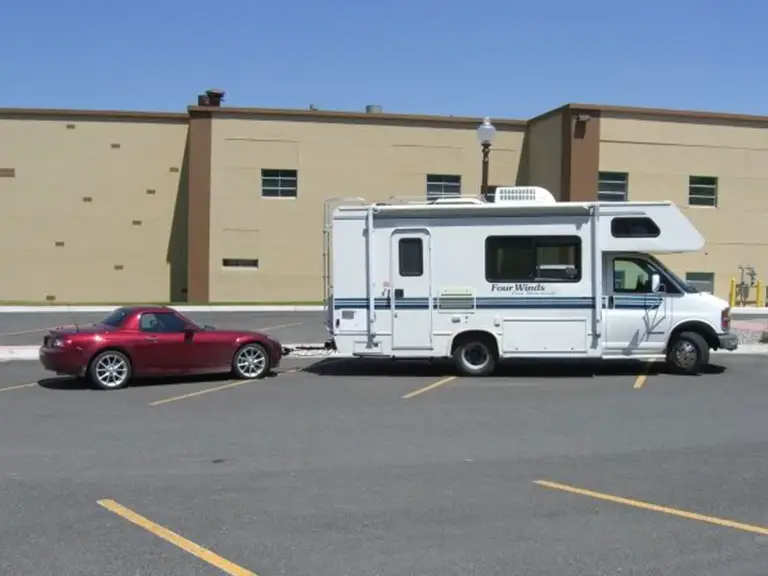 Do Class C Motorhomes have seatbelts?
According to the National Traffic and Motor Vehicle Safety Act that was signed back in 1966 all vehicles manufactured must have seat belts and that also includes all motorhomes. However, that only applies to the cockpit of the vehicle, or the two front seats. The manufacture of the cabin is controlled by the RV Industry Association which states that it is not mandatory to have them installed in the cabin. However, wearing the seatbelts is determined by law in each state.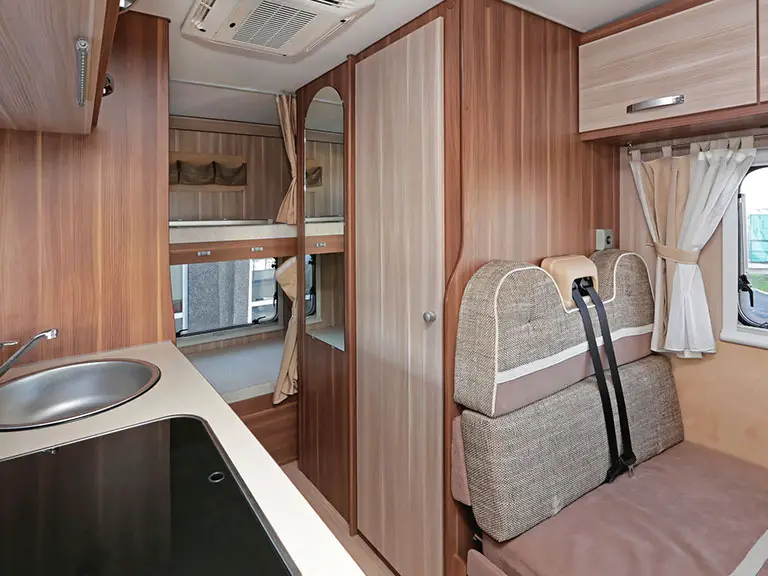 Standard interior equipment and appliances for a Class C Motorhome
Class C Motorhomes are equipped with a refrigerator, freezer, propane stove and oven, furnace, air conditioner, shower, toilet, six-gallon hot water heater or instant hot water system, generator, microwave, tv, tv antenna, stereo with cd player, kitchen sink, and bathroom sink. A control panel that measures the holding tanks, propane level, and battery level utilizes the coach battery for power. The fridge and freezer run on propane or electric. The coach battery needs to be charged to run the control panel while the appliance is powered by propane. The furnace also requires an electric charge in the coach battery which heats using propane. Older Class C motorhomes water heaters run only on propane while newer models operate on electric or propane. The air conditioner and microwave require 110 volt power, meaning the motorhome must be plugged into electric or the generator needs to be running. The generator utilizes gas from the coach's tank, cutting off when the tank reaches 1/4 to ensure the motor isn't left empty. The tv and stereo typically run on 110 volt power but may also be tied into the coach battery. The tv antenna typically is tied into the coach battery. It may have a button to push to turn the power off, to refrain from draining the battery when not in use.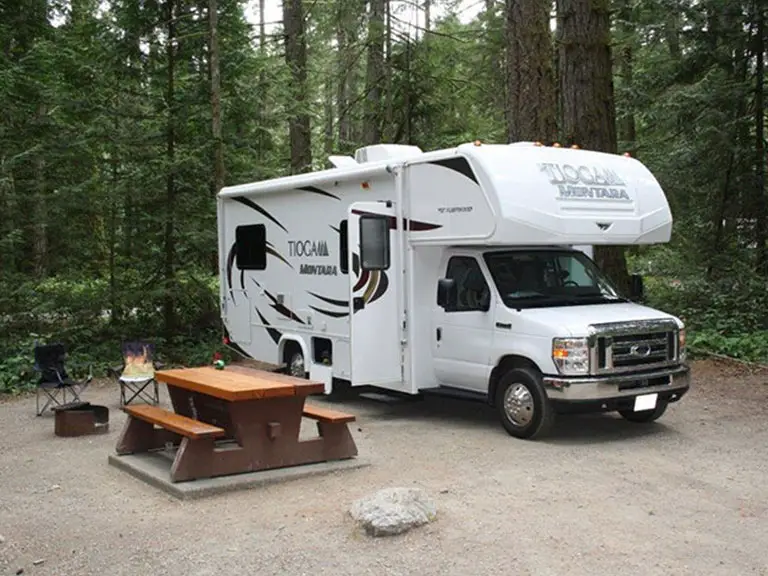 Standard exterior equipment on a Class C Motorhome
The Class C motorhome comes equipped with a black water holding tank, from use of the toilet, a gray water holding tank, from the shower and sinks and a fresh water tank. Learn how to empty your waste water tanks
when they are full. A Propane system is plumbed throughout the coach. Heat using the furnace quickly depletes the supply. Some motorhomes come with a toggle switch to turn the water heater off. This saves a tremendous amount of propane. If left on, and using propane, the water heater will kick on and off continually, whether or not you're using hot water.At least one awning is standard on a Class C motorhome. Newer models utilize an electric awning, drawing from the coach battery if not plugged in or using the generator. On older models, a manual awning requires numerous steps to retract and extend. Many newer Class C motorhomes are equipped with an outdoor shower, barbecue, tel-evision and exterior speakers. Generators are standard equipment on newer class C motorhomes.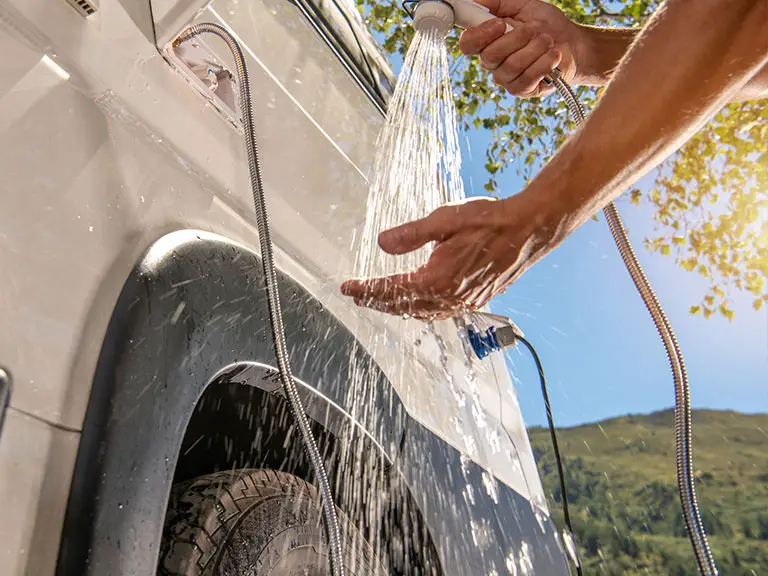 Up Graded Equipment in a Class C Motorhome
Upgraded equipment in class C motorhomes are typically, home sized fridges, washer dryers, satellite TV, or internet. Automated home, Automated Leveling Jacks, Solar Pa-nels, Lithium Batteries, On demand hot water system, Digital monitoring system, Heated storage tanks, Outdoor kitchens.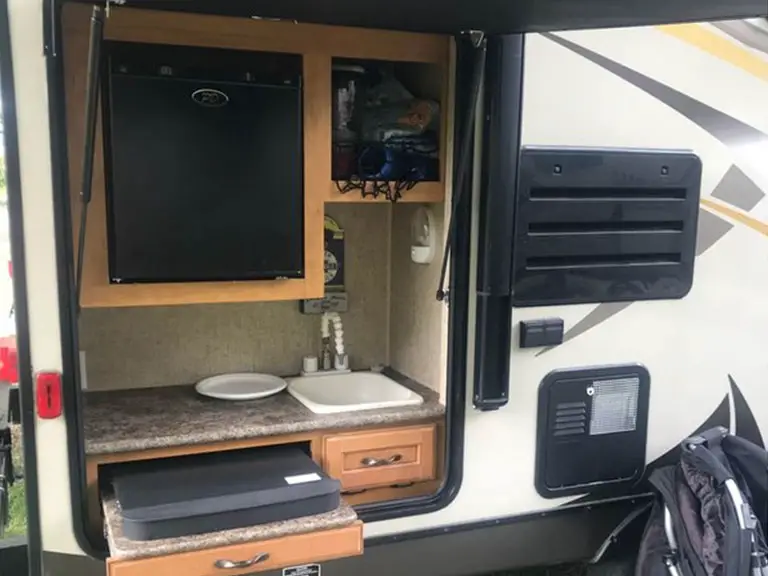 Interior layout options on a Class C Motorhome
Numerous options are available for the interior. Typically, the cab over space is utilized as a double bed. In some newer models, this space becomes as an entertainment center, with a television, cabinets, stereo and other equipment stored here. The dinette area converts into a double bed, as does the couch. In the rear of the motorhome, the master bed with closet space is the typical layout. But in some Class C's, two twin beds make up the space. In some models, the Driver and Passenger seats swivel around, as extra seating. In-stead of a couch, two recliners may be incorporated into the design.
Slide-outs on Class Cs
Allowing for more room, some Class C's offer slide-outs in the master bedroom, dining area and the living room. The newest trend is to have a slide wall, where the entire side of the RV slides out that gives the extra room for all the rooms. Older models may operate manually while newer ones function on electric. Now, many models offer both, as numerous problems arise with the slide-outs, leaving them stuck in or out. At least with a manual mechanism, the slide-out can be retracted when the weekend is over. Another drawback to slide-outs, they tend to develop leaks. Many RV'ers love the extra space provided by the slide-outs, adding up to three feet of additional space per slide-out. Getting your slide-out repaired can be costly and time consuming as each model of RV builds theirs differently. The averages run between $500 to $1700 per slide-out. Easy to fix common issues deal with power blown fuse or dead battery. Not so easy issues include motor problems. Research your model online for manual operation in case of an issue. Many manufacturers are meeting the needs of the consumers by adding multiple slide-outs to new models. Familiarizing yourself with the operation of the system, carrying extra fuses and learning manual procedures can save you money and aggravation down the road.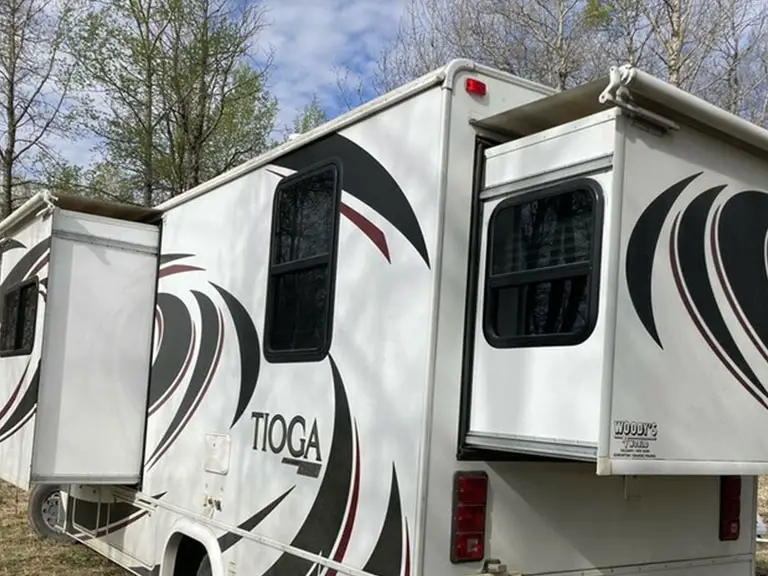 Class C motorhomes come in Gas & Diesel
While a Class C Motorhome that runs on gas will be far less expensive to purchase than a diesel, diesel furnishes better fuel economy, longer life of the engine and a higher resell value. Diesel also provides more power if you intend to tow something behind it. With the differences in fuel, different generators will also come with the motorhome. The diesel-powered generator uses less fuel to operate at the same level. When traveling, not all gas stations have diesel.When it comes time to purchase a Class C, weigh the pros and cons regarding gas vs diesel and decide what fits your requirements.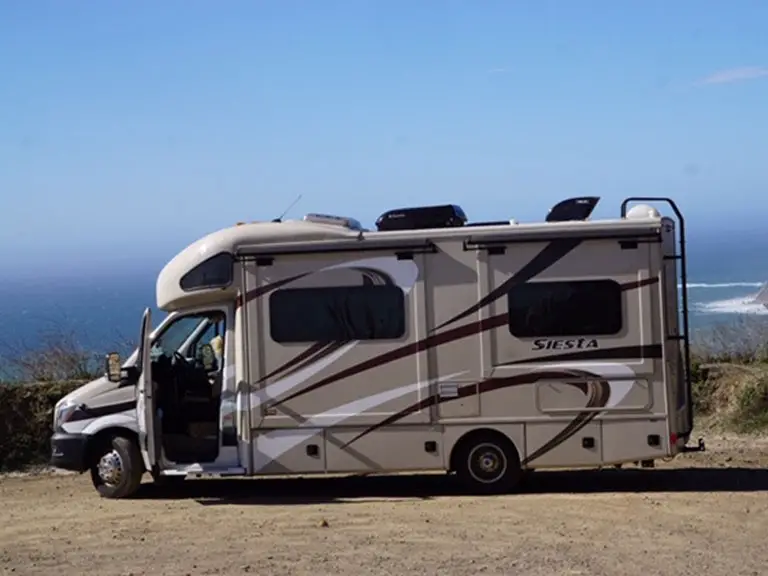 Do Class C Motorhomes hold their Value?
This depends on the age of the motorhome of when it was purchased. If the motorhome was purchased new, the depreciation rate is similar across all motorhomes by age. At 5 years the motorhome can be expected to be depreciated by 30 to 40% . However, if you purchased a motorhome in good shape that is 5 years old, and held it till year 10, then the depreciation is expected to be about 10%, so a motorhome would hold its value for those 5 years of ownership. Remember there are several factors such as the condition and wear and tear of the motorhome and the number of miles on the vehicle. The more miles the more wear and teach, which would result in more repair costs. Some people just take better care of their stuff, than others.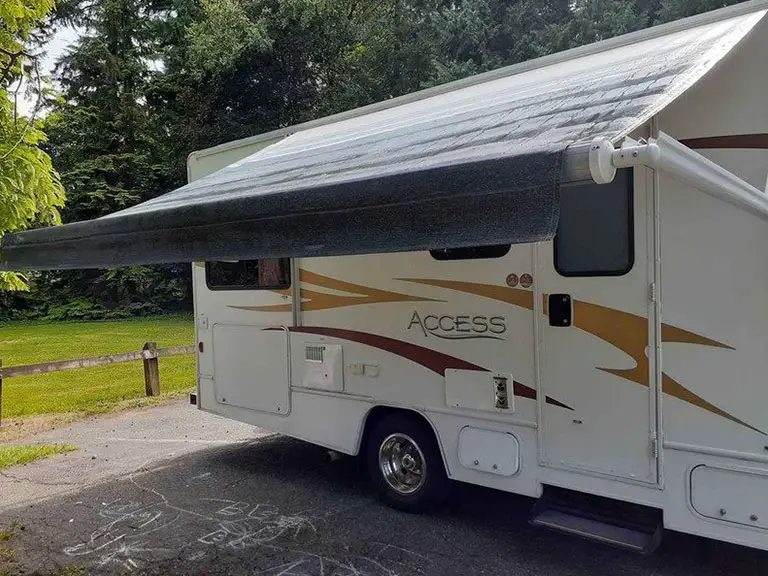 Why choose a Class C Motorhome?
A Class C provides ample room for up to eight people while maintaining easy drivability. In inclement weather or high winds, it handles well and doesn't feel top heavy. Lower to the ground, entering and exiting proves easier. Most amenities are accessible while in transit. Ample storage space exists inside and out of the unit. Feel free to tow a vehicle, ATV, boat or trailer behind your Class C. Load up the family, pack up all the gear and head out on your next adventure in a Class C motorhome!