Are you planning one of your first trips with your new RV? Doing some research before buying one? Maybe you're on the road, as we speak, and looking for a place to get some shut-eye tonight. Whatever the situation, if you're wondering, "Can an RV park anywhere?", then we have an answer for you!
While it's true, RV's make traveling across country a more familiar and cozy idea than finding hotels along the way, there's still the issue of where to park for the night, the week or maybe for the season. The good news is, there actually are quite a few options available. Since your RV is on wheels, you can technically park anywhere. But depending on the type of RV you're using, it gets more specific. Overnight parking, campgrounds, state parks, fairgrounds, RV parks and mobile home parks are all places people set up camp. And the truth is, you are always able to ask permission from anyone to park in their lot. You may be wondering about your specific RV or your options for parking it when you're not on the road, say for storage. We'll look next at some specific types of RV's—how its used and where you park it. Read on.
Making Some Stops in Town and Wondering Where to Park?
There are lots of questions floating around the internet about the rules of parking an RV on city streets. The simple answer is, there is no blanket rule to cover every city in every state. But if you're thinking about making a stop downtown on your way through a big city or small town, you'll probably want to think it through. The average parallel parking spot fits vehicles nine feet wide and twenty feet long. It's not going to be easy to get most RV's in a spot like that. The same goes for busy parking lots in the city as well. But knowing the difference between RV's can give some further guidance. Let's break this down into the type of RV you're driving.
Motorhomes
Class A motorhomes:
built on a large chassis and looking like a tour bus, can be as long as 45 feet. When on your way to your destination, it will be difficult to park in town for a quick stop. Once you are at your campsite, you will need another vehicle available if you want to do any additional driving, as these motorhomes stay put once they are parked and set up, due to awnings, slide-outs, etc.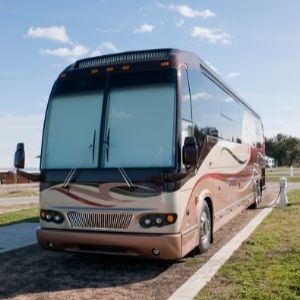 Class B Motorhomes:
looking like and driving like larger cargo vans, top out at about 21 feet in length. It's said that most of these vans can park easily in a typical garage. For that reason, these vehicles are much more suitable for "normal" parking situations. It would be reasonable to think that if you needed to park downtown or in the city you would be able to find a suitable parking arrangement for these RV's. And, because they don't have slide-outs and some of the other features of larger RV's they are much more convenient to be able to pick up and go.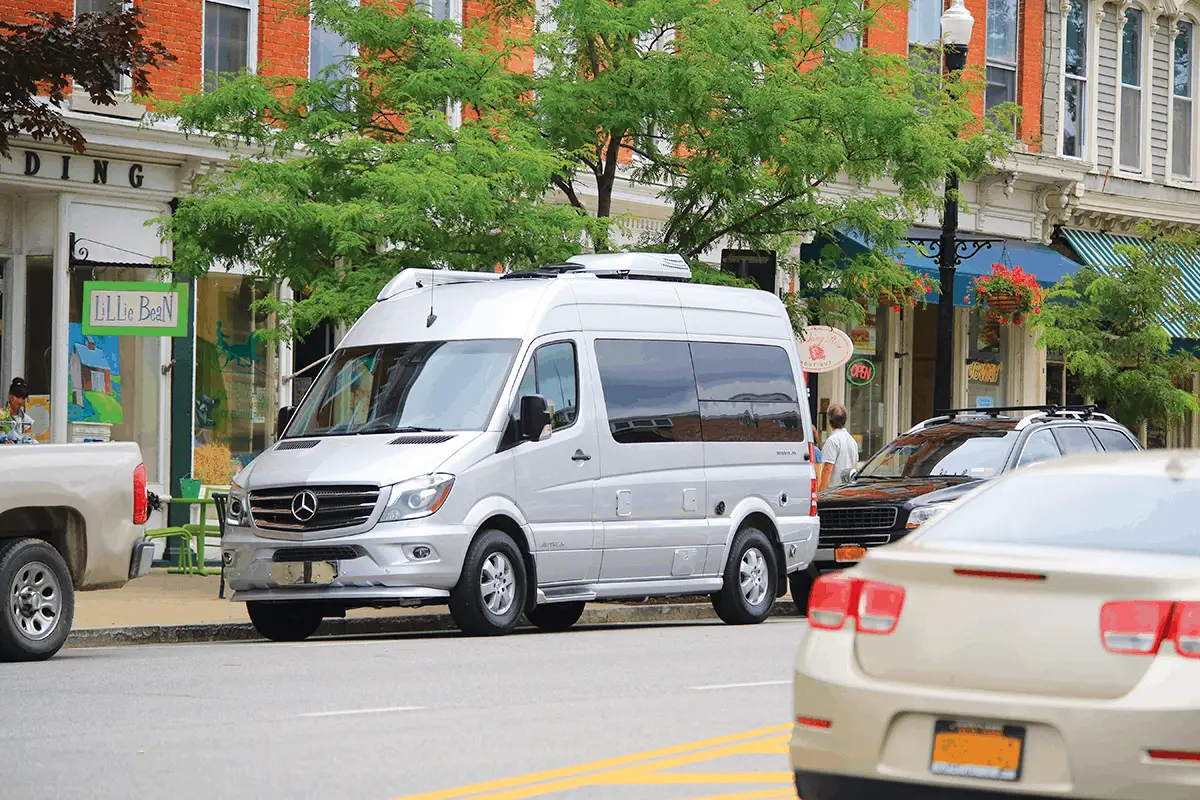 Class C motorhomes:
being larger than Class B, but not as large as Class A, range anywhere from the low 20's in feet, up to 33 feet in length. These RV's are similar to, or sometimes a little longer than a U-Haul moving truck. These vehicles are still tricky to get into tight parking spots with little elbow room. And like the Class A, once set up at camp with slide-outs, awnings, etc., these campers stay put.
Travel Trailers and Fifth Wheels:
With travel trailers ranging in length from about 12-35 feet and fifth wheels ranging from 22-40 feet, these RV's are going to be the longest since they are also towed by a vehicle. So while parking in town isn't going to be the easiest with these, once set up, you have your regular truck or SUV to do any city stops or sightseeing.
Truck Campers:
These look a little like a Class C motorhome but are two separate pieces, the camper, and the full-size truck. For all intents and purposes, these RV's are going to be on the shorter end of the spectrum and therefore, will be the easier of the different styles of RV's to park in town. While parking along the street could still be difficult, you are dealing with a regular vehicle versus something much larger or towed behind your truck. Unfortunately, the convenience of having a home in the backseat does not make it easy for town and city exploring. It's not impossible though. If you're towing your car with you, you could park outside of town and drive in. It's also not unheard of to carry some electric bikes or scooters for in-town sightseeing.
Need Somewhere to Park for the Night?
Whether you're close to your final destination, sightseeing across the West or heading back home, it's important to have some options when you need to stop for the night. There are places across the country that have a standing invitation for RV's who need a place to park overnight. Big Jay truck stops, Costco, Camping World, and Walmart are some places of business that have opened their lots. In each of these cases, not every single business across the country accepts overnight RV parking. For instance, there are some Walmart stores that will not allow it. If you are wondering which ones do, you can go to a website like allstays.com
and look to see if there are any close to you. The person who manages this website takes people's experiences with different Walmart stores and updates his directory regularly so that you can be kept up to date on which stores may allow parking. It also has a downloadable version available for a low cost. In the case of Costco and probably any of the other businesses mentioned, it is a good idea to phone the specific location as you are traveling and ask to speak to the manager for approval. This way you will not be disappointed when you arrive. So when you're nearing the end of your travels for the day, try looking for one of these businesses first.
Looking to Park Within State or National Parks?
One of the wonderful things about traveling with an RV is being able to be out in some of the most beautiful and remote parts of nature with the comfort and convenience of home. In the case of state and national parks, there are lots of RV's that will work really well for this set-up. Teardrop campers, travel trailers, and fifth wheels should have pretty good luck fitting in a lot somewhere within these parks. You may find sites for motorhomes, but they will certainly be limited if they have any. Another thing you'll want to be aware of is, a lot of state and national parks have limited hookup, as far as what you'll have access to on your RV. Some parks will have electric hookup, but not water. This isn't to say you can't use the water in your RV. You'll just have to keep refilling the tank manually. Other parks may allow you to park, but you may not have electricity or water. It's always good to check hookups and site sizes when you book.
Want To Be Close To Tourist Towns/Attractions?
Many tourist towns have local campgrounds. These could be chain campgrounds like KOA and Yogi Bear or specific to that place. Either way, these are great options for RV's as well. When you're traveling to a place where you're going to be doing a lot of tourist-type attractions (amusement parks, water parks, museums, antique shopping, car shows, etc.) these local campgrounds are an inexpensive night's stay while keeping you close to the things you came for. Sometimes the campground is close enough to be able to walk or bike into town. Again, you would want to double check the size of lots compared to your RV and specific hookups.
Looking To Stay Somewhere For The Season?
Many people who are looking to stay somewhere for the summer or be snowbirds through the winter will enjoy staying at an RV park. These parks will be exclusive to RV's and wouldn't have any lots for tent camping. Many RV parks are most likely going to have nicer amenities—paved roads, plush grass, golf carts and cement slabs at each lot. These parks are set up for long term stay, but usually, have sections that can be short term as well.  
Home Sweet Home And Storage Options?
If you're new to RVing and wondering where you're going to store this thing when you're not using it, there are a couple of things you should keep in mind. If you live in town, you won't be able to store your RV on the street in front of your house. Usually, you can't have a vehicle parked on the street for longer than 72 hours. You may be able to store it in your driveway, but should check with any HOA policies, as this is many times not allowed either. Lots of RV owners pay to store their camper or motorhome at a storage facility near their home. Another idea would be to ask a friend or family member, who has some property if they would be willing to rent you some space to store your RV. If you yourself have property or live in the country, then you're obviously able to store it yourself.
We've hopefully covered most parking scenarios that you would find yourself in when traveling with your RV. The main point is, get out on the open road! There's so much to see and do, and when you plan and research ahead of time, you'll be glad you have your RV to travel in.