Truck campers are a great option for converting an existing pickup truck into a class C style camper, and some of them are available with bathrooms. Due to space limitations, don't expect a luxury like you might find in a large fifth wheel or motorhome.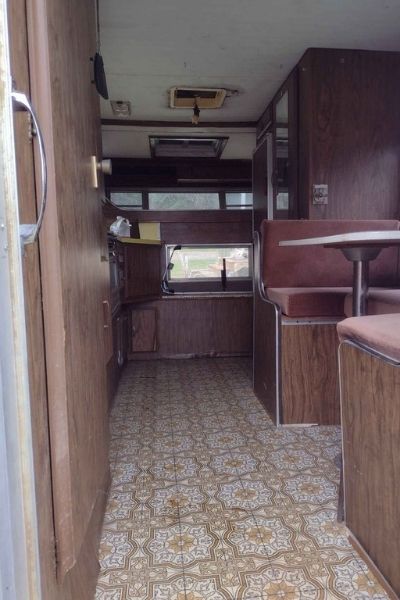 However, the bathrooms that are available in truck campers are more than adequate and are comparable to those found in smaller travel trailers, class B campervans, and smaller Class C motorhomes. Let's take a look at some specifics about what you can expect from a truck camper with a build-in bathroom.
Types Of RV Bathrooms In Campers
The bathrooms which are offered in most truck campers will be what is known in the RV industry as a "wet bathroom". The best way to describe a wet bathroom is to think of it as a shower with all the other bathroom facilities inside of it.
This allows you to have full bathroom functionality (sink, toilet, etc.) in a space no larger than a small shower. This style of bathroom is common in RVs with limited space like truck campers and smaller travel trailers.
There are a few truck camper models available with a traditional "dry bathroom". These are more like a typical residential bathroom where you have a bathroom space with a separate shower stall that can retain water, keeping the rest of the bathroom dry. Bear in mind, that when choosing a dry bathroom in a truck camper you'll likely be trading space with another area of the camper or moving up to a larger, heavier unit.
For example, the larger bathroom may mean a smaller kitchen or living room area or upgrading from a ¾ ton to a 1-ton truck. When shopping you'll need to determine the pros and cons of these tradeoffs. For a full rundown on bathroom styles in RVs please check out our article on camper bathrooms.
How Big Are Bathrooms In Truck Campers?
Truck camper bathrooms are small when compared to most residential bathrooms. For example, Northern Lite truck camper wet bathroom dimensions range from 30″W X 36 3/4″L X 75″H to 36″W X 41″L X 76 1/2″H. Their dry baths are a bit larger, coming in at 30 1/2″W X 40 1/4″L X 73″H for their 8-11 model and the larger 36″W X 53″L X 76″H (Shower Area: 31″ x 36″) in the 10 – 2 model.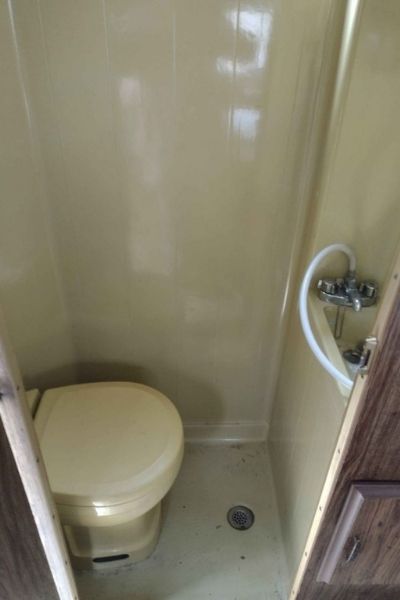 Where Do You Find The Storage Tanks?
The storage tanks are usually in the low section under the floors and between the wheel wells of the truck. This location has several advantages. First, they are easy to access when the camper is off the truck. Next, water flows downhill so this location allows water from all the sinks, showers, and toilets to easily flow.
Finally, water is one of the heaviest single things you'll carry in your camper. The location is low and centered in the vehicle which minimizes the effect of the water on the vehicle's center of gravity. This minimizes the risk of the camper making the camper/truck combination top-heavy and unstable.
Where Do You Drain The Wastewater Tanks?
The wastewater drain location varies from model to model, but it is most commonly located toward the back of the camper on the side above the rear bumper area of the truck. Many truck campers will put all the holding tank operations within a single compartment behind a closable door which makes it easy to access and work with the different system functions.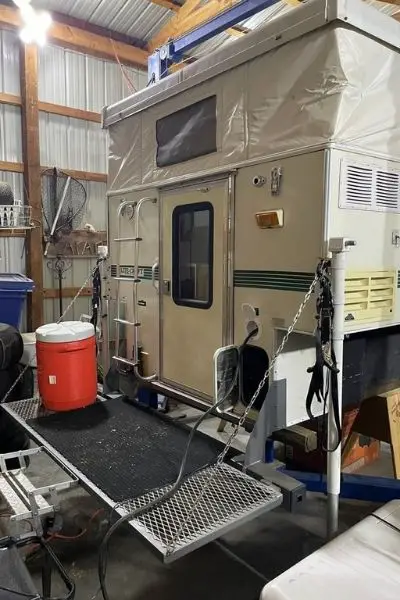 In addition to keeping all the water functions in one location, this compartment often provides storage space for the various hoses and hardware you'll need for working with your water system.
5 Examples Of Truck Campers With Bathrooms
Lance 11720: The 11720 I Lance's flagship truck camper model with many upscale features you won't find on any other truck camper. The two key features are the double slide-outs and the dry bathroom. The largest slideout is a "super-slide" on the driver's side of the camper.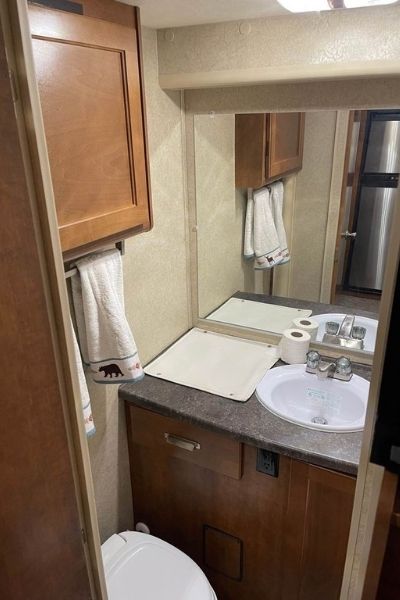 This area houses the dinette and refrigerator and is opposite the kitchen area and bathroom. To the back of the camper is a large double sofa which also sits on a slide that moves out from the back of the camper. The combination of the two slides provides an open floorplan not commonly found in truck campers.
Bigfoot 2500: The Bigfoot 2500 truck campers are available in 4 versions. The 9-4 and 9-6 feature a wet bath and are available in short-bed and long-bed configurations. The 10-4 and 10-6E are larger campers featuring dry baths. These two are only available for long-bed trucks. All versions feature premium construction and materials. With 1.5" thick R8 insulation and 30,000 BTU furnaces, all the campers in the 2500 series make great all-season campers.
Palomino HS-8801. The HS-8801 is the flagship of the Palomino Hard side Backpack line of truck campers. Like all the larger models in the Backpack series, the HS-8801 features a wet bath and a large, well-laid-out functional floorplan. This unit can work on ¾ ton trucks with 6' 6" – 8" beds. While this unit is the largest in the hard side series it does not have any slide-outs.
Palamino also offers the Hard Side Max series which also offers a wet bath as well as slideouts on many models. Their larger models require a 1-ton truck but feature large slide-outs or even a fold-down back porch. Finally, they also offer several soft-side models. These have a lower front profile and lighter weight than their hard-sided counterparts. These features can help increase fuel economy while traveling.
Northern Lite 8-11EX SP Wet Bath: The Northern Lite 8-11EX Sport Wet Bath is a true four-season truck camper designed with adventure in mind. Standard features include a wet bath, two 100 watt solar panels a heated basement, and an extra-large "U" shaped dinette for seating.
Northern Lite also offers several optional features which allow you to tailor your 8-11EX to your specific needs like upgrading the two 100 watt solar panels to 185 watts or adding an Onan propane-powered generator. With the right options, you can make the 8-11EX the ultimate 4 season getaway camper.
The 8-11EX Sport Wet Bath is a short bed truck-specific camper. Northern lite also offers the model in a dry bath version as well as in special edition and limited-edition trim levels. For long bed trucks, they offer the 9-6 and 10-2 versions. These are also available in wet or dry bath configurations and in sport, special edition, and limited edition trim levels.
Eagle Cap 811: The Eagle Cap 811 is a luxury truck camper designed to fit trucks with bed sizes from 6'-6" to 8'. It features a wet bath and higher-end interior appointments like residential style hardwood cabinet construction, magnetic close drawers, and tinted frameless thermal pane windows. It also features 2" R-13 wall insulation, R-22 floor insulation, and welded 2×4 and 2×2 aluminum framing structures.
The Eagle Cap 811 allows you to travel in style in any climate. There are also several options that allow you to deck out your 811 to meet your specific needs. These include up to three 100 watt solar panels with a controller, an Onan 2500 watt LP generator, rooftop AC, roof racks, awnings, a couple of different interior décor options, and more.