Ok so you have decided to rent an RV for a Fun and exciting adventure for your family. You pack your clothes and map out where you want to stay and see along the way. Book an RV and away you go right? You show up at the RV rental place or pick up your RV share rental for the month and off you go on your fabulous adventure. I wish all vacations and adventures were just this easy.  Renting an RV for a road trip adventure has a few more hiccups lets say. Traveling in an RV is more like a home on wheels for the most part  and presents situations and opportunities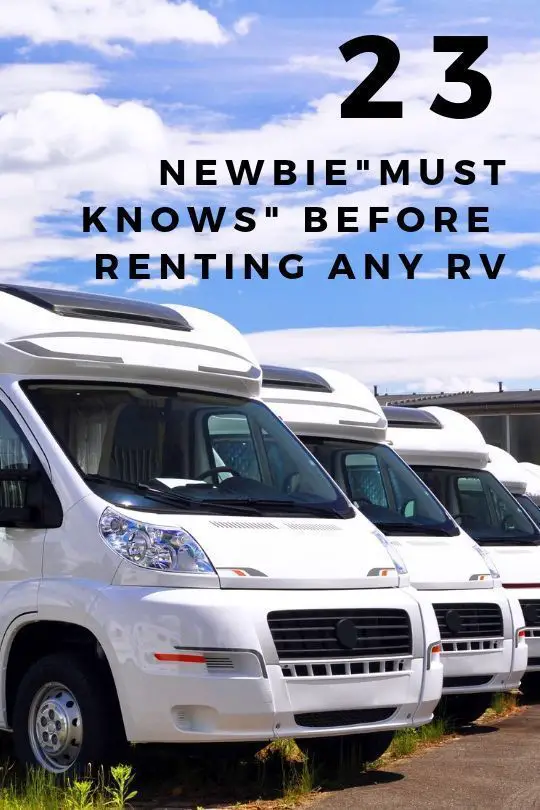 that are different than a hotel rental vacation. Being unprepared, these situations become huge challenges and frustrations that can turn a well intentioned vacation into a vacation nightmare. Renting an RV for your first adventure can be a really amazing experience, if you know what to expect and plan for it, along with a little training before you head out. This article is for people renting any kind of RV. (motorhomes, caravans, travel trailers, toy haulers, 5th wheels, pop up tent trailers) Though tent trailers will have a longer list of "must knows" as there are considerably more things  to look out for.
Methodology
We interviewed several RV renters what they encountered? What were some of the challenges that no one told them when they first rented their RV? What they wish they knew before they ever rented their first RV? Any "Must Knows,"  they would share with others wanting to rent an RV for a vacation. This is the compilation of their experiences, so you don't have to find out the hard way "I wish I knew" before I rented an RV for a vacation. In hopes that your RV vacation is a fun and exciting experience for you and your family. I also took the liberty of adding a few additional tips, which I will highlight as a pro tip. 
If you are a family of 3 or 4 and you want to know which camper is right for you to rent you, then check out these articles:
What is the best type of camper to rent for a family of 3
or
What is the best type of camper to rent for a family of 4
Getting Off On The Right Foot
Find a Reputable Dealer
Nothing will spoil your vacation faster than having a mechanical or functional breakdown with your rental. Do yourself a favor and research before you rent. You want to rent from a reputable company or person who has regularly repaired and maintained their rentals. Read reviews and check their ratings before your rent.
Mechanical Breakdown
Mechanical failure of the vehicle or breakdown of the living quarters of a camper can and will eventually happen. To minimize the impact this may have on your vacation, make sure you understand the company's policy about repairs. Write down who to contact, how to contact them, and how to get the repairs done as quickly as possible so you can get back to enjoying your time off. Better yet, check to see if they offer a 24/7 roadside assistance and a support line that can help you when you have forgotten how to do something or don't know. Make sure you have a plan, in the event there is a breakdown.
Unlimited Mileage, Hidden Fees and Negotiating
Yes, you have to read all the paperwork. Most rental places offer a limited number of miles for your rental and if you go further then there is an added charge for each additional mile. So getting unlimited mileage are a must if you are planning a long trip. You also need to watch out for other hidden fees, such as fueling, cleaning, and pet fees. Many of the RV rental places even RV share rentals have fees for cleaning and non refundable pet deposits. So you will want to make sure you are fully aware of what you are paying for while you are on your vacation.
Added Tip: Check to see if you can get your dealer to loan you a compatible RV electrical extension cord. This can be an invaluable piece of equipment if the electric hookups are too far from your parking spot for the motorhome's electric cord. If it isn't standard, negotiate for one. Electrical cords for motorhomes come in 30 amps and 50 amps, be sure the extension cord is compatible with the motorhome. Leveling blocks and chock blocks should be included as part of your standard rental package.
Making Sure You Have Chosen Wisely
If you have never driven a motorhome before, take it for a test drive to make sure you can safely drive it. While you are sitting in the driver's seat make a note of the MPG and the size of the gas tank. Be nosy and look at the closets and storage space. "Sleeps Six" doesn't always mean it really sleeps six. Thoroughly explore the motorhome you intend to rent. Make sure it has the space you want and that it will meet your needs.  
The Not-So Obvious Necessities
While there are lots of stuff you could bring along on your journey, you don't want to over pack for your trip. You might want to check to see if this stuff can be rented as a package or included in your rental of your RV. If you have children or pets, you may want to consider crib sheets to cover vulnerable areas like the seating and couches. A large 10 X 20 tarp and some clips are a good investment for covering items you want to leave outdoors at night. While most RV park spots have picnic tables, an inexpensive folding table makes outdoor activities easier. Here are a few things you will need:
Maps (Don't let cell signal be your only access to navigation tools.)
 Lawn Chairs
Rope
Stakes
Bungee Cords
Chock Blocks
Leveling Blocks
Outdoor Lighting
A Level
Tire Gauge
Lug Wrench
Heavy Gauge Jumper Cables
While many of these things should come with your rental, you may be in for a rocky vacation if you do not have them. It's always a good idea to make sure you are prepared. 
Enjoying Your Vacation
Skip The Weekend Warrior – Relax!
For your maiden voyage, plan to stay in an RV Park. Your vacation will be more enjoyable and it will save you a lot of trial and error headaches. Read online reviews and browse the web pages for RV parks at your chosen destination. Be sure you make a reservation. If your destination is further than a day's drive away have a plan of where you might stay along the way. Traveling in an RV will take you longer than in a car to get to the same location. Plus, if you have little ones, you might stop along the way and see the sights, take a walk and generally just stretch your legs.  
With a family with small children, we account that we can only travel for 3 to 5 hrs a day and plan on ending the day earlier than normal so we can have dinner and settle in at campsites along our journey. It makes things stress free.
For each stop along the journey where you might stay, you may want to consider reserving a spot at an RV Park that has "pull-through" camping spots at the location where you will end each day's travel.
While you can stop at any truck stop or rest area for the night, the ability to hook up to electricity and water may just be the thing you need to keep the pace of your vacation a relaxing one.  
Are You Ready to Camp?
If you have rented from a reputable dealer or RV share, full propane tanks and fully charged batteries should come with the package. With that said, it is better to check and be sure. Nothing can put a damper on things like empty propane tanks when you go to prepare your meal or your food is warm in your fridge and the stove won't work. Or worse, you need the heat on a chilly night.  
Yes, Math is Part of the Prep
If you've gone on vacation before, you have a feel for how much things cost. A camping vacation should cost less, right? Not necessarily. Gas can have a bit of a sticker shock when driving a motorhome. Remember the MPG you noted? What about the size of the tank? Do some math and make sure you have a grasp of fuel prices and how far you can actually get with each tank. Ask lots of questions of people while you are stopped to rest. You will want to know how far is the next gas station along your journey and you have accounted for enough fuel. You don't want to get stranded on the road between stations and spend time trying to get back on the road.
Plan your Meals
Plan how many meals you will be preparing and how many will be dining out. Don't forget to plan for snacks and other items that make leisure time more enjoyable. Choose meals that can be cooked in one or two pans, on the grill, or even better, in a slow cooker. You don't want to spend your vacation wrestling with meals, plan ahead. Meals that use canned, frozen and dried goods are preferable as it will help you utilize the available space more efficiently. A crockpot or instant  pot stuffed with a flavorful meal can be a welcome sight when returning from a long day outdoors. 
Don't drive off trying to wing it!  Plan your meals and shop for your groceries before you leave on your trip.
 Upon arrival you will be in unfamiliar territory with a very large vehicle, ready to park and start your vacation. Trying to find a grocery store and shop is not an ideal situation.  
Don't Over-Pack, Don't Under-Pack
Use the closet and storage areas to make sure you take the clothing, footwear, and sports gear you will need to enjoy your vacation. Items for meal preparation, leisure activities, and toiletries are a must. This might seem a little difficult for someone who has never been on a road trip before with an RV before. If you follow the one medium suitcase or bag that has a weight of 30 to 40 lbs with all your clothing and toiletries in that bag depending on how many people there are. Here is an example. If you rent a 26 foot 
 Class C motorhome, and there are 2 adults and 2 kids in the neighborhood of 5 to 9 yrs old, each person having 30 to 40 lbs of personal effects would be about 160 lbs on the high end for weight. This would probably fill up the entire storage space in the RV. If there are two of you in a Class C, then you could get away with a total of 160 lbs of clothing and toiletries technically. Remember that packing more only makes the space feel cramped, packing too little and you will feel underprepared.  If you are renting a Class B, then stick to the 2 person packing and stay closer to 30 lbs.
What is in your 30- 40 lbs of Personals?
What you pack will depend on when you go and what is the expected weather. So for a summer camping trip expecting warm dry weather for 2 to 3 weeks, this is what I pack.
5 Underwear
5 shirts – mix of t-shirts & others
2 pairs of shorts
2 pairs of jeans
1 pair of hiking pants
1 sweater or long sleeve with a hood pull-over
1 pair of sandals made to get wet
1 pair of running shoes
1 pair of hiking boots
If we are taking a driving journey going through cities or towns I would add the following, just in case we decided to go out. 
1 pair dressy shoes
1 pair dress up pants or dress
1 dressy shirt
It is pretty obvious that you don't have enough on this list for 2 to 3 weeks, but remember that you will be washing clothes along the way. Almost all campgrounds have washer and dryers where you can wash as you need. For the amount of clothes that you will be washing it is easier to buy the necessary detergent from the campgrounds, than to pack your own or buy some when you are buying groceries. 
Secure Everything Before Driving
Put Everything Inside
Packing things away is important especially if you are in a motorhome. This situation can become very dangerous very quickly when things are flying around in the cabin of your motorhome. If you have a trailer, well you might have a huge mess to clean up with you arrive. You want to make sure everything is tight and secure and put away and will not fly off the counter or come out when you take a corner. Make sure all cabinets are secure and that nothing is rolling around inside the cabinets. Ensure all latches are tight and locked.
Lock All External Storage
Ensure all basement storage and doors that open are latched or locked. Again make sure nothing can roll around in the cabinets for the outside storage. Bungee cords come in handy here for securing a few items outside of designated storage areas. You want to make sure that nothing will fall out or come loose and fall out while you are driving down the highway. Not only can this be dangerous for other drivers on the road, you will be responsible to pay for the replacement of the lost or damaged items that fell out.
Surprises or Missed Items
Let's face it, you planned and added everything you can without going overboard and sometimes, you might just have to buy something you really need or better yet rent it. So anticipate that you might spend money on the unexpected. If you can get by without spending then do so.
Avoid Common Mistakes
Schedule a Lesson
You may have the urge to rent and go but calm that impulse. Schedule time with the dealer to show you how your motorhome or Trailer works. Be sure you know where Your camper's equipment is and how to use it. Don't be afraid to ask any questions. Remember this is your first time camping in an RV.
Account for Extra time
Everything will take much longer than you think. Always account for extra time and relax. If you have things planned very tight on a timeline you will definitely find that meeting that time line will cause extra stress and anxiety. There are things that you can't control, like that accident on the road on your way to your destination that has put you in a line up waiting for the road to get cleared for several hours or maybe the road has been flooded out and now you are forced to take an alternate route that will add 3 additional hours to your travel.
These are things that you just can't avoid, they will happen, and if you allocate extra time to travel and enjoy the journey to your destination, your vacation will be a lot more relaxing.
Sanitation
Have the dealer the owner show you where the sewer hose is as well as the monitoring panel for the black and gray water tanks. Be sure you know where the sewer hose hooks to the RV, how to hook the other end to a dump station or sewer outlet, and how to dump the black and grey tank. You will want to know how to control those smells from those tanks. Not doing so can be a very stinky experience. If you want to know how to empty and clean your tank you can check out this article.
Water
Locate the drinking water hose and locate the RV's fresh water intake valve. Remember to use the water regulator that came with the RV, when you hook up your water supply at your campsite. The last thing  you want is water damage from too much pressure on the campers internal hoses and you flood out your RV. Try not to travel with a full tank of water for any long distances as this can add to your already expensive fuel costs. 
Electricity
Know where the shore-power electrical cord for the RV is stored and where it connects into the camper. Also, be sure you know where the fuse/breaker box is in case of an overload. You want to have the dealer or owner walk you through hooking and unhooking the sewer, water and electricity connections, how to dump the tanks, how to use the monitoring panels, and reset the breakers.
While you are at it, make sure you know how to turn on and off all the lights and roll the awning in and out. Turn on an off the Air Conditioner. 
 Collect any emergency numbers or numbers that you would call if you forget anything or need roadside assistance. Take notes. Lots of notes!!!
Leveling it Out
There is nothing worse than a bad night of sleep while on vacation. If your motorhome is not level, sleeping at a tilt will not be pleasant. An un-level camper can also disrupt your refrigerator causing food to spoil. Depending on the age of your RV, it may or may not come with an automatic leveling system. If the one you plan to rent does not, make sure you have leveling blocks and a level. When you pull into the RV Park, you may have the urge to just park and play. Don't. Take the time to make sure your RV is level and then use your chock blocks to ensure it doesn't roll away. You can read more about how to do that hereas well.
Community Center
All reputable RV parks have a pretty nice community center. While they vary, they are generally outfitted with a full kitchen, televisions, game rooms, laundry facilities, and showers even WIFI. Check the park rules and then make the most of these centers. They are a great place for the kids to spend the afternoon gaming when there are no other planned activities. Take advantage of the extra showers and toilets if you have a full house. Don't forget to use the kitchen if you plan to prepare an especially large meal. And be sure to utilize the pool! Most RV parks have a pool, so don't forget your swimwear!
Don't Leave Anything Behind
At the end of your vacation, pack up and get ready to go home. Make sure you have disconnected the sewer hose, the water hose, and the electrical cord. As you drive out of your spot, you may be tempted to keep going. It is good practice to get out, go back, and walk around your campsite and your RV. All too easily, things can get left behind, in particular, the equipment that came with your rental. Or, some external doors might have been left open, just waiting for the right corner to dump all the contents of your RV on the road. Better to be safe than sorry. Double check to make sure all external doors have been locked and secure. Electrical cords, sewer hoses and any of the contents can be expensive to replace when you turn your camper in.
Cleaning Up
Most dealers & RV shares have RV's cleaned in-between rentals. They will clean the bathroom and kitchen, dust, sweep, mop, and do general maintenance. But this doesn't mean they will clean the mud from the last hike off the ceiling, or that horrible fish smell coming out of the cabinet as part of your rental agreement. Be sure the RV is in decent condition before you return it. While it doesn't need to be spotless, you definitely don't want it to look like you spent the entire vacation on a wild party and walked away. To avoid potential cleaning fees, it's best to give the camper a good once-over before you hand over the keys.
To Sum It up
Renting an RV for a vacation can be a fantastic experiential vacation, that is beyond the road trip and staying in hotels along the way. An RV is kind of like taking a small home along with you on the trip and having some of the conveniences of home. It's definitely is different than other types of vacations. Knowing what to do and having some insight ahead of picking a rental can save you hours of headaches and potential heartache of potentially everything wrong with renting an RV for a vacation.
Let me know what you think or if I missed anything in this article.