RV Camping with your family is the best, but don't forget about your furry family! Having pets along just enhances the fun! Camping in an RV with multiple dogs takes some planning, and there are things to consider such as, space and comfort to travel, monitoring when you are not in the RV, keeping the space clean, mealtimes, playtime, and exercise as well as medical appointments and what to do if you are planning to stay at a hotel for a period of your travels.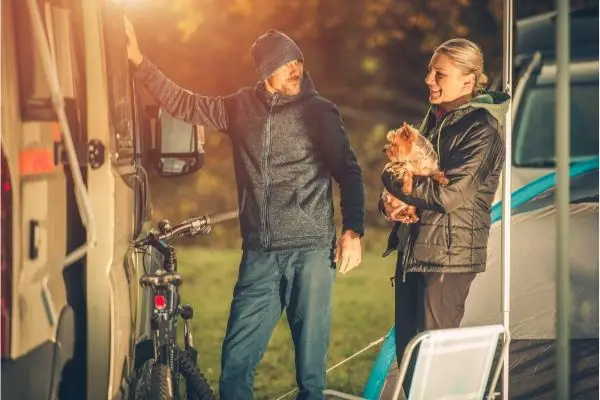 Having a plan, it is important to understand your pets may experience stress from changes in their environment like we do, such as:
Less space to play
Constant moving (different scents and terrains)
No yard to run in
Irregular or stressful potty time
Finding comfort spots in small spaces
Motion sickness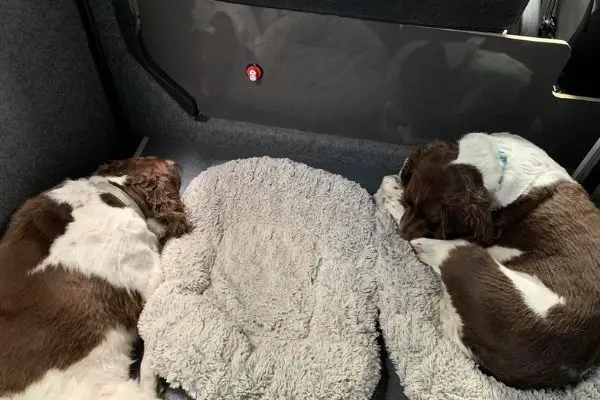 Like us, our traveling companions need some of the comforts of their "sticks and bricks" home such as:
Daily routine
Their own space
Safety
Exercise
Family time
Comfort measures – favorite blankets, toys, treats, soft music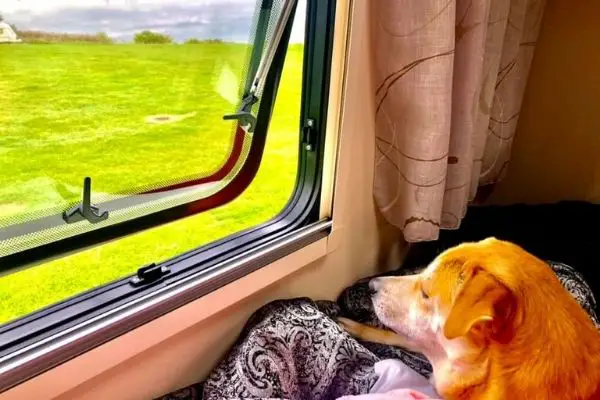 Having multiple pets means you must allow for more time and space for your pet's comfort and activity needs. Maintaining a schedule for walks, play time, eating time, and down time to keep them comfortable is an imperative part of travelling with your companions.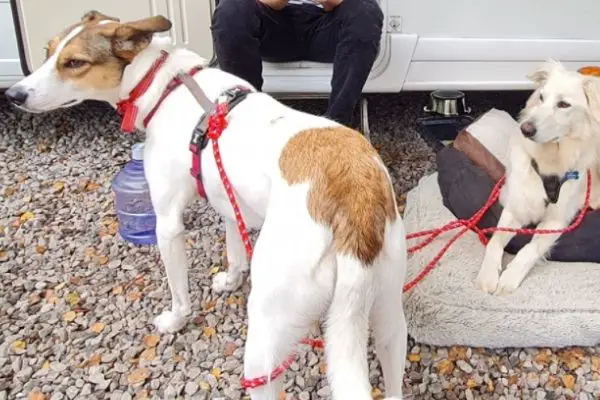 How Do You Make It Comfortable In An RV For The Dogs?
The first thing you want to do to make your dogs feel comfortable in your RV is provide them with a space they can go to and let them know it's their space. Try to keep them on the same schedule each day, same eating time, play time, and exercise. This helps them to feel less anxious on the move or at the campsite.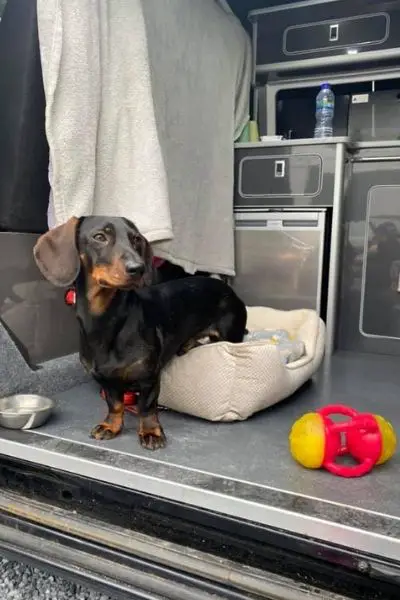 Making a space for them would be setting up a spot for their pet beds, crates, or favorite blankets in a designated place, like under a table, in a chair, or in the bunk house. When you have multiple pets, this can be tricky, but each pet will want their own spot.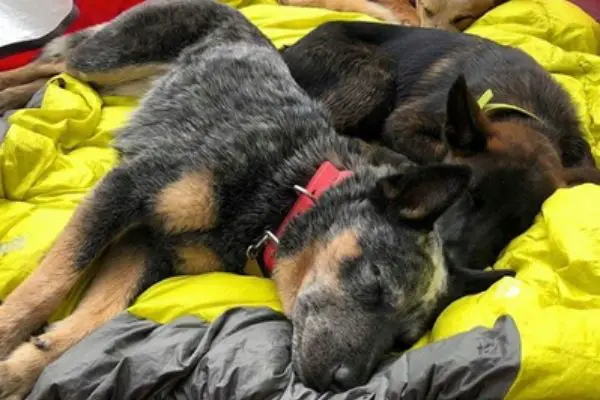 Reassuring your pets, they have a safe space will ease restlessness and nervous activities.
Pro Tip: If you're in a travel trailer or fifth wheel, your pets can't be left in the trailer while traveling. Plan out where they're going to be and set it up prior to hitting the road. Items you can use in the vehicle would be beds, crates, back seat pet covers, and dog seat belts.
How Do You Monitor The RV For Pet Safety?
Today there are several devices that work through WIFI to make RV's smarter and bring along the same conveniences as home. These WIFI enabled devices allow you to control and monitor the temperature and watch what your pets are doing in the RV.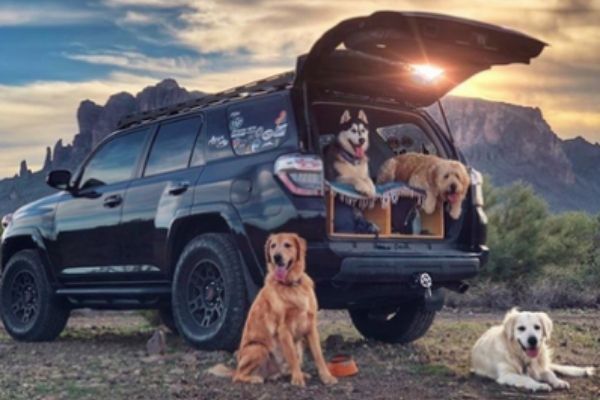 A monitor that can send you notifications via email or text are added security measures for your pet's health and safety. The monitor can be equipped to maintain temperatures or notify you if electricity has turned off.
Such as the Microair EasyTouch RV Thermostat, that allows you to turn on and off your AC from anywhere. You will need a compatible thermostat that it replaces and WIFI access in your RV for remote monitor, control of your heat and A/C. If you don't have WIFI setup in your RV here is an article on how to set it up.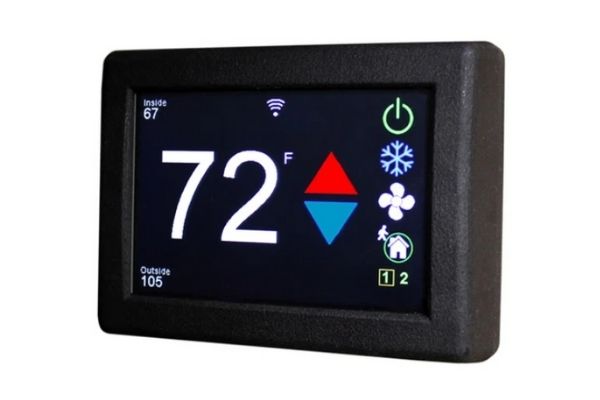 Microair is not the only manufacture that makes these WIF enabled devices, there are others that can be a suitable replacement for your thermostat. The addition of a video camera that works on WIFI may also be helpful to know how things are in the RV when you are not there. I like using the WYZE Cam v3, it's a nice little camera at an affordable price. This way you can hear and see what is going on all from your smart phone.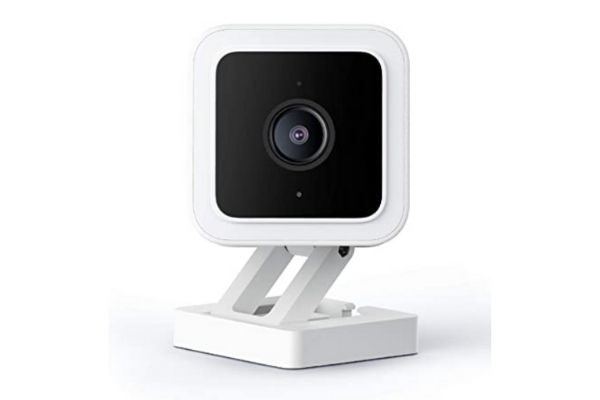 How To Make An RV Comfortable For Your Dogs When You Leave Them?
There are several things that can be done to make the environment comfortable for your pets. From closing the blinds to making sure your windows and doors are secure and having some music playing in the background as well as having water and food out, as well as going to the potty, if you are going to be gone for more than a few hours.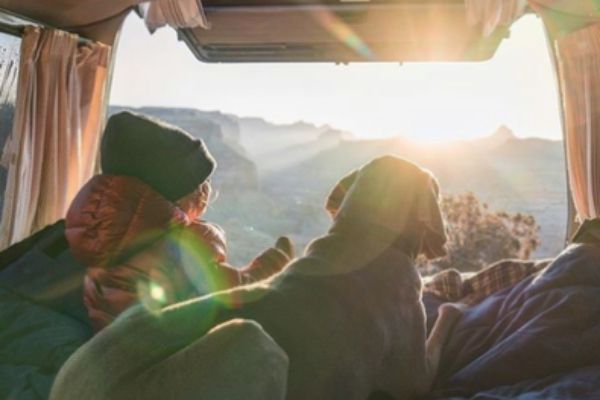 Closing the blinds or keeping windows covered can help keep them calm and deter unnecessary barking and stress for them. If your dogs like calming music, consider playing this for them while you're away. This can provide comfort to them and help them feel less nervous.
Always make sure your entrances and windows are secured, and your furry friend has adequate hydration resources and adequate activity to ensure restlessness is minimized.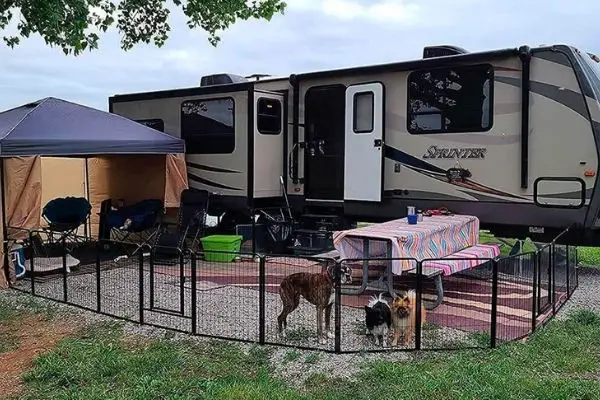 An RV has small quarters for a family including pets, to ensure safety while you are away on outings without your furry friend make sure that food, items that should not be consumed, and extra dog food or treats are securely put away to prevent any unwanted access to items that could make them sick.
Make sure prior to leaving on excursions without your dogs, that they have adequate time to use the restroom, attempts to expel some energy, and attention from you. This can avoid having anxious or unwanted behaviors while you are away.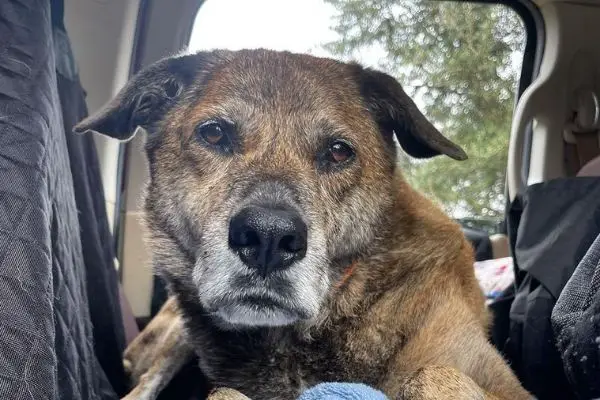 Another important thing to consider is keeping the space clean and tidy to ensure comfortable relaxation for your family member. Clutter can create a more unsettling environment for your pets, so this is important even if you are present.
How Do You Keep An RV Clean With Dogs Shedding?
Ongoing brushing and grooming your dog's outdoors will help cut down excess loose hair from being in your RV. If you have dogs with long hair or thick undercoats using a shedding blade is helpful. Just like at home regular grooming, clean sleeping spaces, regular vacuuming, sweeping, and dusting will help with loose hair and dirt.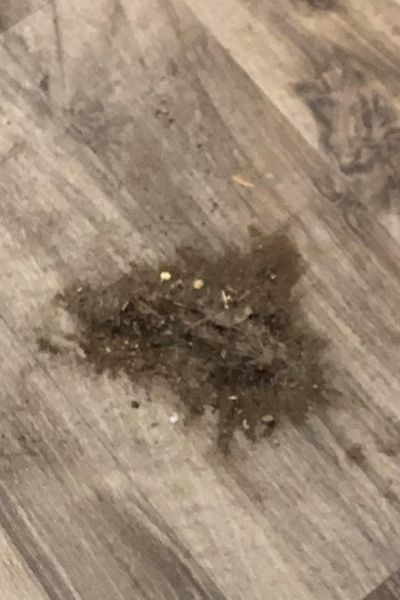 There are a few things you can do to keep the hair down, and make your cleaning more manageable:
Get a carpet rack for carpets and fabric upholstery
Use upholstery covers (washable)
Use throw rugs you can shake out and wash
Linoleum or vinyl flooring
Daily clean up
Hair rollers or packing tape for quick hair removal on your clothes
A lightweight small vacuum
Grooming your dogs during shedding seasons
If you are looking for the right vacuum for your RV or wondering if your RV has a vacuum, check out this article about vacuums in RV's, Do RV's have vacuums.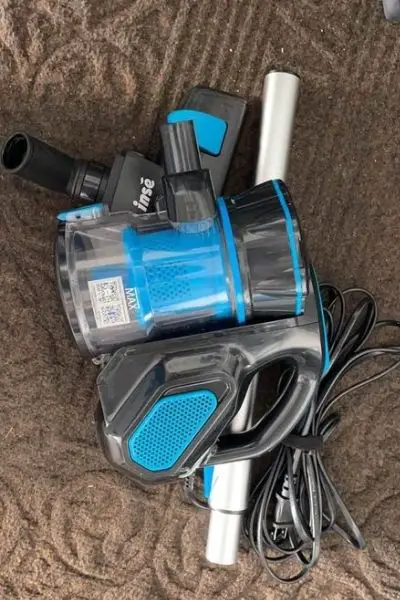 How Do You Exercise The Dogs While On A Camping Trip?
It can seem very chaotic when the dogs are all wound up and full of energy, especially if you are on the road to your next destination. Regularly scheduled daily walks and play time, especially after mealtime, can help release much pent-up energy of the pact.
The easiest way to exercise your dogs is to get them outside in proper gear, such as a harness, collar, and leash and get them walking, running, playing, and exploring as much as possible. If you have any long drives its best to tire them out prior to departing.
If you are at a camp and you're not able to get them out walking, look for a local dog walker, or look into a portable fence for your dogs, so they can get out and move around the campsite. Many campers have created doggy doors for their pets to go in and out.
If you are in unfamiliar territory and you are not sure if you can bring your dogs along, Bringfido.com is a site you will want to get familiar with. It tells you which hotels, restaurants, and places to exercise your furry friends. It also comes as an app for IOS and android devices.
After their long day of play you're going to have some hungry pups.
How Do You Feed Your Pets While Traveling In An RV?
The restricted spaces of an RV make it a bit more of a challenge to carry larger amounts of food than you would at home and can result in more frequent purchases. As well as having specific locations for each dog to eat at so they don't feel food aggression in protecting their dinner. If your dogs are on a special diet such as raw or a specific food more planning may need to be considered to bring along the food or finding where you can get more as needed.
Having available water for your pouches can be a challenge when you are driving around, not to mention that a water bowl in a location where it might get kick when you are moving around is annoying. Investing a specific bowl that is spill proof such as the lumoleaf anti spill bowl is a great solution. It comes in 35 oz bowl and 70 oz bowl for larger dogs.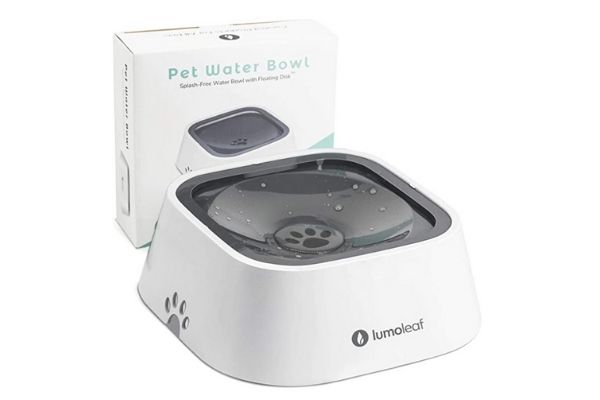 Many campers found that on travel days they feed their dogs less food but more often and when they stop for breaks, they take more time allowing their pets to eat, digest, and pass their food before your back on the road.
Finding Pet Care & Vet Appointments For Your Dogs When On The Road
When you are travelling across the country in your RV and something happens with one of your dog's making the right decision makes a significant difference in those critical moments. Here are a few things that can make things easier:
Create a file folder of the latest medical records for each of your pets along with any up-to-date shots they may have had. Any kind of medical information. There are different rules in different states
Use Petco and PetSmart locations for vet services as they have a centralized system for your pets.
Know the Pet Poison Helpine 1-855-764-7661, which is specific for pets if they get into some poison. This number works for USA, Canada and the Caribbean. You can certainly check out their website for more information.
Apply for CareCredit if you want to have available funds for financing any kind of unforeseen emergencies that might cost more than is expected.
For pet care and haircuts and washes both Petco and PetSmart also have grooming services on site as well. So, they can get washes and haircuts at the same location. This makes it easier than having to search out vets and grooming at different locations.
What If You Stay At A Hotel, Where Do The Dogs Stay?
Occasionally a portion of your trip involves staying at a hotel and with dogs, its always a challenge to find one that have all the amenities that you want and will allow all your dogs to stay. I have found that petswelcom.com and bringfido.com were the best websites to visit prior to heading out and finding the hotels or Airbnb type rentals that allow pets. Of course, you can look on google and hotels.com or other sites, but it faster to know that you are looking at locations that welcome pets.