If you do much RV traveling you probably already have a standard hitch receiver on the rear of your vehicle. They are required for towing travel trailers and they make great accessories for hauling all sorts of things while you travel. Many people also add a hitch receiver to the front of their vehicles. A front-mounted hitch receiver has many great uses which can greatly enhance your RV travels. Let's take a look at some of the most common uses for a front-mounted receiver hitch.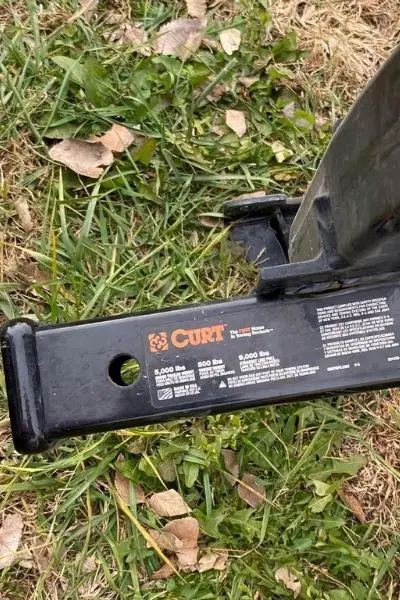 1. Park Your Trailer From The Front In Tight Spaces.
Anyone who travels a lot with a travel trailer has had the experience of arriving at an overcrowded campground where you need to shoehorn your trailer into an excessively tight parking space. Pushing a trailer into such a space from the normal rear hitch position forces you to include the full length of the tow vehicle because the steering wheels are at the other end of the vehicle.
With a front-mounted hitch, you eliminate that problem by moving the trailer hitch much closer to the steering wheels. This buys you an extra 12 to 20 feet of space for moving the trailer around and it can greatly simplify the move. Also, a front-mounted hitch allows you to better see where the trailer is going which will allow you to move it with reduced risk of hitting nearby objects.
2. Carry A Generator
Front-mounted hitch receivers are a great way to take your generator with you. This is usually done with a special cargo carrier designed specifically with generators in mind. These carriers have special security features designed to securely mount your generator to the carrier while also helping to reduce generator theft.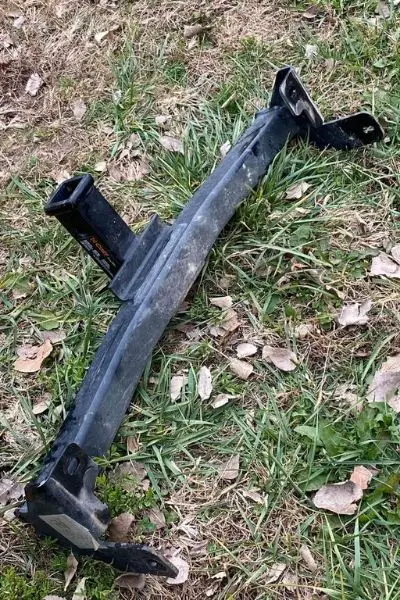 For additional weather protection and to prevent potential thieves from seeing your generator you may want to opt for a covered carrier. Regardless of the style of carrier you choose, it will allow you to travel with your generator securely stored outside, freeing up bed or cargo space inside your vehicle. They also make the generator more accessible without having to remove it from your vehicle when it comes time to use it.
3. Bring Along More Luggage
You can never have too much luggage space, and a front-mounted hitch receiver is a great way to add a little extra. In addition to a standard hitch rack, you'll probably want a waterproof carrier as well. There are many suppliers which offer a matched combo set that includes both the rack and a waterproof bag. These provide quite a bit of space with a 500 lb weight capacity so you can carry extra gear with you, or free up some space for friends and family inside the vehicle.
4. Carry Extra Coolers
A standard carrying rack is a great way to bring along some extra coolers on your trip. A heavy framed aluminum model offers excellent durability with wide bars to securely anchor tie-downs that can lock in the heaviest coolers. Aluminum racks also allow you to directly drain your cooler while it's still on the rack without causing it to rust out over time. Like most racks of this type, expect a carrying capacity of around 500 lbs which is more than enough to carry coolers up to the size of the rack.
5. Bring Your Bikes
Hitch receiver bicycle racks are one of the most common uses for front-mounted receiver hitches. They provide a secure way to carry your bikes when traveling with a trailer that would block the usual rack mounting points. They are also safer, more reliable, and much less likely to cause damage than trailer bumper mount bike racks.
There are two primary styles of hitch-mounted bike racks. Platform style racks offer the stability and convenience of roof-mounted racks but are generally limited to 2 bikes. Hanger-type racks can carry from 1 – to 5 bikes, but they tend to hold the bikes less securely while you travel.
6. Carry A Motorcycle
Your bikes don't have to be pedal-powered to take them along on a hitch receiver carrier. Motorcycle carriers are a common option that allows you to take up to two motorcycles with you on a single carrier. In addition to the two-bike carrier, there are several great options for taking a single bike with you. Most motorcycle carries include an extra ramp section which you attach to the main support structure when loading the bike.
7. Roof Mount Your Kayaks
Carrying kayaks or canoes can be challenging when traveling, particularly when towing a 5th wheel trailer. A front-mounted extension rack allows you to carry kayaks and canoes at the forward end of your vehicle which may provide enough clearance for 5th wheels. The forward position also allows for very easy loading and unloading of boats from your vehicle. Finally, if you carry exceptionally longboats like sea kayaks, the added support upfront will help stabilize and secure your boats while you travel.
8. Bringing Extra Firewood
A standard hitch carrier can be used to bring extra firewood on your trip. Always check local regulations and rules regarding transporting firewood. Traveling with firewood is considered by the USDA to be a known spreader of invasive species and plant diseases. As such there are many states and localities which have very strict rules on traveling with firewood.
Campgrounds in some locations are legally obligated to confiscate firewood that is not purchased locally or kiln-dried. This is especially prevalent in the deciduous forested areas of the eastern and northeastern US where the Emerald Ash Borer has become a serious problem.
9. Install A Removable Winch
If your travels take you into remote areas or over rough terrain then using your front-mounted receiver as a removable winch mounting point is a great option. Receiver winch mounts are inexpensive and provide a solid base from which to operate your winch.
They also allow you to quickly remove your winch for safe storage when you don't need it, freeing up your hitch receiver for other uses. To have a removable winch that is fully operational all you would need to add is an electrical connection to your vehicle's power system with a waterproof quick disconnect plug.
10. Attach A Snowplow
A front-mounted 2' receiver hitch can be used to mount a quick detach snowplow. While these are not your typical commercial-grade hydraulically actuated snowplows, they will still do a great job for occasional private plow use. The major benefit to these units is they can be quickly removed or installed on an as-needed basis. This allows you to free up the front hitch for other uses while you're not plowing, and quickly install the plow when the snow starts to fly.
11. Launch A Boat
Much like parking an RV trailer in a tight spot, a front-mounted hitch can be very helpful in launching a boat in tight spaces. Having the boat in front of you allows you to clearly see where you are pushing it and having the turning wheels located close to the hitch allows you to maneuver in tighter spaces. You do have to be more careful not to drown your motor as you push the boat into the water. Submerging the motor too deep can cause permanent damage which will be very expensive to repair.
12. Use It To Be Towed
Last but not least, a front-mounted hitch receive makes for a great tow point on your vehicle. This can be used for being towed or pulling other vehicles out of bad spots. Most hitch receivers have the 2" square receiver port as well as the chain attachment ears next to the 2" square tube. Those chain connection points make for a good tow strap attachment point for pulling or being pulled by other vehicles.
For a more durable attachment point, you may want to consider a 2" receiver tow shackle. These can pivot as the vehicle moves which will put less stress on your tow straps. Just remember that many vehicles are not designed to be flat towed and flat towing can damage your transmission or other critical parts of the vehicle.
Flat towing is generally considered to be towing the vehicle on all 4 wheels at normal road speeds for extended periods of time. Slowly pulling a vehicle out of a ditch, or tight storage space shouldn't be a problem. Towing for miles at speed can be.