It doesn't matter if you are a veteran RV camper on the campground or a newbie, there are unwritten and written rules at every campsite for proper etiquette for RV campers! If you're scratching your head wondering what that etiquette might be, pay attention. Don't be 'that guy' at your next campsite who doesn't understand the ethical code of polite behavior on the campground!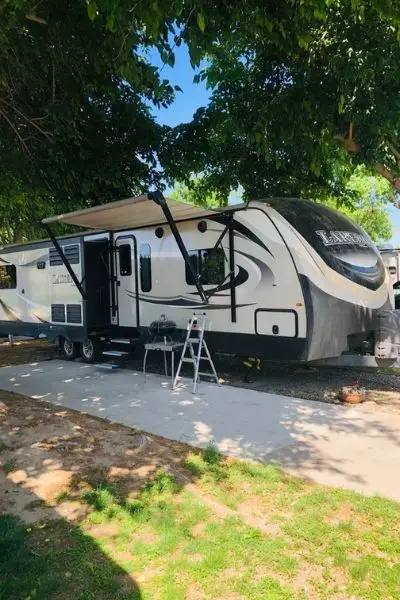 Consider your next campground to be a highly sought-after neighborhood to settle down and enjoy raising a family, enjoy your retirement, or relax on your next vacation. How you represent yourself and those you are with will directly mirror the campgrounds owner's decision to invite you back or vote you out! It's a basic rule of humanity, you do to others what you want done to you!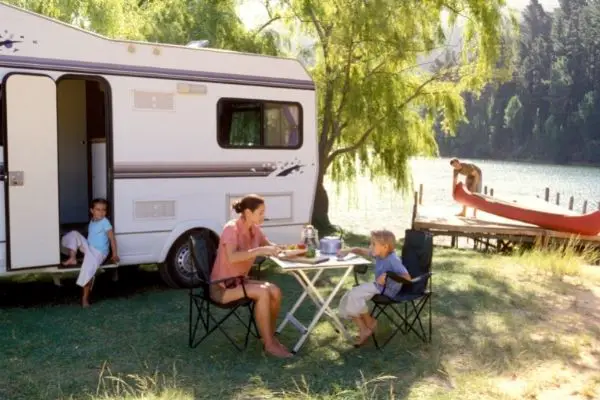 Remember, you aren't the only chicken in the campground coup. You'll have a variety of neighbors of different circumstances, ages, stages of life, places, backgrounds, etc. It's one of the best parts about a campground! The diversity of people around you can enhance the whole experience if everyone follows an ethical set of proper campground etiquette!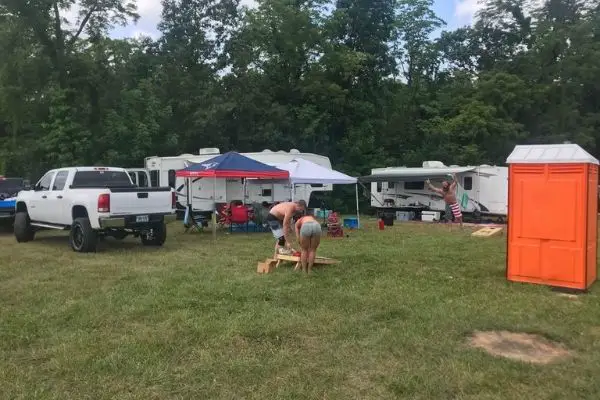 Make sure you follow these simple etiquette rules that will make you the best neighbor in the campground!
Can My Neighbors In The Campground Let Their Dogs Run Around?
Your neighbors' dogs should not be running around the campground off leash. You won't see many campers who don't have a canine companion, campgrounds are filled with a variety of dog breeds. Neighbors who allow their dogs to run around off leash on the campground are setting themselves up for dangerous situations for their dogs.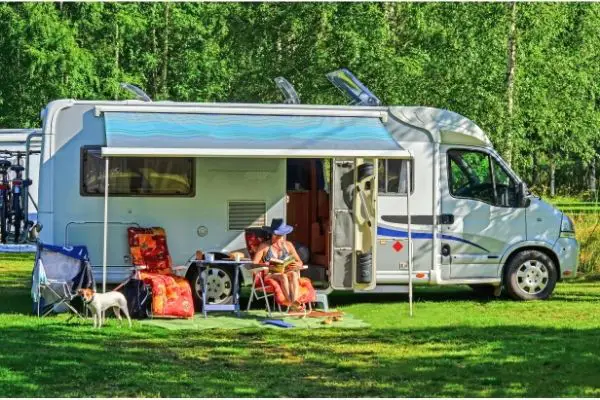 A campground has lots of moving parts including a variety of fast-moving vehicles. A dog running around can easily be run over by RVs who are coming and going, cyclists, cars, four wheelers, or any other vehicle navigating the campground. Protect the life of your dog by making sure they are on leash or in a designated dog enclosure, most campgrounds offer this type of recreational space for your canine.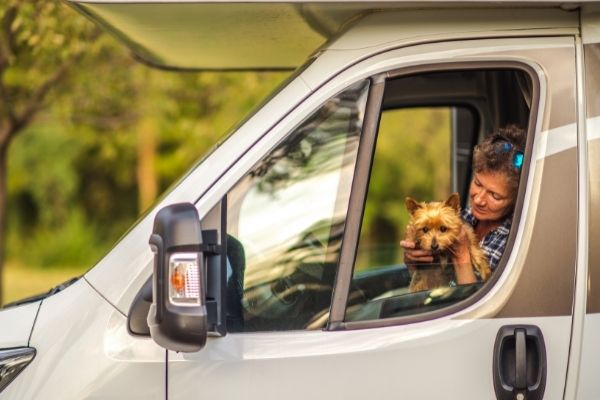 Every person knows that dogs can be territorial. Allowing dogs to run free in campgrounds is just an open invitation to chaos. Keep your dog safe from more aggressive neighboring dogs by leashing them close to your RV to avoid confrontations with other dogs who may not be as friendly.
It's common for campground owners to firmly warn their campers that their dogs must always be on leash, but this isn't the worst rule you can break when it comes to your dog at your campsite!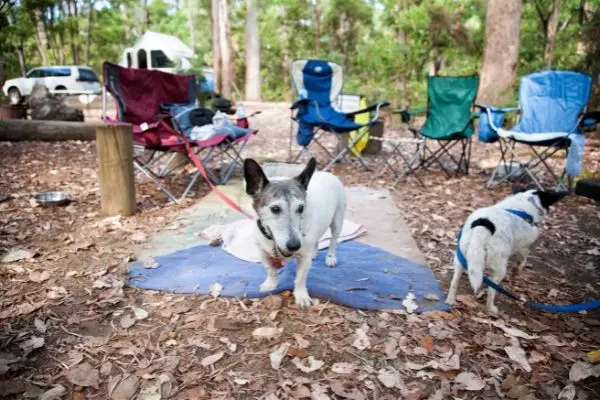 Is It Rude To Let Your Dog Poop On Your Campsite And Then Leave It?
If a dog gets off leash by accident, owners won't be shunned by their fellow campers, but if a dog poops and their owner doesn't pick it up, they'll be the most hated member of your campground! It's unacceptable to not pick up after your dog. Campsite owners' number one priority is to keep their campgrounds clean for their clients.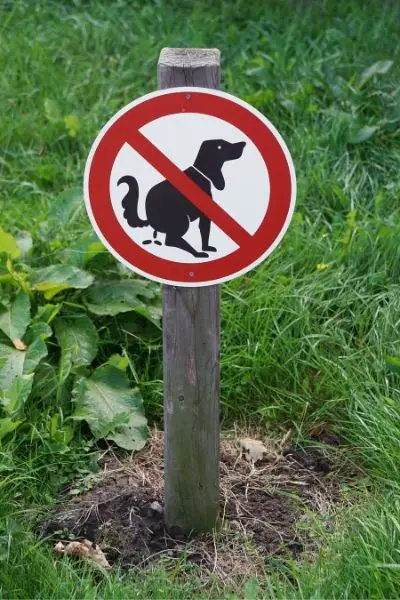 Many campgrounds provide a good number of bins and baggies around their campgrounds to ensure owners never have a reason to leave a pile lying around their site. No one on a campground wants to step in your dog's poop. It's unsanitary, smells bad, and if done repeatedly, can lead to an eviction off the grounds.
Don't be lazy, pick up after your dog and don't hesitate to reinforce this rule to neighbors who might not understand the #1 rule of etiquette for dog ownership!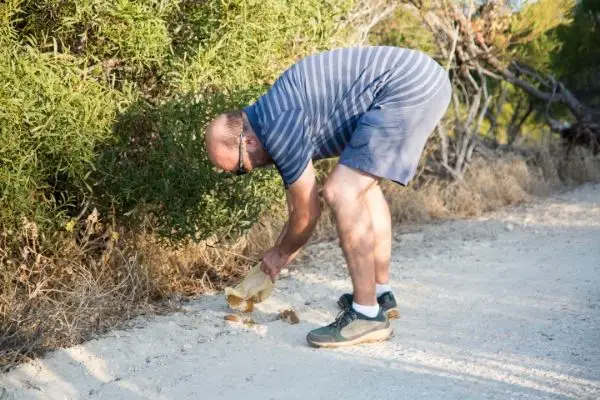 How Do You Handle People Being Loud After Hours In A Campground?
When campground neighbors are being loud after hours you can politely remind them of the campgrounds quiet hours or report them to management if they don't comply. All campgrounds have a set time for quiet hours for their sites. Times can vary depending on where you decide to park your RV, but standard practice is usually 10 pm – 6 am.
Neighborly etiquette for quiet hours is a rule owners work to enforce because there are people who like to stay up late and people who enjoy early mornings on their campsites. Everyone's schedules and agendas for their camping trips vary, and it's important to respect both by complying with each campsites set times for quiet hours.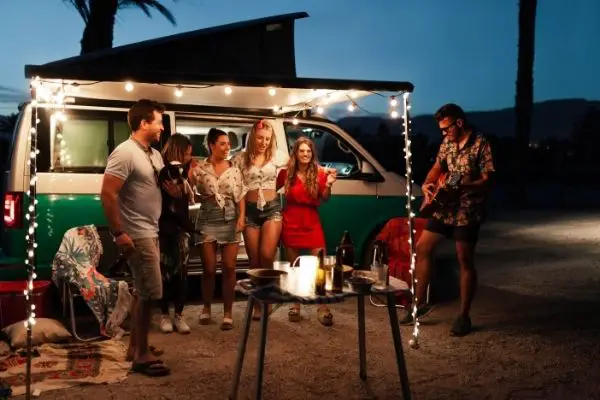 It's also important to consider that most people in your campground are looking to have a good time. If your neighbors are bothering you with noise after hours, give them the benefit of the doubt that they simply lost track of time and politely remind them of the campground's quiet hours. Most campers will apologize and reign in the noise.
Is It Rude To Honk Your Horn After Hours In Your Campsite?
Honking your horn after hours in your campsite is a major default in proper etiquette at your campground. RVs and campers can pull into sites at all hours of the night and early morning. Waking your neighbors by laying on your horn when arriving is a sure way to signal that you are going to be a rude and unwanted neighbor.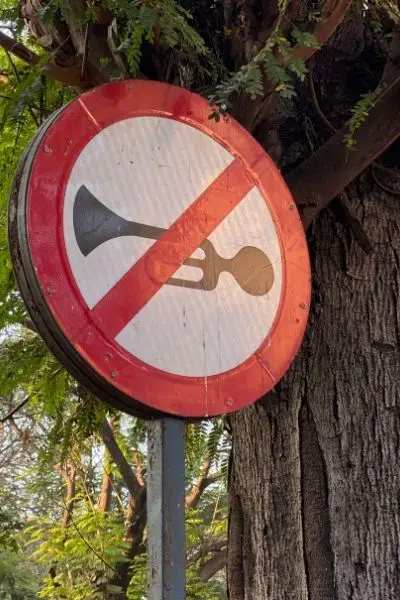 Your RV or vehicles key fob is equally as rude to activate after hours on your campground. Your neighbors are close enough to hear those short signals that indicate you've locked your car, so if you do need to lock up after hours, do so by manually hitting your vehicles buttons to avoid additional noise.
The one and only exception to this rule would be honking your horn if there is a risky situation when pulling into your campsite after hours. Sometimes it is necessary to alert people or other vehicles to your presence to avoid danger to yourself and others on site. Consider honking your horn after hours as an absolute last resort!
Is It Rude To Walk Through Someone's Campsite?
Walking through someone's campsite is like walking uninvited into a stranger's home, it's just rude behavior! That campsite is that person's home for however long they've booked their stay. Unless you are cordially invited, it's bad etiquette to cut through your neighbor's site.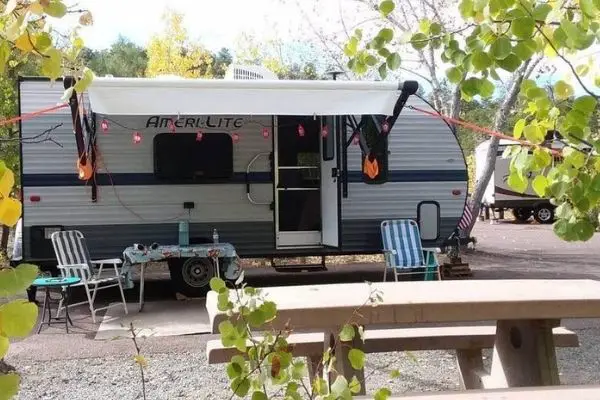 Campgrounds offer paved or gravel roads that surround all RV or campsites on their campgrounds. There's no reason a neighbor should have to cut across your site. Many campgrounds even have this type of etiquette written in their formal rules for campers to follow while on site.
To avoid strangers in your campground, some people setup removeable fences or tape to indicate the boundary for their site. Even then, some people don't understand this type of etiquette on campgrounds and need to be taught or reminded. Don't hesitate to speak up or inform management if you have neighbors who won't stay off your site!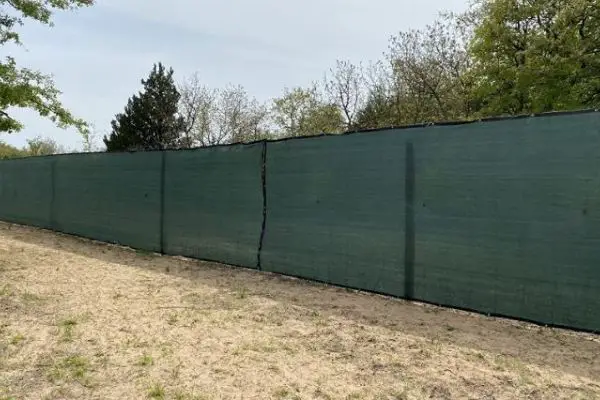 Is It Rude To Have Smoke Fires At Your Campsite?
If your campground permits you to have smoke fires, it is not rude to do so. Part of the whole camping experience is to sit back and relax by the open fire. Most campgrounds encourage smoke fires by offering their campers wood to buy when arriving.
The best campsites will even deliver the wood you purchased from them straight to your campsite. This way you can avoid any wood debris in your RV when transporting or the hassle of carrying it across the campground to your site.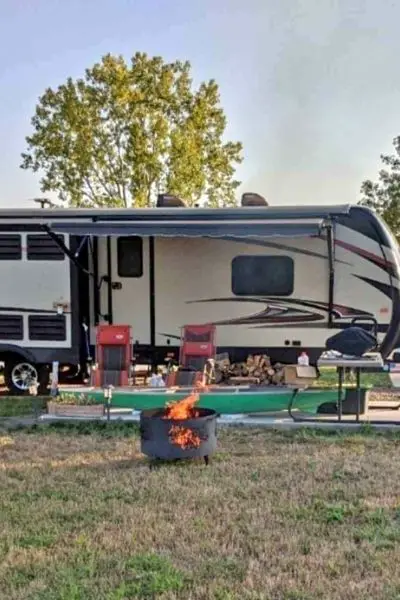 Depending on the location of where you park to camp, it might not be permitted to have smoke fires during extremely dry seasons. Campsites want to protect their campgrounds from hazardous dry conditions to avoid wildfires spreading. Be sure you are aware of your campsite's seasonal rules for open fires to keep up with proper smoke fire etiquette.
Is It Rude To Have A Smoke At Your Campsite?
Even though some of your campsite neighbors might be strongly against smoking cigarettes, you can smoke in your designated campsite if your campground doesn't have a no smoking policy. It is still courteous to be aware of your neighbor's proximity to your smoking. Avoid blowing your cigarette smoke into neighbor's open windows or doors.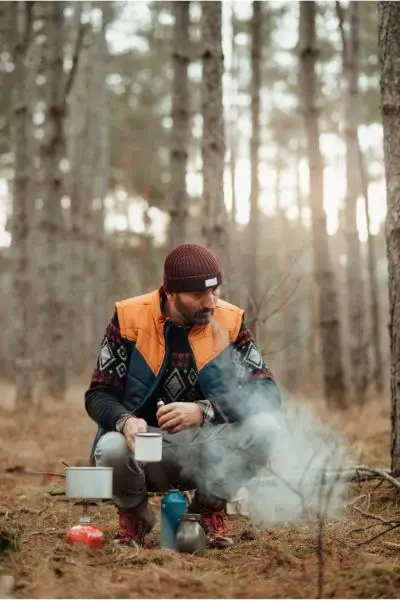 If you are a smoker, it's important to show respect to nonsmoking neighbors by disposing of your butts into waste bins. Campsite owners aren't going to appreciate finding smoke cigarette butts littering the ground of your site after you've left. Show respect by properly disposing of your cigarette butts before exiting your site.
To really show proper campground etiquette, be aware of your surroundings when smoking and comply with neighbors who politely confront you if your habit is infringing on the pleasure of their camping experience. All campsites have open spaces you can move to if you are craving a cigarette that won't negatively impact your neighbors.
Is It Rude To Have A Drink At Your Campsite?
Having a drink at your campsite is not considered rude if you are legally of age to do so. The main objective when camping is to enjoy yourself and for a lot of people, that includes kicking back with their favorite beer or cocktail. Even if your neighbors aren't drinking, it's still okay for you if you are being respectful.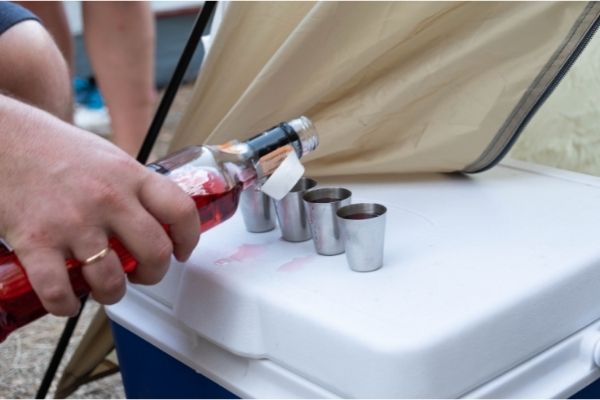 Make sure you are properly disposing of your empty beer cans, red solo cups, or other disposable drinking products. Even though having a drink isn't rude, being a litter bug will always be highly frowned upon by campsite owners and neighbors.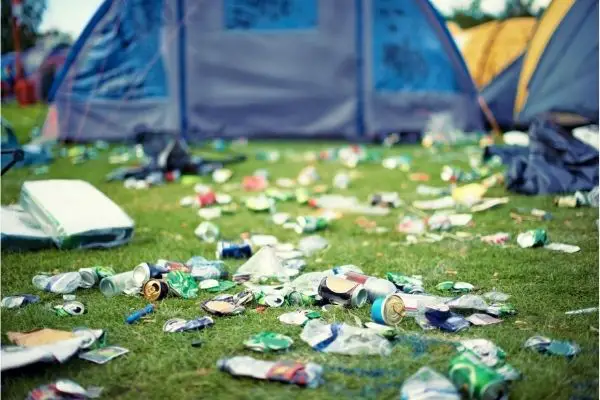 Kick back at your campsite and don't be afraid to have a drink or offer one to your neighbors! You'll be surprised how many people will join you. Social drinking is a big part of the RV camping experience, drink responsibly!
Is It Rude To Be Loud At Your Campsite?
Being loud at your campsite is not considered rude if it's not within your campground's quiet hours and you aren't disrupting your neighbors camping experience. Keep in mind that there is a fine line between playing music and blasting your neighboring RVs off the campground. Don't be afraid to crank your favorite tunes, just be courteous to a neighbor if they politely ask you to turn it down.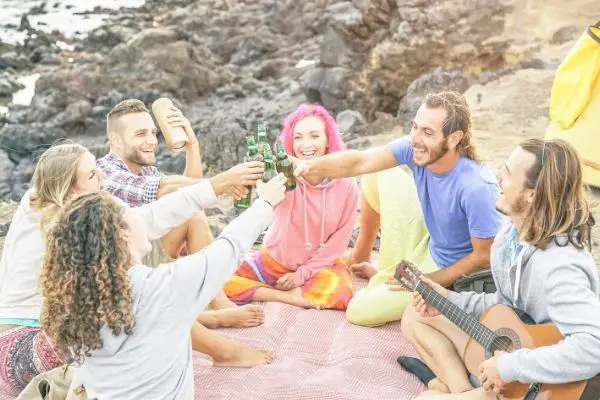 Being the loudest camper on the campsite isn't rude if you take your neighbors into consideration. Do your neighbors have little kids? Then it's probably not a great idea to be screaming profanities in the middle of the afternoon. Common courtesy is key when your camping crew is getting boisterous on the campground.
Most neighbors will politely confront you if your noise level is disturbing them, so have a good time! When it comes to noise outside of quiet hours, the best rule of thumb is to ask forgiveness, not permission!
Is It Rude To Pee Outside At Your Campsite?
There is absolutely no reason a person should be peeing outside their campsite; it is rude and disrespectful to your neighbors! Not all campers and RVs have bathrooms inside them for campers to use, but campgrounds have facilities for their campers to use when needed. No one in your campground wants to watch you do your business outside your campsite!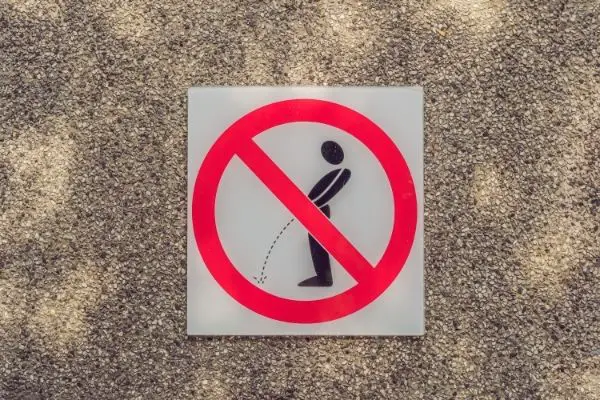 If you have the need to pee outside your campsite, you'll also have to consider the need to be prosecuted for indecent exposure. You'll never know who will see you while you're doing your business. Avoid flashing the campground and find a facility bathroom to do your business privately!
Campsite etiquette includes using the bathroom in private!
Is It Bad Etiquette Leave Garbage At Your Campsite When You Leave?
Leaving garbage at your campsite after you leave the WORST camping etiquette you can display! The number one rule of camping is to always leave your campsite cleaner than you found it. Most campgrounds include an additional fee or charge to campers who leave unwanted waste behind when exiting their campground.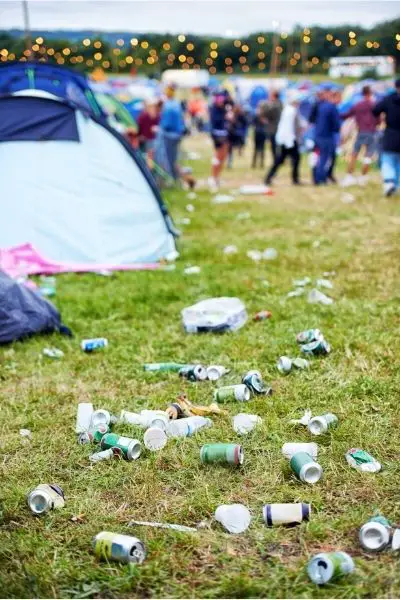 In general, littering is unethical and frowned upon. It might be one of the only factors that ALL campers agree on. It's never okay to leave your garbage lying around after camping! Do the right thing and dispose of your garbage in the designated areas at the campground.
Not only do campgrounds offer designated areas for garbage, but sometimes they offer garbage pickup. This means you don't even have to walk your garbage to their cans, you can simply leave it in front of your RV to picked up by campsite workers at the start of each day.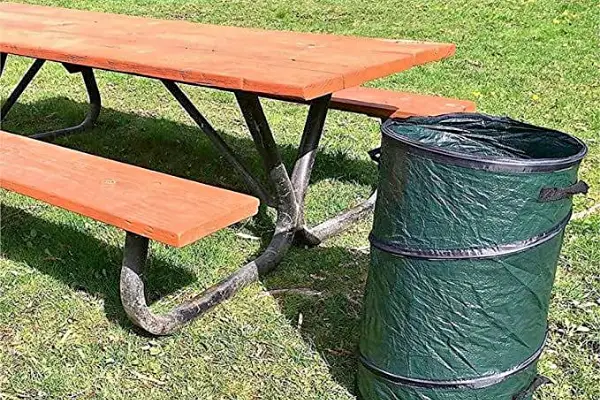 There's really no reason to ever leave your trash behind!