Any experienced camper will confess to the fact that sometimes they just want to kick back, relax, and watch their favorite television shows in their camper.  Campers can watch Netflix, Prime, and Hulu in their camper by downloading the shows to their computers, tablets or smartphones before leaving, streaming directly from the apps on their smartphones or tablets, or they can use one of the top-rated streaming devices like Roku, Apple TV, or an Amazon Fire Stick to watch directly from their camper's flat screen TV.  
Campers know they can easily download shows to watch prior to leaving for their camping trips, but streaming on your smartphones, computers, or top-rated devices is more enjoyable.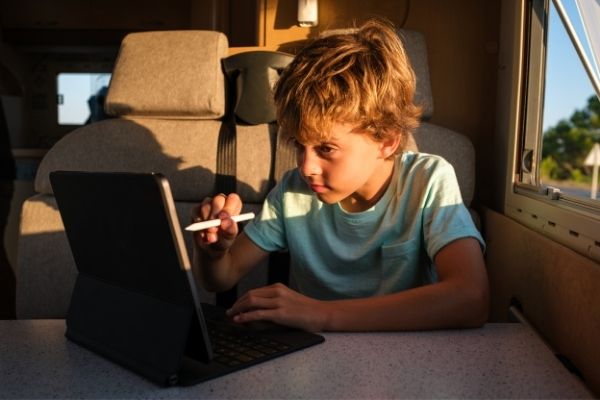 Downloading your favorite TV shows before you leave for a trip is the most affordable option to accessing your favorite shows on your favorite platform.  Streaming the shows directly from your smartphone, tablet, or computer is just as affordable, but it will require internet access at your campsite or from a personal hotspot.   For people who aren't living in their campers' full time, this is the best option for watching Netflix, Prime, or Hulu while in your camper because you won't need access to a large variety of shows.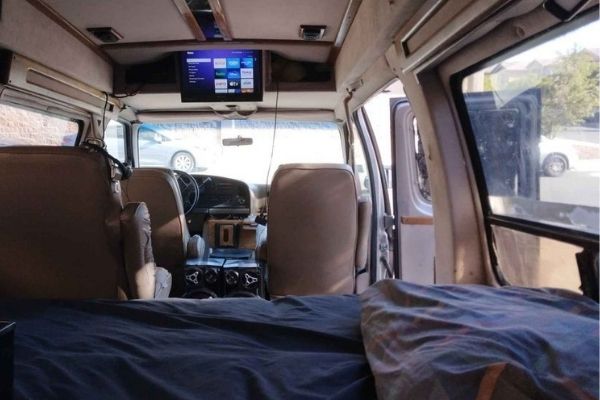 For those longer stays or more permanent tenants of their campers, you're much better off spending a little extra cash for a streaming device.  The Roku, Apple TV, and Amazon Fire Stick vary in price and functionality, but all will give campers access to Netflix, Prime, or Hulu whenever they are headed on their next camping trip.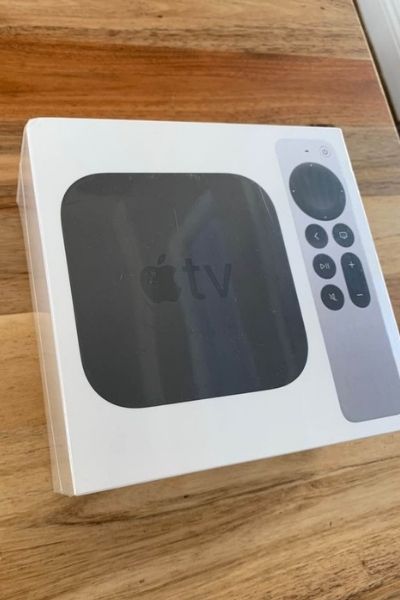 People who are fans of Amazon will likely prefer the Fire Stick.  Avid Apple users will want to purchase the Apple TV, the most expensive option.   For consumers who are non-partial to brand name products, the Roku streaming device is the top-rated choice because it is the least expensive and highest rated, making it the most popular.
As you work to figure out which option suits your personal preferences to watch Netflix, Prime, or Hulu remember that unless you are downloading your shows before leaving for the campground, streaming won't work without high-speed internet!  Be sure your campsite offers free, reliable, high-speed Wi-Fi or be prepared to provide your own internet access with a cell phone or other personal hotspot device to stream rather than download.
How Do You Want To Watch Video In Your RV?
Device Or TV
For the best viewing experience, I prefer watching their videos on a full screen TV.   Watching videos on a full screen TV also creates an environment for a shared viewing experience for more than one person.  Most campers aren't camping alone, this makes watching videos on your TV the best choice while in your RV.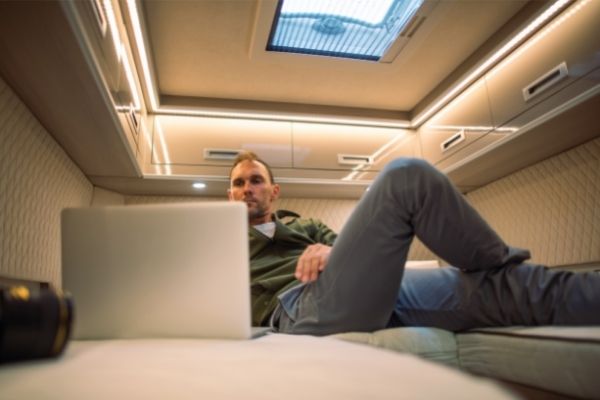 It's important to take into consideration that many studies show that watching videos for long periods of time on a device like your tablet or cell phone is more harmful to people's health.  A term called 'text neck' creates a strain on muscles causing pain in the neck, shoulders, and even your lower back. Here's a clinical study on the topic if you wanted to read more about it. Avoid curving your neck to watch movies on your phone while camping and stick with a larger viewing experience with your TV.
The overall movie or video experience can be extremely diminished if you are watching on a small device or smartphone.  Movies run for an average of 90 minutes; most people don't want to hold a phone for that long.  Not to mention, holding the phone or propping it up in a manner where your viewing experience won't be interrupted by shaky hands or falling face down is difficult to achieve.  
For the best experience watching your videos in your camper, stick with a full screen TV. If you're in a pinch, your smartphone or device will do.
Do You Need WIFI Or Just Data On Your Phone Plan To Stream Videos?
Smartphones today have the option to connect devices, such as TV's and laptops, to your phone and use it as a WIFI router or hotspot. It's called tethering. This way the device can use your phone's data plan. When WIFI is unavailable, phones will automatically switch to using data for internet access.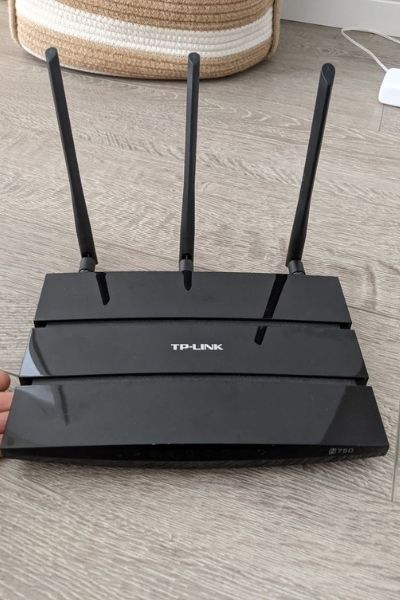 How much data you can use each month, without suffering additional charges, will depend on which wireless company and wireless phone plan smartphones are under.  Using smartphones as hotspot devices is an additional monthly charge with your phone's wireless plan. If you are want to set up WIFI in your RV, you can do so following this article. It goes into detail on setting WIFI in your Rig.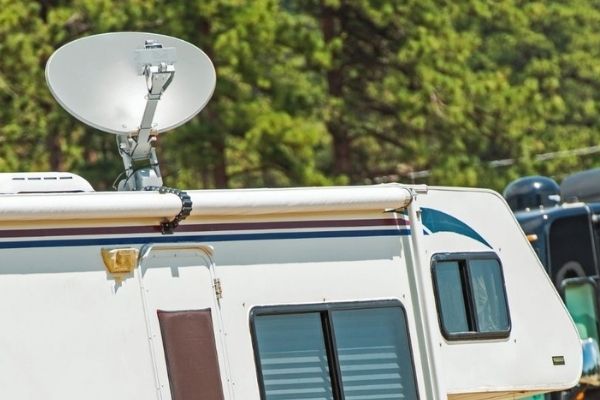 For campers who enjoy staying in campgrounds, almost all campgrounds offer free WIFI at their campgrounds or WIFI for a small additional fee.  While this is a great perk for browsing the internet, oftentimes the signal and WIFI strength will be too weak to stream on your device or motorhome's flat screen TV.  Depending on the number of vacancies and other campers using the WIFI at the same time will directly impact how efficient streaming Netflix, Prime, or Hulu will be in your camper.
It's important to understand that streaming your favorite movies or TV shows requires a lot of data.  Most people looking to stream from their personal smartphones or devices will require an unlimited data plan.  Streaming from an unlimited data plan is a desirable choice for people who have campers with smart TVs. 
Smart TV's give you the option to stream on your phone or tablet and mirror your screen straight to your smart TV.  A high-tech option for people who don't want to depend on their campgrounds WIFI signal for error free streaming.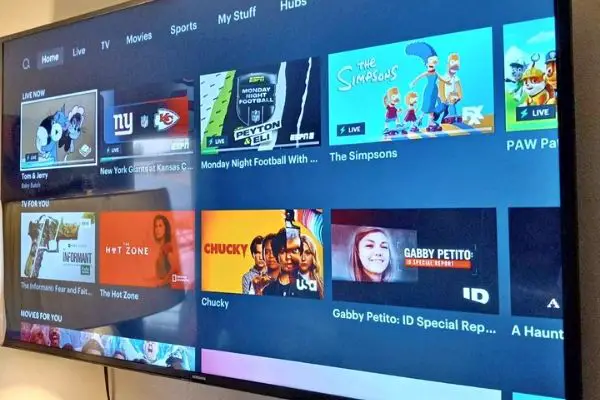 The best backup option for both WIFI and data use for streaming Netflix, Prime, or Hulu is paying an additional fee to use your cell phone as a personal hotspot.  Today avid campers choose this option as backup in case there are issues with WIFI or data streaming.  It's a great way to guarantee you won't be stuck without internet access no matter where you are traveling! 
For more detailed information on WIFI, data, and hotspot options for RV camping, check out the following article on the best mobile hotspots hardware on our website rvchronicle.com. 
What Is The Best Way To Watch Netflix/ Prime/ Hulu?
The choice to download or stream your videos while camping depends solely on the needs of individual campers' destinations, length of trips, personal preference, or whether you are in your motorhomes full time.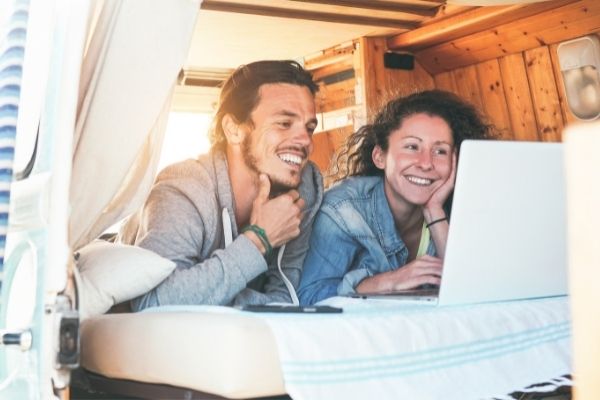 If you're looking for a sure-fire way to watch Netflix, Prime, or Hulu on your next camping trip without issues, downloading your shows or movies at home before your next camping trip guarantees you will have access to what you'd like to watch.  Keep in mind that downloading your videos may take away from your streaming options.
For remote destinations with little or no access to a WIFI signal or use of a personal hotspot, downloading your shows or movies before leaving is the only sure way you'll have access to streaming.  If you are going on a longer trip to places you know will have options for connections, take advantage of WIFI connections or use your personal hotspots so you and your camping crowd can choose whatever you want to watch!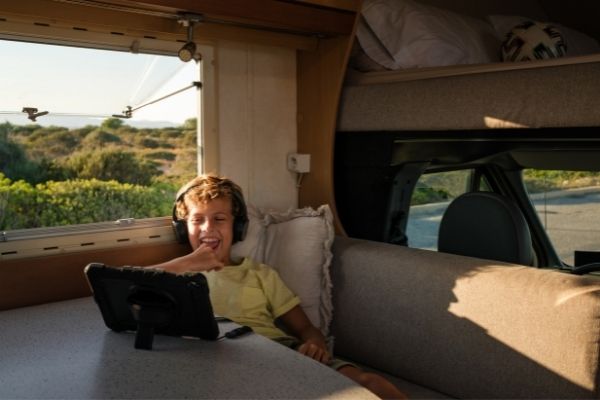 As you consider your options for streaming Netflix, Prime, or Hulu for your next camping trip, know that the most popular choice for streaming platforms in your RV is through the use of WIFI, data, or your phone's personal hotspot.  People like to have options for videos depending on their mood, time of day, or access to new movies and TV shows.  Downloading simply doesn't provide the versatility of using a wireless connection while camping, but it's good to know the option exists!
There is real beauty in having the option to extend your camping experience by including access to your favorite streaming platforms, movies, and TV shows.  Whether it's raining or your crew is simply exhausted from the day's adventures, there really is nothing better than a good movie night!