When properly set up, towing a toy hauler is no more difficult than towing a standard RV. Toy haulers are a special class of RV that is designed to provide dedicated garage space so you can bring your toys with you on your next adventure. Those toys can be included ATVs, motorcycles, UTVs, personal watercraft, cars, or even horses.
The added weight and position of most garage spaces in the rear of the toy hauler can pose challenges when towing. Here we will look at how to address those issues so your toy hauler towing experience goes smoothly.
5th Wheel VS Travel Trailer Toy Haulers: Which Is Easier?
5th wheels are always easier to tow than travel trailers and that is especially true when it comes to toy haulers. Toy haulers generally have the garage in the back which means your heavy toys will mostly sit behind the rear trailer axles while you are on the road.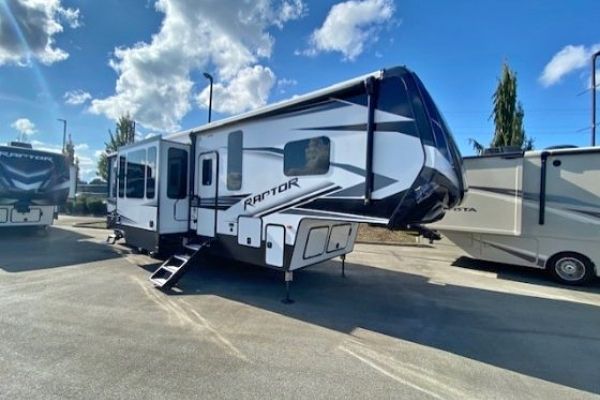 That's not a problem for a 5th wheel. The hitch location on a fifth wheel makes the trailer more stable and less susceptible to loading issues, although proper loading is still imperative. Travel trailers on the other hand become significantly less stable and more prone to sway when weight is added behind the axles.
There are several things you can do to address the loading issues on a toy hauler travel trailer. First and foremost, don't skimp on your hitch set-up. A good quality anti-sway weight distributing hitch is critical. At a minimum consider the 4 point Equal-i-zer hitch. If your budget allows, the Hensley Arrow guarantees a sway-free towing experience.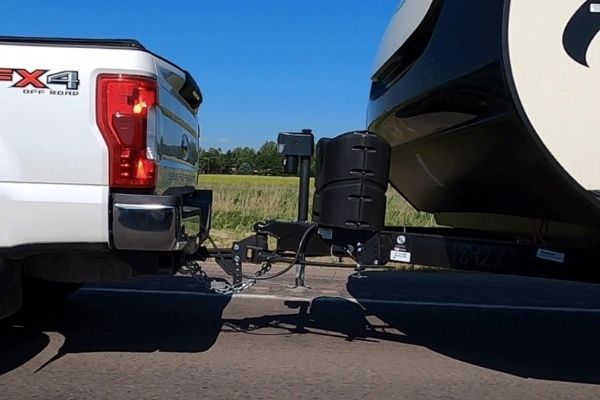 The next thing is to make sure your tongue weight is within the manufacturer's recommendation when your trailer is fully loaded. Figuring out your tongue weight can be tricky but it can be done with some simple tools like bricks, 2×4 lumber, and a bathroom scale.
E-Trailer has an excellent article detailing several methods for determining your tongue weight. With your trailer loaded for a trip, check the tongue weight. If it is low, move any heavier items that you can toward the front of the trailer like into a front storage pass-through.
If you move everything you can and you are still running light you may be able to weigh the front down by adding water to your freshwater holding tanks. Once you have a set-up that gives you proper tongue weight, make a list (mental or written) of where things are located. If you always pack your trailer the same way then you shouldn't have to repeat this process again.
With a quality anti-sway hitch and properly loaded trailer, your toy hauler towing experience should be nearly identical to a standard trailer of the same weight and length.
Do You Need A Dulley To Pull A Toy Hauler?
A Dulley is not required to tow most toy haulers. Adding the dual option generally does not significantly increase the towing capacity for otherwise identically equipped trucks. The dual rear wheels are more durable over the long haul and the wider stance can help with stability.
To get maximum tow capacity you will likely need to go with a dually wheel setup, a diesel engine option, and short rear end gearing (410 gears or shorter). This is generally only necessary for towing toy haulers with extreme dimensions in length, total weight, or hitch weight. The diesel dually setup is also best if you plan to routinely travel significant distances with your rig.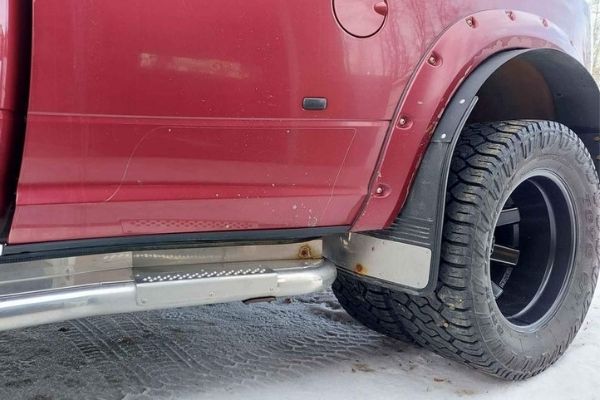 What Size Of Truck Do You Need To Tow A Toy Hauler? (Examples)
To tow a toy hauler or any towable RV, you need a tow vehicle with a maximum tow rating greater than the weight of your loaded toy hauler and with a GCVWR (Gross Combined Vehicle Weight Rating) greater than the combined weight of the loaded toy hauler and the tow vehicle.
It is possible to have enough towing capacity to pull the loaded trailer but be over the GCVWR for the truck and trailer combined. In which case, it is not legal to travel on US roads.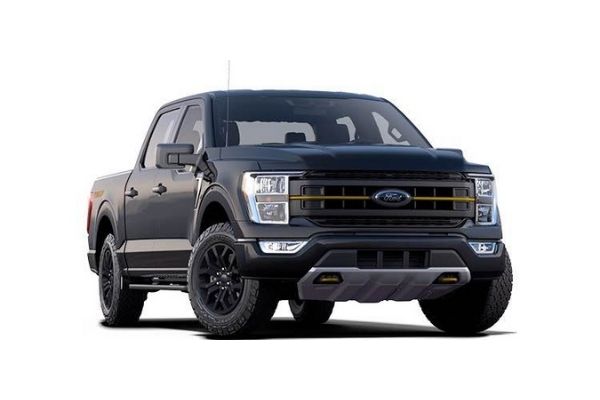 So, that's what you need to tow a toy hauler. Let's take a quick look at some real-world examples:
A small travel trailer toy hauler Intech Flyer Explore Travel Trailer
GVWR – 2990 lbs.
| Truck | Engine | Rear Gearing | Options | GCVWR | Towing Capacity |
| --- | --- | --- | --- | --- | --- |
| 2022 Ford Maverick AWD | 2L Inline 4 | 3.81 | | 8145 | 4000 |
| 2022 Base Ford Ranger | 2.3L Inline 4 | 3.73 | | 8650 | 3500 |
| 2022 Ford Ranger | 2.3L Inline 4 | 3.73 | Tow Package | 12150 | 7500 |
| | | | | | |
A medium travel trailer toy hauler Jayco Jayflight Octane 222
GVWR – 8250 lbs.
| Truck | Engine | Rear Gearing | Options | GCVWR | Towing Capacity |
| --- | --- | --- | --- | --- | --- |
| 2022 Ford F150 – Long Wheelbase | 2.7L Ecoboost V6 | 3.73 | Ecoboost Payload | 14,900 | 10,000 |
| | | | | | |
A large travel trailer toy hauler Jayco Jayflight Octane 277
GVWR – 10,995 lbs.
| Truck | Engine | Rear Gearing | Options | GCVWR | Towing Capacity |
| --- | --- | --- | --- | --- | --- |
| 2022 Ford F150 | 3.5L Ecoboost V6 | 3.73 | Max Trailer Tow | 18,000 | 13,000 |
| 2022 Ford F250 | 7.3L V8 | 3.55 | | 21,800 | 13,000 |
A small 5th Wheel Toy Hauler Forest River XLR Nitro 28DK GVWR – 16385 lbs Hitch Weight – 2385 lbs.
| Truck | Engine | Rear Gearing | Options | GCVWR | Towing Capacity |
| --- | --- | --- | --- | --- | --- |
| 2022 Ford F350 SRW | 6.7L Turbo Diesel | 3.55 | | 30,000 | 19,000 limited by hitch |
A Large 5th Wheel Toy Hauler Jayco Seismic 4113 GVWR – 20695 lbs.
Hitch Weight – 3900 lbs
| Truck | Engine | Rear Gearing | Options | GCVWR | Towing Capacity |
| --- | --- | --- | --- | --- | --- |
| 2022 Ford F350 DRW | 6.7L Turbo Diesel | 4.10 | | 43,400 | 32,500 – limited by hitch |
Can You Tow A Toy Hauler Trailer With A Lifted Truck?
It is possible, but it is generally not recommended for a couple of reasons.
Safe and proper towing requires equipment which is specifically designed for the task. Hitch manufacturers design their products to work with specific vehicles in a stock configuration.
When it comes to lifting or modifying your tow vehicle, there are simply too many possible options and combinations for the towing equipment manufacturers to accommodate. These modifications all change the dynamics of how the tow vehicle handles. These variances in handling can lead to unsafe towing situations.
When it comes to lifting your truck, there are two types of lifts available: suspension and body lifts. There will be differences between these and how they affect your towing capabilities. For travel trailers, body lifts work out fine.
The hitch receiver is attached to the frame and it remains at the stock height when using a body lift. The remaining suspension remains unchanged as well. Suspension lifts however will raise the receiver and alter the vehicle geometry. You can compensate for the extra height with a longer hitch drop bar, but the changes in truck geometry can still cause serious handling issues.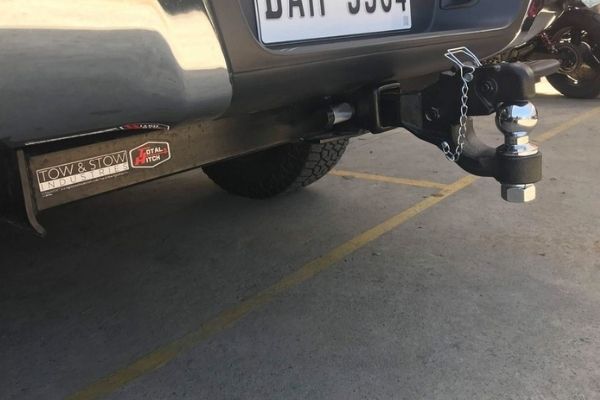 Can You Tow A Toy Hauler 5th Wheel With A Lifted Truck? (3,4,5,6 Inches)
Towing a 5th wheel toy hauler with a lifted vehicle presents some specific challenges which can make it unsafe, impractical, or downright impossible. Regardless of your lift type, body or suspension, the bed will be higher than in a stock truck.
Body lifts will lift the bed without lifting the frame which can make installing a fifth wheel hitch much more difficult. Most fifth wheel hitches rely on supports that bolt to the frame under the bed for proper attachment. Body lifts will add a gap between those supports and the bed floor.
Those gaps will not allow secure attachment of the hitch bed rails, making properly securing the hitch itself impossible. To solve this problem, you will need to have custom brackets made.
Lifting your tow vehicle will also change the clearances of your hitch setup. Proper hitch setup for a 5th wheel requires the top of the hitch to be level with the kingpin when the fifth wheel is level to the ground. There should also be a minimum of 5 ½" of clearance between the bottom of the fifth wheel overhang and the top of the truck bedrails.
Lifting your truck will lift the bed which will negatively affect these values. As the bed raises, the hitch has to be lowered. Most hitches have adjustable height so you can match them to your specific 5th wheel. That adjustment range varies by manufacturer and hitch model but is typically in the 4 – 6″ range. With such a narrow range, it's easy to see how even a 4″ lift can begin to cause problems.
Finally, as you lower the hitch to compensate for the lift in the truck, the bed rail clearance is decreased by the same amount. Without proper clearance, you can easily damage the trailer, truck, or both.
Can You Tow A Toy Hauler With A Half-ton Truck?
There are specific half-ton trucks that are capable of towing some toy haulers. The key is to understand gross vehicle weight limits, towing capacities, and hitch capacities. Truck technology and capabilities have changed significantly over the past several years.
When selecting a tow vehicle, you'll want to find the original specifications for the truck you are considering and do your research from there. For a used truck, you'll want to know the make, model, year, engine, transmission, rear end gearing, and whether or not it was equipped with any special towing options.
Most of that information can be found on the vehicle ID tag on the driver's side door frame. With that information, you can look up towing capacities from the vehicle manufacturer's website. For example, Ford publishes towing guides for vehicles dating back to 2004 with a lot of valuable information.
Similar information is also available from RAM, Chevrolet, and GMC. Towratings.net is also a good third-party resource for most major manufacturers dating back to 1990 or so.
One of the major factors which will limit the use of a ½ ton truck as a toy hauler tow vehicle is hitch capacity. Fifth wheel toy haulers have heavy hitch weights, typically in the 2,000 – 3,500 lb. range which is generally too heavy for most ½ ton pickups.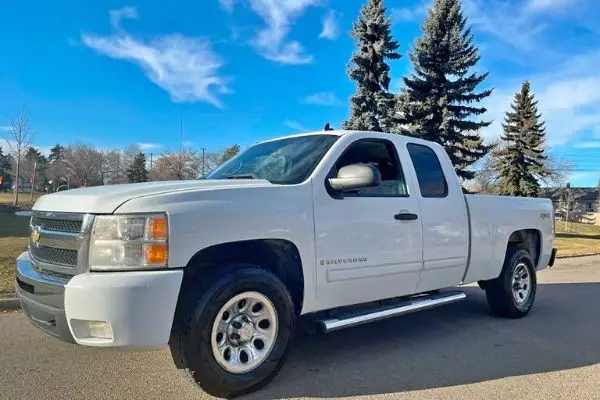 They simply can't take that kind of weight in their beds. In fact, it can even be stretched for some ¾ ton trucks. When shopping for a 5th wheel tow vehicle always look carefully at the bed capacity rating.
Bear in mind that because a specific truck is capable of towing your toy hauler, it may still not be the best choice. For example, the max tow rating on a 2022 F150 is 14,000 lbs. The closer your trailer is to that max weight, the more you should consider stepping up to a heavier-duty vehicle.
Towing that much over significant distances, or up and down mountains, will push the limits of the truck in every way. Drivetrain and braking components will be constantly stressed and mechanical issues will likely be more frequent. Also, lighter-duty trucks are actually lighter in weight and have a shorter wheelbase.
Both of these will allow heavier trailers to push the truck around while you are on the road. Heavier duty trucks will be more stable and reliable towing heavier loads over time. If possible, always buy more trucks than you think you'll need.
Can You Tow A Toy Hauler With A 4-Cylinder Truck? (Toyota Tacoma Or Honda Ridgeline)
It is certainly possible! In fact, this market segment is currently one of the fasted growing truck segments on the market. Modern 4-cylinder engines are quite powerful and allow trucks like the 2022 Ford Ranger to tow up to 7500 lbs. That's plenty for many of the small toy haulers on the market that fall within the lighter weight ranges.
The Intech Flyer Explore is an excellent example. This small travel trailer toy hauler has a fully loaded GVWR just under 3,000 lbs. with 900 – 1,500lbs of that weight reserved for payload capacity. That's plenty of capacity for a UTV, a couple of motorcycles, or other small toys and it can be towed even with a modest SUV.