Small travel trailers are one of the best options for singles or couples to enjoy the benefits of camping and RV travel. Travel trailers are a substantial upgrade from tent or car camping. They provide much better weather protection; far superior sleeping arrangements and they are much easier to set up and break down so you can spend more time enjoying the camping experience. Furthermore, travel trailers can be left stocked and ready for your next adventure, so they are ready to go when you are.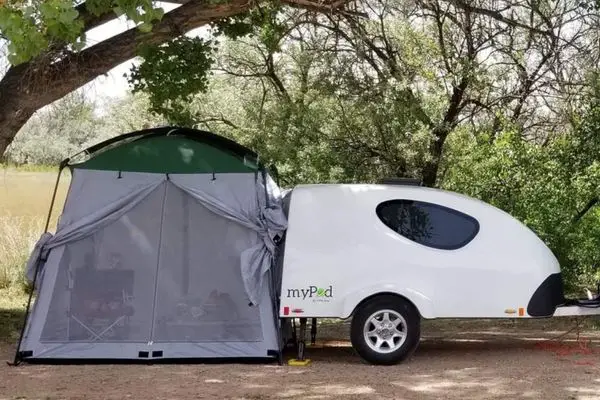 Small travel trailers also have many significant benefits over other small RVs for single or couples travelers. Travel trailers are cheaper and less expensive to maintain than a small motorhome or campervan. They are also easier to use than a truck camper.
Finally, many small travel trailers can be towed behind the car your already own and in some cases, even a motorcycle can be used. Let's take a closer look at the benefits of small travel trailers in general and then we'll look at a few examples of specific models so we can get an idea of what a small travel trailer can do for you.
Small And Lightweight: Means Just About Any Car Can Tow.
When we talk about small travel trailers we are generally looking at trailers under 15' in length. Midsize trailers run from about 15' – 28' and large trailers are 29'+. The major benefit of a small trailer is its lighter weight. The lighter the trailer, the more vehicles you'll have to choose from that can tow it.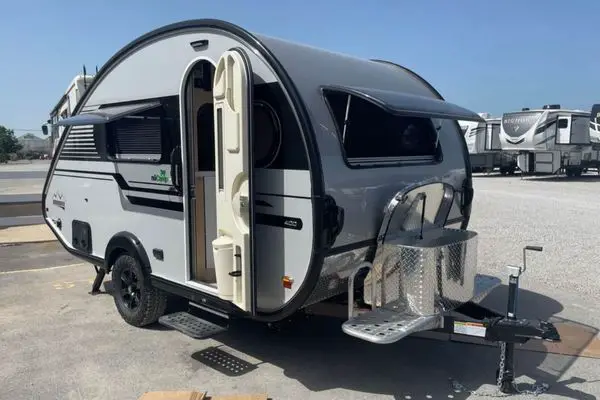 Towing specifications and capabilities are always vehicle specific so make sure you consult your car's owner's manual for specific details before trying to tow with it. Exceeding the tow rating of your vehicle can not only damage the vehicle, but it can be unsafe for you and surrounding traffic. Don't tow anything without knowing your vehicle is capable of handling the load.
Caveats about the types of vehicles that can tow
As a general rule of thumb, you want to keep your trailer weight below 75% of the maximum towing capacity of your tow vehicle. Given that here are some general guidelines of what different types of vehicles may be able to tow:
Electric Vehicles
Battery Electric Vehicls generally can't tow anything. There are some exceptions like the Tesla Model X and most battery-powered pickup trucks but in general, towing with a battery-powered car is a hard no can do. Even if they can tow, their performance and usability for travel while towing are generally so poor you should avoid trying to use them for anything but the shortest trips. When it comes to towing, there's no replacement for an internal combustion engine.
Small Cars & Sedans
With Small cars and sedans most can tow but will have low limits around 2,000 lbs or less. They likely won't have a hitch or trailer plug installed from the factory so you'll need to find one that will fit your car and have it installed. Do this before buying the trailer to avoid having a trailer and no way to tow it if there are no hitches available for your specific vehicle.
Small SUVs
Smaller SUVs like a Ford Explorer and pickup trucks like the Ford Maverick will be limited to around 3,500 lbs of towing capacity. Fortunately, many of these will come from the factory with a preinstalled hitch. If yours did not, finding one that fits will probably be easier than for a smaller car or sedan.
Larger SUVs
Larger SUVs like a Ford Expedition or Chevy Suburban can typically tow in the 5,000 – 8,000 lb range which should be more than enough for a small travel trailer.
Full Sized Pickups
Pickups like the Ford F-150 or Chevy Silverado will typically tow 8,000lbs or more. These make a great choice for towing small travel trailers.
Motorcycles
larger motorcycles can tow a travel trailer. As with cars, check your bike's owner's manual for specifics. Larger touring bikes are often capable of towing trailers in the 500 – 1000 lb range. There are small travel trailers available that fall in that range.
Easy Storage When Not In Use
Small travel trailers also have a small footprint which makes them easy to store when not in use. Depending on the specific trailer, it may fit in a garage space or an area next to the driveway or house.
Small Enough For One Or Two People
The trailers we are looking at in this article are small enough for one or two people. In most cases that means they can provide a comfortable place to sleep, eat and wait out bad weather for those people. They are generally not designed to be comfortable places for one or two people to live full-time.
Depending on the model, space can be cramped and many won't have interior heights tall enough to stand up in it. Very few will have a bathroom so you'll have to rely on the campground facilities or proper backcountry procedures (here are 14 options for showers if your trailer doesn't have a bathroom). Most do include some kitchen or cooking facilities so preparing food can usually be done at the camper. With that in mind, let's take a look at some specific models.
Mypod
Mypod is a typical small teardrop-shaped travel trailer. It has a dry weight of just 840 lbs and an overall length of 11' 6". This small size would allow it to be towed by almost any gas-powered car or even some motorcycles.
In spite of its tiny size, it is packed with lots of great features including sleeping space for 2, an entertainment system, air conditioning, 12V DC and 110V AC power and it has an optional screened-in tent which can be attached to the back hatch to expand your living space. Unfortunately, there are no cooking appliances included, but there is an optional roof rack that would be a great place to carry a tote with a Coleman grill or other cooking appliances.
Esapod TOPO2
Escapod TOPO2 is an offroad capable teardrop travel trailer capable of taking two people on a backcountry adventure. The interior features a true queen-size bed, and the rear opens up to provide a full kitchen. The kitchen has a two-burner propane cooktop and space for a Yeti 75 cooler, or there is an optional refrigerator/freezer available.
Power is provided by a lithium-ion battery which is charged by an integrated but removable 140-watt solar panel on the galley roof. Fresh water is carried in an internal 21-gallon tank and there is an integrated 4-speed fan on the roof to help keep things cool inside. At just under 1500 lbs dry, the escape pod can be towed by most vehicles including Jeeps and Broncos which can tow it to remote backcountry locations.
NuCamp – TAG & TAB
NuCamp makes the TAG and TAB series of teardrop trailers and campers. These range in size from the TAG teardrop trailer which is 13'7" long, 1269 lbs dry and can sleep 2 to the Tab 400 camper which is 18' 3" long, 2840 lbs dry, and can sleep 3. Their product line is split between the TAG trailer which sleeps two and has no bathroom but does have a rear hatch that opens to a kitchen and the TAB campers.
The smallest TAB camper is the 320, it sleeps 2, has a wet bathroom, couch/bed combo, and interior kitchen space. It is 15' 3" long and weighs a modest 1946 lbs dry making it one of the smallest and lightest full-featured travel trailers on the market.
Timberleaf
Timberleaf trailers offer three models of classic teardrop trailers. The aptly named Classic model weighs in at 1400 lbs, measures 14' in length, and sleeps 2 on what they call a "Colorado Queen" bed. The Pika is smaller at 11' 10" in length and 1025 lbs. It also sleeps 2 on a double bed. The Kestrel is their "minimalist" offering to measure 11' 6" in length and only 860 lbs dry weight.
This unit also sleeps 2 on a double bed. The Classic and Pika feature an exterior clam shell kitchen in the rear, the Kestral does not. All three models are available in on-road and off-road trim. The offroad set-up adds larger offroad tires, an extra suspension lift, and other off-road features.
Happy Camper HC!
Happy camper HC1 is a retro art-deco-styled miniature travel trailer that is sure to turn heads on the road. It's 13' 5" in length and a surprisingly light 1100 lbs dry. It features what they term "Adaptiv" components which are essentially modular blocks that can be arranged and configured to make seating, beds, furniture, storage, and kitchen spaces within the trailer.
They can be arranged and rearranged as needed for how you plan to use the trailer. Think of the trailer as a shell that you arrange your components inside of to make it your own. It's a pretty neat and unique system that allows the trailer to be configured to sleep as few as 1 or as many as five. The Adaptiv system makes the HC1 one of the most versatile and unique campers on the market.
Intech Luna
Intech Luna is a large high-end teardrop camping trailer. It's available in two models, the Base and Rover which vary by exterior graphic treatments and some standard features. Dry weight is around 1800 lbs depending on the model and options and the overall length is 15' 6".
It features just about everything you would want in a travel trailer with the exception of a bathroom. It has to sleep for 2, an outstanding clamshell exterior kitchen space, a gorgeous interior with high-end entertainment features, and even an in-wall electric fireplace.
Scamp 13′
Scamp 13′ standard layout 1 travel trailer is a complete travel trailer with sleeping arrangements for 2 and an interior kitchen. It's available in 2 floorplans. Layout 1 has additional forward storage and extra bed space. Layout 2 swaps the forward storage and bed space for a wet bathroom and closet.
Depending on selected options the Scamp 13 weighs in roughly between 1200 and 1500 lbs dry and has an overall length of 13'. Given those specs, the Scamp 13 is one of the most feature-packed campers available for size and weight.