RVs are a great way to travel because they allow you to take your stuff with you wherever you go. For most RVers, the storage capacity inside the RV is sufficient for most trips. Even if you want to take motorized toys with you, a toy hauler RV will usually do the trick. What are your options if that space just isn't enough or if you need to bring things with you like horses that you just don't want inside your RV?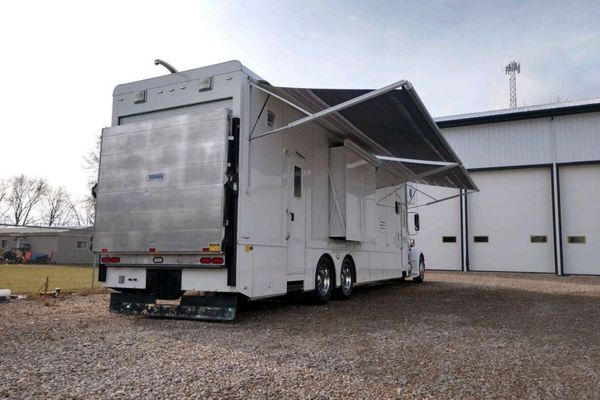 In these cases, the best choice is to choose an RV, like a motorhome, which can tow an extra trailer(s). Here, we'll be looking at RVs that have huge towing capacity. If you have a traveling business that needs heavy equipment or a shop on wheels, or if you want to tow a large boat, car or motorcycle race trailer, or even a bunch of horses on the rodeo circuit, these RVs should be on your heavy hauling shortlist.
How Much Can Super C's Typically Tow?
Super C RVs are built using heavy-duty truck chassis and drivetrains. This configuration gives them a stiffer frame, wider wheelbase, and a more powerful and capable engine/transmission combination than you would find in Class B, Standard Class C, or Class A motorhome.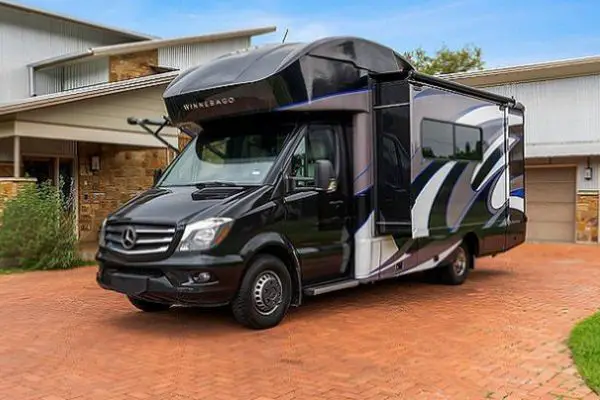 These advantages make them the kings of towing capacity in the RV world. The typical towing capacity for a Super C is between 10,000 and 20,000 lbs. Those numbers can vary even within the same brand and model depending on options and configuration.
Super C's have developed a reputation of being the go-to RV class for RVers who need to tow heavy trailers. For this reason, many manufacturers are now offering Super Cs with over-the-top towing capacity. Here are a few examples to check out.
Show Hauler – 40k
Show Hauler is a custom Super C coachbuilder located in Middlebury, Indiana. While each motorhome is custom-built to your specifications, they do offer a list of standard features and available options. Among the list of standard features is a 40,000 lb. towing capacity for their Super C motorhomes.
Their website features a portfolio of some of their builds showcasing their outstanding build quality inside and out. If you're looking for a one-kind Super C that can haul a heavy trailer then Show Hauler is certainly worth a look.
1492 Coachworks – 40k
1492 Coachworks is another custom builder of heavy hauling Super C motorhomes. They are located in Oklahoma City, OK. Every Super C motorhome they produce is custom-built to your specifications. That can include up to a 40,000 lb towing capacity.
If you're intending on towing a horse trailer they have also partnered with Outback Customs which specializes in outfitting high-end horse trailer interiors. 1492 Coachworks could be a one-stop shop for your custom heavy hauling Super C and trailer combination.
Newmar Supreme Aire – 30k
The Newmar Supreme Aire is a luxury Super C Motorhome available in two 40' and three 45' floorplans. Each unit is built on a Freightliner® M-2 112 tandem rear axle chassis powered by a massive Detroit Diesel DD13 12.8L engine running through an Allison 4000 T 6-speed transmission. All this power brings the total towing capacity to a whopping 30,000lbs.
The luxurious interior and beautiful exterior options create a tranquil and smooth riding environment that will allow you to quickly forget all that power that sits underneath you. If you are looking for a heavy hauling Super C with a custom feel without having to wait for a custom build then the Newmar Supreme Aire should be on your shortlist.
Renegade Classic – 30k
The Renegade Classic from Renegade RV is a series of Super C motorhomes available in 18 floorplans with a maximum towing capacity of up to 30,000 lbs. Lengths range from 37' – 45' with several different options for chassis/drivetrain combinations.
Within that range of floorplans, there are both standard Super C configurations, Super C Toy Haulers, and two sports deck trailer haulers. Each Renegade Classic is custom built off the selected floor plan to your specifications with a long list of options available.
Dynamax DYNAQUEST XL – 20k
The Dynamax Dynaquest XL is a Super C motorhome built on a single rear axle Freightliner® M2 112 chassis powered by a Cummins® 8.9L ISL turbo diesel engine running through an Allison 3200 TRV 6-speed transmission. It is available in 4 floorplans ranging in total length from 37 ft – 41 ft. The single rear axle chassis and smaller size limit the towing capacity to a still impressive 20,000 lbs.
The smaller size, lower overall weight, and smaller powerplant will translate to a more efficient and easier-to-maneuver motorhome when compared to the other units in this rundown. If you don't need the ultra-high towing capacity the larger units offer then the Dynaquest XL offers great towing capacity in a more manageable package. For additional Super-C options please see Super C Motorhome Manufactures.
What Is Heavy Towing?
Heavy towing is typically categorized as towing anything over 12,000 lbs. Class IV hitches are rated to that weight and they are the highest-rated hitches standardized and recognized by the Society of Automotive Engineers (SAE). Once you get beyond 12,000 lbs you get into weights requiring special Class V hitches and other on/off-road hitching platforms like fifth wheels, goosenecks, and pintle hitches. Many of those mechanisms are not compatible with Super C RV towing.
Do You Need A Special Hitch For Heavy Towing?
Heavy towing can be done with a standard frame-mounted hitch receiver to connect your hitch and trailer too. This will be your typical "bumper pull" set-up that you would find in a passenger car, SUV, or light truck. To tow the exceptionally high weights these RVs are capable of you will need to find components that can handle the weight.
Remember that your true towing capacity is no higher than the capacity of the weakest part in your hitch set-up. If you have a 20,000 lb receiver, a 10,000 lb. hitch bar, and a 5,000 lb ball then you are limited to 5,000 lbs. or less of towing capacity.
For towing capacities from 12,000 lbs. – 20,0000 lbs you'll need to look for Class V 2" receivers and equipment. For over 20,000 lbs. you'll need a commercial grade Class V 2 ½" or 3" receiver and equipment. Class V hitches are not recognized by any standards so the towing capacities are tested and set by the manufacturer.
It's important that you purchase from a trusted manufacturer that can provide testing data backing up their capacity claims. This is not the equipment you want to buy from an unknown foreign source on Amazon.
There are very few options available that will get you past the 20,000 lb. mark. One such option is the SUPER HITCH® Magnum 30K from Torklift. It's a simple bolt-on to the frame receiver which includes both 2 ½" and 2" receiver ports. Maximum towing capacity is 30,000 lbs. when using weight distribution and 20,000 lbs. without.
Heavy duty hitch bars and hitch balls can be found at Bulletproof Hitches for receivers up to 3" and 36,000 lb. capacity. Towing components rated up to 20,000 lbs. are readily available from several reputable sources so finding equipment in that range is much easier.
Most Super C manufacturers include the appropriate hitch for the tow rating on the vehicle. If your towing requirements exceed 20,000 lbs. then make sure you discuss those needs with the RV manufacturer prior to purchase. They should be able to provide you with the equipment or information on how to obtain the equipment to meet your needs.
Can You Tow More Than One Trailer Behind Your RV?
Towing two trailers behind your RV is called "Triple towing" in the RV world and it is allowed in many states. The federal government in the US does not regulate traffic laws for most non-commercial traffic which includes RVs.
For that reason, rules on RV use including RV towing regulations are set on a state-by-state basis. These rules can vary greatly by state so it is important that you consult something like the Good Sam Rules of the Road before traveling in an unfamiliar state.
If you head north of the border, you will be faced with a similar situation. Triple towing is legal in some Canadian provinces but is illegal in others. If you are planning a Canadian trip make sure you consult the regulations in each province you intend to travel in. The above-linked Good Sam Rules of the Road also includes information on the rules for Canadian Provinces.