Super C RVs are a special class of RVs that bridge the gap between Class C and Class A RVs. Like class C, they are built on a truck chassis with the classic truck front profile including a hood and engine in front of the driver. At 33 to 45 feet in length, they offer the space and luxury of many Class A's.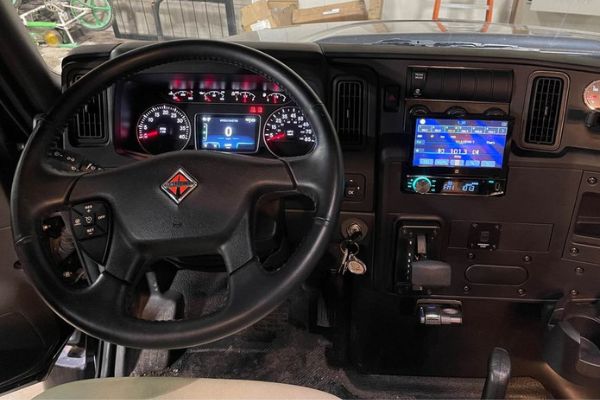 Super C's have become increasingly popular over the years and there are now several top manufacturers with excellent units in this category. Here we'll take a look at eight of these companies and what they have to offer.
Jayco
Jayco's entry into the Super C market comes in the form of the Seneca Super C RV. The 2023 Seneca is offered in two different configurations, the Seneca starting at $312,443 and the Seneca Prestige starting at $340,800. Both units are 39' 4" long, sleep up to 9 people, and come with the build quality you would expect from one of the top manufacturers in the RV industry.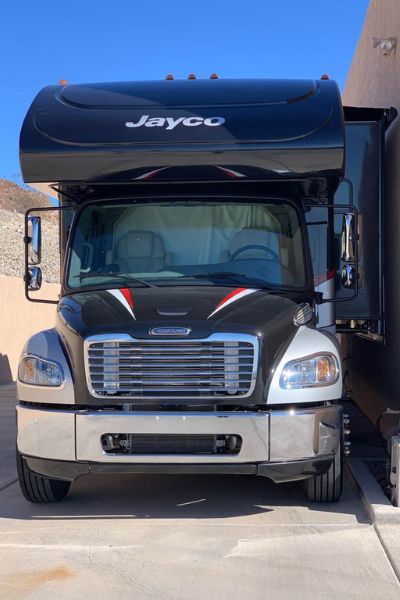 Both units also feature the same chassis and drivetrain with a Freightliner chassis, Cummins 6.7L diesel engine pushing power to the rear wheels through an Allison automatic transmission. This proven, rock-solid drivetrain will provide many dependable years of service.
Both are also available in three floorplans designated as 37K, 37L, and 37M. All of which feature a rear main bedroom but differ in the kitchen layout. The K version has a fixed kitchen whereas the L and M versions have the kitchen in a super slide-out.
The Seneca Prestige builds upon the standard Seneca with the addition of the premium JRide system and more advanced suspension options. This package includes a computer-balanced driveshaft, air suspension in the rear, a rear heavy-duty stabilizer bar, full air brakes, and SACHS shocks. These upgrades significantly improve the ride quality of an already great driving RV.
Dynamax
Dynamax is a division of Forest River that specializes in luxury Class C and Super C RVs. They currently offer 5 different Super C models.
Thor
Thor Industries is the largest producer of RVs in the world. It is actually a conglomeration of a number of RV brands including Jayco, Airstream, Heartland, KZ, and Venture RV among others. Ownership of all these brands means Thor Industries has extensive experience building all sorts of RVs from basic travel trailers to high-end Class A's. Nestled within their portfolio is Thor Motorcoach which specializes in the production of Class A and Class C motorhomes. They have several offerings that fall within the Super C category.
Omni and Magnitude. These are their base model Super C motorhomes. They are built on a Ford chassis with a diesel powertrain and four-wheel drive. Both models start at $284,100 and are available with 4 different floorplans ranging in length from 33' – 37'. They differ primarily in interior decor and available exterior color schemes.
Inception and Pasadena. Stepping up from the Omni and Magnitude platform you'll find the Inception and Pasadena which Thor calls their "Mega C's". These come in at 39' 10" and are each available in three floorplans starting at $347,250. Both are built on the ultrareliable Freightliner chassis with a Cummins 6.7L diesel engine. Like the Omni and Magnitude, The Inception and Pasadena differ mainly in the interior décor and available exterior color schemes.
Newmar
Newmar is one of the most trusted names in luxury RVs with a wide range of offerings in both the Class A and Class C categories. They currently offer two Super C models.
Super Star. The Super Star is Newmar's "base model" Super C motorhome. Starting at $442,148, the Super Star sets the bar high for a base model with 4 floorplans ranging in length from 37 to 40 feet. Each unit is carried by a Freightliner chassis and is powered by a Cummins diesel engine. One unique feature is the full cab air ride system which does an outstanding job smoothing out the road as you travel. These units also feature a fiberglass roof with fully integrated gutters. Interior appointments are top-notch and there are several available exterior color schemes available as well.
Supreme Aire. The Supreme Aire is Newmar's top-of-the-line Super C with a starting price of $680,903. These units are built to offer the best of the best in the Super C class right down to the fully painted Masterpiece exterior finish available in a number of color schemes. There are 5 floorplans ranging in length from 41' 2" to 44' 11". The chassis is a dual rear axle Freightliner M-2 112 powered by a massive Detroit Deisel 12.8L motor generating an impressive 1850 lb*ft of torque. All that power is there for a reason as this is one of the strongest Super Cs on the market. The rear tow hitch is rated at 30,000 lbs with a 3,000 lb maximum tongue weight. The GCVWR is an impressive 72,000 lbs. If you need to haul heavy cargo as you travel in luxury, the Supreme Aire might just be your rig.
Nexus
Nexus RV specializes in motorhomes in the Class B+, Class C, and Super C categories. They have four primary Super C offerings which fall into two categories.
Rebel 4×4. The Rebel Super Cs are built on a 4-wheel drive International truck chassis which is powered by a Duramax diesel engine and Allison transmission. They are available in two floorplans coming in at 30' 11" and 34' 11". Both feature a full wall slide out on the driver's side and the larger floor plan adds a set of double bunk beds to the king bed common between either floorplan.
Triumph SC, Wraith, and Ghost. These units are all based on a 25,999 lb GVWR International truck chassis powered by a Cummins Diesel and Allison transmission. Each model is available in a variety of floorplans with lengths ranging from 30' to 38' feet depending on the model and floorplan. The Triumph SC is basically their entry-level unit, the Wraith gets midlevel upgrades, and the Ghost is their top-of-the-line luxury model. All are built with exceptional quality and would make great rigs for any RV traveler.
Renegade
Renegade started its life as a small custom motorcoach builder specializing in luxury and adventure rig builds. They have grown to be a leader in the Class C motorcoach arena, offering a broad range of models in the C and Super C classes. The majority of their builds are focused on Super Cs with too many to dive into individually in this article. These units include Classic, Explorer, Ikon, Valencia, XL, Verona LE, and Verona.
Whether you are looking for a high-quality 34' single axle Super C or a massive luxury dual axle 45' unit, Renegade has you covered. Each model is available with a broad range of options and customizations that will allow you to tailor the rig to your specific needs. If you're seeking a more personalized solution then Renegade is one of your best options.
Show Hauler
Show Hauler builds custom Super C motorhomes on a per-order basis. While they do have several standard floorplans to choose from, each unit they build is made specifically to the customer's specifications. They are one of the few builders offering Super C toy haulers or that have the capabilities to build a unit to haul specific cargo or trailers.
If you're in the market for a unique custom Super C RV for general travel, full-timing, or need one that can safely haul something like a race car or matching heavy trailer then Show Hauler is one of your best options.
1492 Coachworks
1492 Coachworks is also a custom manufacturer of Super-C motorhomes. Each unit is designed and built to your specifications. Every detail of their rigs can be set by you during the design process as their designers will work with you from the initial concept to the final driving rig. Kitchens, bathrooms, bedrooms, and even garage spaces can all be custom configured to your needs.
Every detail is meticulously crafted to produce an exceptionally reliable RV whether you are using it for work, a weekend exploring, or full-time living. If you have a vision for a Super C RV which falls outside the standard models of the common manufacturers, then 1492 Coachworks may be your best option to fulfill your dreams.