Small travel trailers are a great way for singles or couples to enjoy the RV camping and travel experience. They have several advantages over other small RV formats like Class B RVs as well as larger travel trailers and fifth wheels. In general, they are much less expensive than any motorized RV. They also require less maintenance and can be stored in small spaces.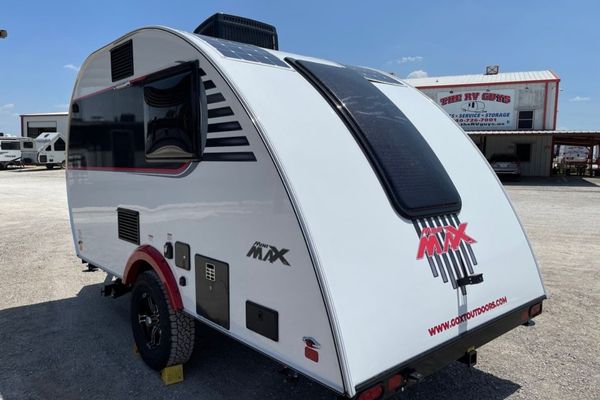 Their smaller size also means they can be towed with a more modest tow vehicle, perhaps one you already have sitting in the garage. Finally, they can be left behind in camp while you use your tow vehicle to explore the surrounding areas, or head into town for supplies. This may seem like a small benefit but there are many places that motorized RVs simply can't go.
For example, most are not allowed on the Acadia National Park Loop Road, Going to the Sun Road in Glacier National Park would be off limits to most and the road leading to Fern Canyon in Redwoods State/National Park can only be navigated with a regular passenger vehicle.
Here we'll take a look at some things you'll want to consider when looking at a small travel trailer with a bathroom. We'll also look at some specific models to see what they have to offer solo or couples travelers.
Going Solo Or As A Couple
Whether you're traveling solo or as a couple won't have a significant effect on your options or choices when it comes to small travel trailers which have a bathroom. Generally speaking, in order to have space for a bathroom, the trailer will need to be a size that will be large enough for two or maybe even more people.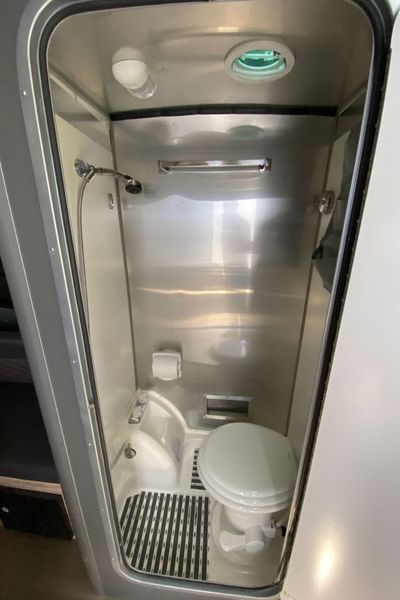 The major consideration in the solo vs couple scenario is whether you are meeting the specific needs of one or two people. One key consideration is the type of bathroom you would want. There are two major styles of bathrooms in travel trailers. Wet baths, and dry baths. Wet baths are smaller and more common in smaller travel trailers.
In a wet bath, the toilet, sink, and shower all share a common space and the floor is usually grated to allow water to drain into the grey tank from the shower. A dry bath is more like a typical residential bathroom where the wet shower space is separated from the dry sink/toilet space. Dry bathrooms are also more likely to have nice vanities and closet space for your toiletries.
The larger dry baths are usually found in larger trailers. The extra size is generally better suited for couples, although couples can certainly do just fine in a smaller trailer with a wet bath. For solo travelers, it's just a matter of personal preference and what works best for you.
Comforts Of A Bathroom Onboard
Having a bathroom on board can range from a complete necessity to a novelty you never really use. If you camp in locations that do not have bathrooms or bathhouses then having an onboard bathroom is almost a necessity. Sure, you can use standard backcountry camping procedures to deal with waste but that almost completely defeats the purpose of having a travel trailer in the first place.
There are many people who prefer to use shower houses over their onboard RV bathroom whenever they can. They usually have much better water pressure and nearly endless hot water for showers. You also don't have to clean the campground showers. However, even in a full-featured campground, it is nice to not have to leave your trailer in the middle of the night to use the bathroom should you need to.
While not essential, a bathroom does make your trailer or RV feel much more like home. Even if you prefer to use the campground shower houses, having the bathroom available is a great feature.
If you're not familiar with RV bathrooms, check out How RV bathrooms Work.
Added Weight Of Back Water And Water
When considering an RV or trailer with a bathroom you have to take into account how you will use the RV and the effect the weight of the water will have on those plans. Water is heavy, weighing in at around 8 lbs per gallon. So a typical full 40-gallon fresh water tank will add about 320lbs to your trailer.
If you are camping in a remote area without hookups you'll have to travel with that extra weight to your destination. As a general rule, all the water you arrive with should leave with you either as unused water in your fresh tank, or what has been used in either the grey or black tanks. Dumping wastewater from either tank is illegal in most places and considered very poor camping etiquette everywhere else.
Traveling with the added weight of the water can affect how the trailer/tow vehicle combination handles. It can also cause issues with the trailer or trailer/tow vehicle exceeding their maximum gross vehicle weights or gross combined weight ratings.
Finally, the additional weight of water in the tanks will decrease your overall fuel mileage making travel more expensive. You should always travel with the minimum amount of water needed for the next portion of your trip and with your waste tanks empty
For more information on RV water systems check out our article on how RV water systems work.
The Best Ultra Light Solo Travel Trailers
Little Guy Mini Max – The Little Guy Mini Max is a full-featured teardrop-shaped travel trailer that can sleep up to 3 people, making it perfect for solo and couples travelers alike. With a dry weight of 2320 lbs, it can be towed by most crossovers and small SUVs. The 17' 2" overall length allows for easy towing, great maneuverability, and easy storage.
This unit features a large wet bath and an excellent array of standard features including a queen-size bed and rooftop AC. There are also a number of options including an offroad package and pre-installed solar systems for those that have a more adventurous streak.
Little Guy Max – The Little Guy Max is the larger brother of the Little Guy Mini Max. While they share exterior styling, the Max is almost 4' longer at 21' and a bit heavier at 3010 lbs dry. With the heavier weight, you'll likely need a larger SUV or pickup truck for a tow vehicle. It has similar standard and optional equipment to the Mini Max, but it does have more storage space which can be helpful for a longer trip or when traveling with a partner.
Airstream Basecamp 16 – The Airstream Basecamp 16 brings the silver look of the classic Airstream to a package small enough to be towed by a small SUV. It's available in two styles, the Basecamp and BasecampX. The X model has additional features for offroad adventures like improved frontal protection, taller suspension, offroad tires, and a steeper trailing angle of attack for better ground clearance.
Both models have basically the same interior which is a modern minimalist setup with a wet bath. Overall length is 16', it can sleep 2 and it weighs 2650 lbs dry with batteries and full propane tanks. The base price is $46,000 for the base standard basecamp. For that, you get an excellent trailer known for its quality which is also known to hold its resale value better than any other RV on the market.
Happy Camper Traveler – Happy Camper Traveler is an interesting option for small travel trailers. It features a retro-styled fiberglass exterior that allows the trailer to maintain a very low 1800 lb dry weight despite being 17' long. The base price is a hefty $69,950.00 but that buys you into a very unique RV system that can be customized and re-customized by you for as long as you own it using their Adaptiv System of interior components. The camper itself is essentially an empty shell with a flat floor.
The Adaptiv components are blocks that can be arranged to form kitchens, bathrooms, bedding, storage, etc. within the floorspace of the camper. These items can be easily disassembled and rearranged as needed. It is a truly unique system that allows you to make your Traveler exactly the way you want it.
InTech Sol – The InTech Sol is a line of small travel trailers available in three sizes. The Dawn is the smallest at 16', 2,650 lbs dry, sleeping area for two, and a base price of $36,463. The Eclipse is longer at 17', 2,695 lbs dry, a sleeping area for two, and a base price of $38,650. The largest model is the Horizon 19', 3230 lbs dry, sleeping area for four, and a base price of $42,539.
All three feature a wet bath and are available in base or Rover trim. The Rover trim is geared more toward offroad use which makes it a great option for those looking to get off the beaten path. Interior features and trim feature upscale components and design with an emphasis on maximizing storage space. If you're looking for a more luxurious small trailer, the Sol would be a good place to start.
Scamp 13′ Standard Layout 2 – The Scamp 13' travel trailer features a fiberglass shell design reminiscent of an Airstream. The Scamp 13 weighs roughly between 1200 and 1500 lbs dry and has an overall length of 13'. It features a forward wet bath, kitchenette, and sleeping area for 2. For its size and weight, it is one of the most feature-packed small travel trailers on the market.
Lance 1475 – The Lance 1475 has a more traditional travel trailer appearance. At 19' 8" it is one of the longer trailers in this roundup. With a claimed dry weight of just 2,600 lbs, that extra length does not necessarily translate into more heft. What the extra length does give you is a dry bath.
In addition to the dry bath, 1475 is also available with an optional slideout to give you even more interior space while in camp. There is a long list of great standard features and 1475 can be ordered in several different interiors and exterior color schemes.
There are also several options including a solar system, power inverter, and lithium batteries that allow you to customize it to suit your needs. Pricing starts at around $63,000.
Armadillo Backpack – The Armadillo Backpack is similar in appearance to the Scamp 13 with a retro fiberglass shell exterior. It is 14' in length with a dry weight of just 1,800 lbs making it a great candidate for smaller vehicle towing. The "Front Flush Toilet" floorplan features a forward wet bath.
Prices start at $36,900 CAD (~$28,630 USD at the time of writing) making it one of the more modestly priced options in the lineup. Standard features are typical for this type of trailer and there are sleeping arrangements for 2. There is also a long list of optional equipment which can be added to personalize your Backpack.
Bigfoot RV B17FB – The Bigfoot RV B17FB is a small single-axel travel trailer with a traditional fiberglass form factor. It measures 17 5" in length with a claimed dry weight of 3360 lbs. This puts it in the larger SUV/pickup truck tow vehicle category. It sleeps 2 and features a wet bath and sleeping arrangements for 2. There are four interior décor combinations offered featuring different combinations of wood and leather appointments.
Oliver Legacy Elite – The Legacy Elite is another retro-styled fiberglass shell travel trailer similar to the Scamp and Backpack. At 18' 5" it offers more space than the smaller campers from Scamp and Armadillo. However, at 3700 lbs dry it will also need a beefier tow vehicle to haul it. The interior features sleeping for 2 and a forward wet bath. The standard interior arrangement is modern and very flexible. The larger size makes it a great choice for couples or solo travelers looking for a little extra room to stretch their legs.