Offroad campers make up an exciting and growing segment of the RV industry. These units allow you to travel with the comforts of home even to the most remote locations you can imagine. When shopping for any camper or RV, bathrooms are an item of critical importance.
Unfortunately, many offroad campers sacrifice space for offroad capability, and the bathroom is usually one of the first things to go. Fortunately, there are several excellent options out there but that is not the case. Here we'll look at 14 great examples of exceptionally capable off-road campers that also include a bathroom.
Most of the units here will be travel trailers and class B motorhomes. For more general information on those types of RVs please see our articles 15 Things To Know Before Buying A Travel Trailer and 10 Top-rated Class B RVs For The Money!
Bruder EXP-6 and EXP-8
Bruder EXP-6 and EXP-8. Bruder is an Australian manufacturer of extreme expedition-grade off-road travel trailers designed to tackle the rigors of travel in the outback or wherever you want to go. The EXP-6 and EXP-8 rely on several patented systems covering everything from the long travel, and extreme articulation suspension to the mechanism for raising the roof on models so equipped.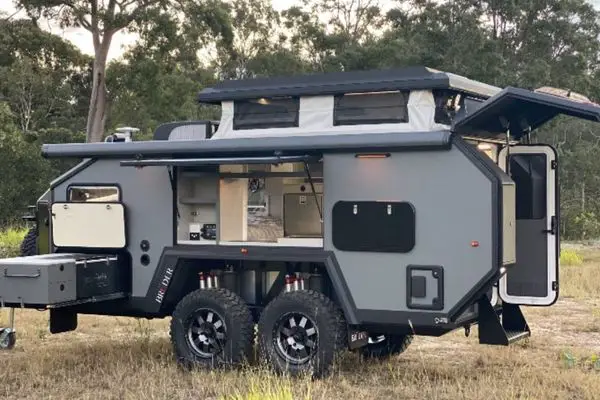 The EXP-6 weighs in at 4650 lbs and measures just over 22 feet in length. The EXP-6 features a wet bath inside along with many other great luxury features in this trailer. The EXP-8 tips the scales at 5952 lbs empty with a length of 22.5 ft and it also features a wet bath located near the nose of the trailer.
In addition to the bathroom, both units feature an outdoor kitchen that is accessible from the inside, a positive air pressure system to keep dust out of the interior, an exterior shower, and one of the most advanced suspension systems in the RV industry. Not only does the suspension have an extreme articulation which will keep the wheels on the ground over rough terrain, but it also has airbags that can raise and lower the trailer as needed.
One wheel can also lift the other wheel off the ground for easy tire changes. These extreme capabilities do come at a cost, expect a new Bruder to cost between $140,000 and $208,000 US. While they are made in Australia, they are available for delivery globally.
Benchmark Enterprise
Benchmark Enterprise – The Benchmark Enterprise is a Class B RV built on the extended 4×4 Mercedes Sprinter platform. The extended body brings the overall length to just over 24 feet making this one of the longest and most capable off-road class Bs on the market.
Sprinter vans are powered by a diesel drivetrain which is known for its reliability so you can count on the Enterprise to get you to your remote destinations and back without issue. To enhance the off-road capabilities the Enterprise also features the Agile Offroad RIP Kit which includes several significant suspension upgrades.
The interior of the Enterprise is designed to allow you to travel in comfort. The included wet bath is a key feature in that design. Also included is ample storage space, a galley with a cooktop, refrigerator, a large rear bed, and a small work table behind the reversible driver's seat.
Benchmark RVs are built to spec for each individual client so pricing can vary significantly based on your needs and final specs.
Taxa Outdoors Mantis Overland
Taxa Outdoors Mantis Overland – The Mantis Overland is a 19-foot off-road travel trailer with some impressive features. It weighs in at 3486 lbs dry so it can be easily towed with smaller off-road capable trucks and SUVs The wheel and suspension system features an axel-less two-wheel design with 14" of ground clearance. This gives the Mantis solid offroad performance without the need for an overly complex suspension system.
The spacious interior features a wet bath, sleeping areas for 4 adults, plenty of storage, and a pop-up roof for maximum headroom. The exterior features a rugged roof rack to store extra gear and a tapered tail section behind the wheels to maximize ground clearance over rough terrain.
It is available in a single floor plan that can be configured to sleep up to 4 adults comfortably. If you need more sleeping space there is an option 3-person roof tent which can be added.
Grech RV – Turismo-ion 4×4
Grech RV – Turismo-ion 4×4 – The Turismo-Ion 4×4 from Grech RV is a 4-wheel drive class B RV built in the short-wheelbase Mercedes Benz Sprinter platform. This unit is designed to provide backcountry exploration capability into a high-end yet compact and nimble package. The shorter 19' overall length will allow the Turismo-Ion 4×4 to squeeze through places that would prevent larger RVs from passing.
Despite its small size, the Turismo-Ion 4×4 still features a wet bath, seating for 4, and sleeping areas for 2. High-end features like leather seating, quartz countertops, LED lighting, and the Timberline diesel hot water and cabin heaters allow you to explore the backcountry in comfort. Starting at $228,900, the base model comes well equipped and there are several options to choose from the make the Turismo-Ion 4×4 suit your specific needs.
Black Series HQ21
Black Series HQ21 – The Black Series HQ21 is a 26 ft four-wheel offroad travel trailer designed to allow you to explore remote locations with ease. Starting at $100,999 this travel trailer does not come cheap, but the standard features are impressive for any trailer in this market segment. Those features include a rugged four-wheel independent axle-less suspension system which provides for greater ground clearance than you would find on a typical travel trailer.
The exterior features a unique design that minimizes wind drag and features an angular design that allows the trailer to move through heavy cover with ease The standard dry bathroom adds significantly to your ability to explore the backcountry in comfort. Also included are 600 watts of solar panels and a 400 amp hour battery system.
This will provide enough sustainable power to remain off-grid for extended periods of time. Having the power to stay off-grid doesn't help unless you also have access to plenty of clean drinking water. To cover that, the HQ21 includes a large 64-gallon fresh water tank as well as 24-gallon tanks each for grey and black water. That's plenty of capacity for extended trips into the wilderness.
Since the Black Series HQ21 is designed to take you to remote areas there is an impressive array of outdoor lighting included in each unit. The exterior lighting system is designed to provide light all the way around the trailer. This lighting system includes spotlights, flood lights, and even a motion-activated light powered by its own dedicated solar panel.
Safari Condo XL Flex
Safari Condo XL Flex – The XL Flex is part of Safari Condo's XL22' series of class B RVs. The XL Flex is based on the Mercedes Sprinter 3500 platform with dual rear wheels. The base price of these units is a very reasonable $172,269 CAD (about $133,260 USD at the time of writing) which includes an excellent array of standard features including a diesel heater, recessed LED lighting, and a wet bath.
Each unit can be customized to meet your specific needs with options to increase seating for up to 6 people and sleeping areas for up to 5 people. The interior design also packs in an impressive 134 square feet of storage space. If your adventures require a lot of gear, the Safari Condo XL Flex would be an excellent choice. While the diesel powertrain is standard, the four-wheel drive necessary to make this a true off-road machine is only offered as an option.
Opus OP15
Opus OP15 – The Opus OP15 is an off-road travel trailer with a number of unique features. Coming in at only 5159 lbs, it can be easily towed by most modern ½-ton pickup trucks. The most interesting features of the OP15 center around its collapsible hard shell design. When in towing configuration, it is only 15' long and 8' 10" tall.
This compact footprint will make it much easier to maneuver in tight back country spaces. Once in camp, the roof can be raised to give a full 6' 5" of interior height and the back can be expanded to bring the total length to 18'.
Other features include dual shock independent suspension, a 360-degree articulating hitch, off-road tires with two spares, and a steep rear departure angle which provides maximum ground clearance. All those features help you get to your remote destination, but once you're there you'll appreciate the many interior features as well. This includes a full bathroom, slide-out kitchen, solar power system, and sleeping arrangements for 4.
Jayco 2022 Terrain
Jayco 2022 Terrain – The Jayco Terrain is a 19' 7" Class B motor home built on the Mercedes Sprinter platform. The Sprinter is considered the top-of-the-line chassis for class B builds with its proven reliability and excellent diesel drivetrain. The Terrain features a wet bath with passengers and a sleeping space for 2.
Starting at $201,000, the Terrain is available in only one floorplan but it can be customized with several different exterior paint schemes and interior colors and fabrics. Four-wheel drive is also standard, making this an excellent choice for off-road adventures.
If you are solo or couples adventuring, the Terrain is a great option. While its small size may be a detractor for some, for most, it will end up being an asset. Smaller vehicles are easier to maneuver in tight spaces, use less fuel to travel, and fit into more campsites than larger vehicles. Jayco has done a great job making the most of the available space in the Terrain.
They even include a lift bed in the rear to maximize storage and sleeping space. Perhaps one of Terrain's best features is the Jayco name badge. As one of the largest manufacturers of RVs, they are known for excellent quality, customer service, and support.
Airstream Basecamp
Airstream Basecamp – The Airstream Basecamp brings the beauty and style of the traditional shiny metal Airstream to a small off-road capable travel trailer. The Basecamp is available in two different models the Basecamp and the BasecampX, and in two different lengths 16' and 20'. All feature a wet bath and are designed to be towed by vehicles with lower towing capacities like midsize and larger SUVs.
While both the Basecamp and BasecampX are off-road capable, the BasecampX adds features to improve those capabilities. For example, the BasecampX has additional glass and bodywork protection up front, a 3" lift with all-terrain tires, and a steeper departure angle in the rear for better ground clearance. Both models have similar interiors with a wet bath and they all come with the Airstream quality you would expect. Prices start at $46,000.
Winnebago Hike
Winnebago Hike – The Hike is Winnebago's entry into the adventure travel trailer market segment. There are five floorplans to choose from, three in the single axle 20' 8" length and two in the dual axle 25' length. All Hike models are built on a 6.5' wide frame with wheels and wheel arches outside the exterior skin. While this makes for a narrower interior, it also keeps weight down and allows the trailer to be towed in tighter spaces.
The narrower interior is taken care of in camp with the large left side slide-out featured in each model. As one of the longer trailers in this roundup, all models of the Hike come with a dry bath. Other off-road features include offroad tires and fenders and a unique edge guard/tubular bumper system that protects the edges of the trailer from branches or other obstacles you may encounter in the backcountry. Prices start at just $38,435.
Benchmark Code Blue
Benchmark Code Blue – If you are looking for a custom build Class B adventure van then Portland Oregon's Benchmark Vehicles would be an excellent choice. They build custom Class B's to your specifications using the Mercedes Sprinter Platform. Code Blue is one of many builds they feature on their site. Built on a 2019 Mercedes Sprinter 170 2500 4×4 chassis, Code Blue is a tour de force of adventure van features.
It has a wet bath surrounded by a spacious well-appointed interior with plenty of storage space. On the outside, you'll find a heavy-duty roof/storage rack with an access ladder and an abundance of high-intensity lighting. There is also an integrated front winch to pull you out of trouble in remote areas. This unit is designed to take you anywhere you want to go, day or night.
Code Blue is just one example of the capabilities that Benchmark can bring to the table for your adventure van build. Make sure you browse through the many other examples they have on their website then give them a call to see what they can put together for your needs.
Conqueror UEV-17
Conqueror UEV-17 – Conqueror specializes in building extreme offroad travel trailers. Their no-compromise designs produce a trailer that can go anywhere your tow vehicle can pull it. In fact, the trailer capabilities likely exceed those of the most capable tow vehicles. These are geared more toward survival and extreme capabilities than comfort.
Interior space is limited and the bathroom is actually an exterior shower tent that can be quickly attached and set up on the side of the trailer. If you're looking for fine hardwood and quartz countertops in your adventure vehicle, this is not the unit for you.
If you want a trailer that can support you in the deepest region of Africa, the Australian outback or the American Wilderness then look no further as the Conqueror UEV-17 is one of the most capable off-road travel trailers on the market today.
EarthRoamer HD
EarthRoamer HD – The Earthroamer HD is the ultimate offroad motor home. At 35' long, it's a Super C class RV built on a Ford F-750 4×4 chassis. The extreme capabilities of this unit are demonstrated by its impressive capacities. It can carry 115 gallons of diesel fuel to power the motor, heaters, generator, and other diesel accessories on the rig.
It can also carry 250 gallons of fresh water, 125 gallons of grey water, and 125 gallons of black waste. That's several times more than a standard RV. It also includes 2100 watts of solar panels and 20000 watts hours of batteries. That's plenty of power to live off-grid indefinitely almost anywhere in the world. While the exterior has a tough, brutish appearance that speaks to its capabilities, the interior is refined and elegant, allowing you to travel in extreme conditions in comfort.
Features include radiant floor heating, a dry bathroom, a washer and dryer, and more. There are 6 different floorplan options to choose from and every unit comes decked out with all the options right from the factory. At a cost of $1.9 million it may not be for everyone, but if you are looking for the ultimate go-anywhere motorhome regardless of price then look no further.