The top-rated class B RVs for the money are available in different designs, models, and functions. Unlike other RVs, class-B RVs offer you a living space to see the world in an agile small vehicle that gets around town no larger than a typical delivery van. These motorhomes are not only fuel-efficient but also quick and light in movement and can park just about anywhere a larger car would park.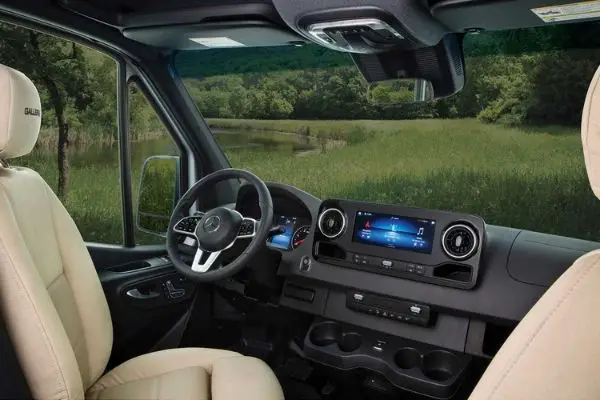 With the #Vanlife movement, class Bs have gained huge popularity, especially among the young. But the enjoyment of a well-built class B does not have to exclude other generations who enjoy this gypsy lifestyle. Getting the right model and layout is key to fitting your lifestyle at the right price.
Here are the 10 top-rated class B RVs for the money are:
Where can you get a top-rated class B RV for the money? Is a top-rated class B RV expensive or affordable? Why are these class B RVs for the money? We are sure these are the questions running through your mind now. Let's go over each one and why we love it!
Coachmen Galleria Mercedes Sprinter Class B    
Why We Choose Coachmen Galleria?
On our list for the top-rated Class B RV for the money is this fantastic motorhome from Coachmen. The Coachmen Galleria Mercedes Sprinter is loved for its beauty and luxury. This motorhome home is easy on the eyes and has all the luxury of a stately home. We have chosen it because it combines luxury and functionality. It will fulfill all your camping needs in style and luxury.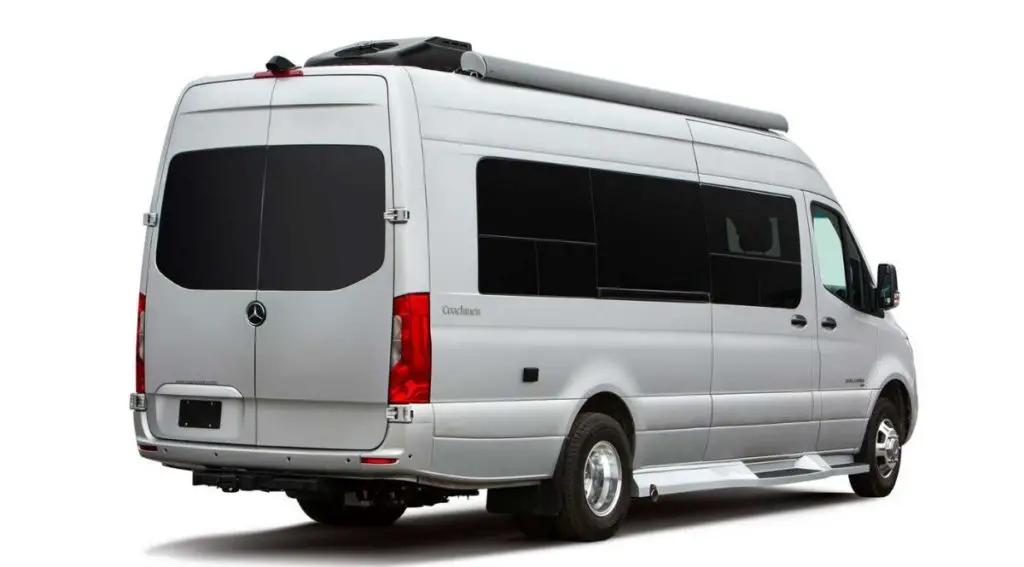 What Did We Like About Coachmen Galleria?
The coachman Galleria sits on a 3500 Mercedes sprinter platform. Its diesel engine is a 3.0LV6 turbo engine. You use an average of 18-20 MPG highway, yet it delivers 188 horsepower. It contains a 100w solar panel, 330AGM battery, and 2000W pure sine wave inverter.
It has a Shower miser system operated by a switch to save water. This motorhome is suitable for dry camping since it comes with a lot of plumbing and electrical supplies. Your safety is assured with its blind-spot monitoring support, collision avoidance sensors, and airbags. It has a backup camera and heated side-view mirrors.
This campervan also has a Handmade Amish cabinet made of solid hardwood. These drawers and cabinets have enough space to store things and come with catches to keep the drawers in place.
It has a furnace and a water system of 2.5kw LP generator which keeps the RV powered. With the 13-foot electric awning, you are protected from the outdoors even outside the van. Its large laid-back sofa can be turned into a bed for additional space for visiting campers.
Fully fitted kitchen with a sink cover and a plate drying rack. Wet bath with durable fiberglass. It has a 13-foot electric awning. You don't have to drag outdoor camping supplies because the awning provides adequate shelter.
Downsides Of Coachman Galleria
Unlike other RVs for the money, Coachman Galleria is quite expensive. You might have to pay a fortune to have this motorhome on the road. The propane tank is installed in a way that most campers can't connect it.
Price
It is sold between $197,699- $204,299
Gulf Stream Coach BT Cruiser
Why Do We Choose Gulf Stream Coach BT Cruiser?
This baby has a massive 4.0KW Onan generator and a lot of other conveniences. We have chosen it because it is fairly affordable yet packs a lot of comfort. It is operated by a 6.8L V10 engine and sits on an E3500 Ford chassis. It uses gasoline and offers a maximum of 305 horsepower at 4250 rpm.
What Do We Like About Gulf Stream Coach BT Cruiser?
It has a fresh, gray, and black water tank capacity of 44, 38, and 38 gallons respectively. It measures 28.58′, 8′ in length, 10.5′ in width and 6.42′ interior height. With a length like that, the motorhome offers a lot of room for a U-shaped dining area, and a fully fitted kitchen. The stove area is fitted with three burners for all your cooking needs. 
It has a linen closet, overhead fan, storage, and medium-sized refrigerator that uses propane and electricity. Its vinyl floors are pleasing to the eyes and practical. 2019 Gulf Stream Coach BT Cruiser 5255 has two bunk beds giving it adequate room to sleep four people comfortably. The Gulf Stream Motorhome has recliners, seat armrests, two seats, and one sofa bed in addition to the bunk beds. 
It comes with retiring air conditioning, cable, heat, television, and satellite. You need not think about wiring again just plug it in. Its body is made of aluminum and the sidewall is made of durable fiberglass. With all this floor space, you can still tow a vehicle as heavy as 7,500lbs with the Gulf Stream.
Downsides Of The Gulfstream Coach BT Cruiser
It has no surround system and no swivel seats. You might also not get enough headroom if you are really tall. It has no inbuilt solar panel, but it can be fitted in by professionals. The Gulf Stream BT Cruiser might not be as good-looking as other motorhomes on the list, but it is functional and trusted.
Price Range
Its price range is $84,000-$124,000.
Why We Choose Pleasure-Way Plateau Class B?
Pleasure-Way Plateau Class B
This motorhome is notable for its Mercedes Sprinter Chassis, touchscreen panels, 32″ Smart TV, and plush finishing. It is the choice van for RVing in luxury and style.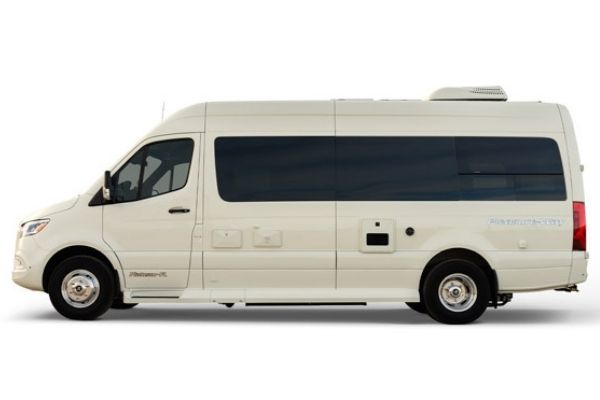 What Did We Love About Pleasure-Way Plateau Class B?
It has a 3.0L V6 Bluetec Diesel engine. The motorhome has a 2.5 Kw Onan LP generator. Also, it comes with an Automatic Generator Start (AGS). It is fitted with a 2000-watt Pure sine Wave inverter. It has two 100Ah Eco-ion coach batteries. 
There is an inbuilt plumbing and liquid propane system. It has rooftop air conditioning, a handheld shower, a freezer, two burners in the stove area, and a steel sink. The bathroom is separate from the shower unlike in other Class B RVs. The rooftop conditioning circulates around the van, giving you comfort even when camping during the thick of summer. 
XLMB Class B+ motorhome is fitted with hardwood maple cabinet doors. It has Corian finished countertops and shower sidewalls. The kitchen conveniently comes with a microwave, two burners, a large sink, and a faucet. Cooking in the Plateau can be compared to cooking in the comfort of your home. The bathroom is dry and separated from the shower area. 
The interior features beautiful leather covering for all furniture, vinyl flooring, privacy, and sun protection on the windshield and windows. With the large touchscreen control panels, operating this motorhome becomes a breeze! The overall look is one of class, modern technology, and convenience. 
It comes with a 32″ Smart TV, a soundbar, cable, and USB ports. You can stream videos, connect external accessories and enjoy the trends on social media right in your van.
Downsides Of Pleasure-Way Plateau Class B
Many campers dislike this campervan owing to its boxy look. The motorhome has a sleeping capacity for two people which makes it imperfect for a family vacation or group adventure.
Price Range
Its price range is from 172,000- to 180,000.
Pleasure-Way Ontour 2.0 Ford Transit
Why We Choose Ontour 2.0 Ford Transit?
This motorhome has all the conveniences of the Plateau XLMB Class B+ and then more. Think of the joy of camping plus the convenience of being at home that is what the Ontour Ford Transit 2500 brings for you.
What Do We Love About Ontour 2.0 Ford Transit?
It has a 3.5L Eco-boost engine, dual 100Ah Eco-ion batteries, and a 2.8 kW Onan generator. 
With a headroom of up to 78″, you are sure to have enough room to move around without hitting your head on the roof. Like the XLMB, it has an elegant finish. The cabinets and drawers are made from maple hardwood. Cabinets and drawers will not slide out during motion, thanks to the secure hinges and cabinet stays. Its Corian finished countertops and bathroom sidewalls, large sinks and ultra-leather covering for all furniture exude class and luxury. 
It also comes with a hanging rod, cabinet boxes for extra storage, a hanging rod, and a rooftop air conditioner. For entertainment, it has a soundbar, HDTV Antenna, cable, 24″ Smart LED Tv, and USB ports. The campervan has a power awning, led lightning, and an anti-theft security lock. 
Downsides Of Ontour 2.0 Ford Transit
It might not be very convenient for a large family since it comes with a single burner which might not satisfy all cooking needs. It is also small in terms of water storage with just 25 gallons, 15 gallons, and 11 gallons for its fresh, gray, and black water storage respectively. Its towing capacity is also discouraging at 2200lbs towing capacity.
Price
Its price range is 142,800.
Winnebago Travato Class B Motorhome
Why Do We Choose Winnebago Travato?
When it comes to the production of unique, efficient, and easy-to-ride RVs, Winnebago is one of the most reliable brands on the shelves. For a reason, Travato is considered the top-selling Campervan in North America. This model has everything you would love to have and enjoy in a motorhome. Unlike other class B motorhomes, Winnebago Travato Class B Motorhome 59KL is a campervan great for all weather. Here is why we made this RV our sixth top-rated class B RV.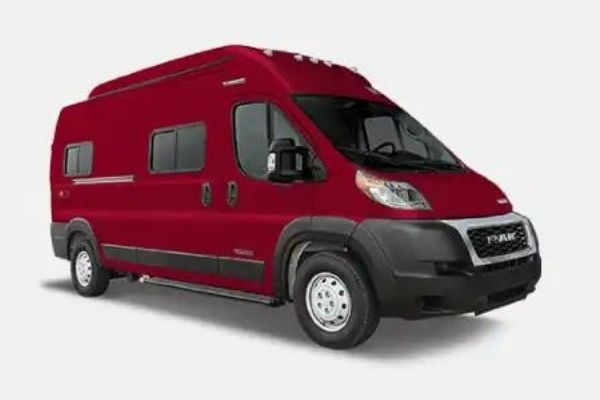 What Do We Love About Winnebago Travato?
This unique model from Travato offers you a comfortable and convenient experience while you are on the road. It provides you an extended power cracking out 9,500 usable watt-hours of stored energy. So, you can always run any kind of appliance longer with the standard lithium Pure Advanced Energy System.
Winnebago Travato Class B Motorhome allows you to operate your Coleman 10 NDQ air conditioner and carefree awning with a Bluetooth app. You will also get a 24" HDTV, a Coach stereo system, and a CD/DVD player with this campervan. This recreational vehicle is a class B campervan van that keeps the comfort of the home on the road. 
Downsides Of Winnebago Travato
However, this class B RV is without no flaws. Winnebago Travato Class B Motorhome offers a sleeping space capacity for less than two campers which makes it only suitable for a couple who are going camping in some regions of North America.
Price
Some campers also consider this model a bit expensive. You can get this class B RV for about $152, 500. 
Interstate 19 Class B Motorhome
Why We Choose Interstate 19 Class B Motorhome
Not only have we chosen this model because of its elegant design but also because of its advanced safety feature. It is a great van for vanlifers who always love to move from one state to another. This motorhome offers you all the luxury to enjoy a thrilling time on the road in a nineteen feet. Let's check some of the features and functions we love about this RV.
What Do We Like About The Interstate 19 Class B Motorhome?
This model is an excellent RV for couples going camping in South America. It comes with a large lounging space, sleeping space, bathroom, and a kitchen to make your stay on the road memorable. Unlike other motorhomes up for grab, the 2021 Interstate 19 Class B Motorhome includes a floor plan option.
The motorhome is easy to ride and simple to park. Therefore, you would have no challenges parking your baby in any location or parking spot. It has side and rear-view cameras to prevent collision with other vehicles and enhance safety movement at night. With a power sliding door, you would have no difficulties opening or closing the sliding door.
That's not all! 2021 Interstate 19 Class B Motorhome comes with LED Widescreen Samsung HDTV so you can always enjoy your favorite movies in the van. The water heater alongside the super-efficient Truma furnace offer a non-stop hot water supply. These and many more are the exceptional features you would enjoy from this RV.
Downside Of 2021 Interstate 19 Class B Motorhome
It's a four sitting space and two sleeping spaces don't make it a great choice for a large family going on a vacation trip to Norway. Likewise, it is a luxury Class B motorhome.
Price Range
You can purchase this model for the price of $200,000.
Thor Motor Coach Gemini Class B+
Why Do We Choose Gemini Class B+?
This class B RV from Thor Motor Coach offers campers the opportunity to spend several days surfing, exploring, and taking pictures of unique species, beautiful structures, and world-class paintings on the road. Gemini Class B+ offers you an easy ride on the road. This Class B+ RV is a great model for van lifers or nomads who are interested in living on the road full-time. If you are one of them, here is what we love about this class B+ RUV. 
What Do We Love About Gemini Class B+?
Unlike other class B plus motorhomes, Gemini 23TW RUV Class B+ offers two unique floor plans. With that, you get beautiful interior options, a fully-equipped kitchen, convertible seating-to-sleeping options, and storage space to stay comfortable and safe on the wheels.
This motorhome has Euro-style cabinet doors built with nickel finish hardware and soft-close hidden hinges which makes it attractive at first sight. Also, you can make your meals in a space-efficient kitchen in the van. The kitchen is built with a handy flip-up countertop extension as well as a large single bowl sink with a cover. 
Gemini 23TW RUV Class B+ offers you a sleeping space just like your home. It allows you to sleep with a flip-up queen size or flip-up queen size or a flip-up full-size mattress. That isn't all! With the durable USB port on the nightstand, you will always have your smartphone right by you while you sleep. There is also a TV in the room to watch your favorite movies. 
Downsides Of Gemini Class B+?
Like other class B plus RVs, Gemini 23TW RUV Class B+ has some shortcomings. The interior quality of this class B+ campervan could be better as some parts are cheap and break easily.
Price
Thor Motor Coach offers this class B+ RV for $137,000.
Midwest Automotive Designs ProMaster Legend Class B RV 
Why Do We Choose ProMaster Legend Class B RV?
This Legend class B RV is a campervan from Midwest Automotive Designs ideal for campers who hope to enjoy a luxury feature-rich ride while out there. Campers describe this class B RV as a Mercedes Sprinter transformed into private jets on wheels.
What We Liked About ProMaster Legend Class B RV
This class B RV offers a precise fit and finish, exotic wood accents, and supple leather seating. Aside from these, there are also a plethora of unique features we love about this campervan. 
Midwest Automotive Designs ProMaster Legend Class B RV has luxurious seating, beautiful appliances, internet Wi-Fi and LED flat-screen TV onboard. With these devices, you can always have a lovely time on the road. The campervan also offers an Espar Coach Furnace and Suburban water heater to keep you comfortable in chilly weather.
The ECO chassis battery charging system of this motorhome makes it a must-have for nomads who are always on the road. With the stainless steel refrigerator, you can always refrigerate your frozen foods and enjoy cold drinks or water at your convenience. On the outside, you will get a complete roof rack with a w/ladder to comfortably store some items on the RV. These and many more are the fantastic things we love about Legend Class B RV.
Downsides Of The ProMaster Legend Class B RV 
Nevertheless, the RV also comes with some downsides. For instance, the camper van is expensive. Campers might need to break up the bank before purchasing this model. It is also not an ideal choice for nomads who are looking for budget-friendly class B RVs. This class B RV is also made for camping places that don't accommodate big rigs, like national parks.
Price Range
You can get one of these class B RVs from Midwest Automotive Design in the price range of $130,000 to $190,000.
Roadtrek Play Ram ProMaster
Why We Choose Roadtrek Play?
Our list for the to-rated class B RVs is incomplete without this fantastic model from Roadtrek. Unlike other class B motorhomes, Roadtrek Play SRT Ram ProMatster Chassis offers you a refined and rugged exterior style combination to ride around the world.
What Do We Like About Roadtrek Play?
It is a great motorhome for campers who are in love with sleek and elegant campervans. Likewise, on the exterior, this class B RV has beautiful large and sleek lines windows to view the sights and journey while on the road. 
Roadtrek Play Ram ProMaster Chassis also features a 12" retractable power awning. Not only will the retractable awning help to protect the exterior furniture, but it will also provide shades to some parts of the RV. Since the awning is retractable, you can effortlessly set up or break it down at your convenience.
With the 11,000 BTU roof-mounted air conditioner, you can go camping in warm weather. You can also wash your body in warm weather outdoors with the outside shower that comes with the campervan. Roadtrek Play Ram ProMaster Chassis offers you a large pot drawer and a slide-out pantry for all your kitchen storage needs. 
Downsides Of Roadtrek Play
However, this model is without no flaws. For instance, it has a seating capacity of five and a sleeping capacity of three people or less. So, if you are going on an adventure with your large family, you might need to consider a class A or C motorhome. Roadtrek Zion SRT Ram ProMaster Chassis is a recreational vehicle that needs regular care. So, avoid parking the vehicle out for weeks. The years' warranty is too small for what is accepted of an exceptional RV from Roadtrek. 
Price
The starting MSRP for this Class B RV is $132,860
How To Choose The Right Class B RV For The Money
With a plethora of class B RVs on the market today, getting the ideal model can be a bit tricky. Many of these motorhomes are made with similar designs, functions, and features. However, you could easily pick the right class B RVs by considering the following factors and features. 
Type Of Camping
One of the most important factors to consider when choosing a class B RV is the kind of camping you are planning on doing. For instance, class C motorhomes are ideal for remote camping and exploring. This RV offers large floorplans, extra beds or storage places, and other unique features. 
Class B RVs are great recreational vehicles for couples and solo travelers. This campervan offers a unique little space to have a great time on the road. You can consider class B+ RV if you want a van that offers a room to move around in as well as adequate storage. Therefore, make sure you have the kind of camping you are embarking on in mind before picking any class B RV. 
Comfort
Irrespective of your budget size or place of camping, everyone loves a campervan that is comfortable and easy to move around. No campervan is designed with the tag "Comfortable RV" on it. So it might be a bit challenging to get a convenient van. 
Class B RVs have little space compared to class A or C. Nevertheless; there are still some class B RVs you can move around comfortably. Make sure the campervan has a good kitchen layout so you can move freely while you cook. Campers who are more interested in privacy can check for motorhomes with dividers or doors. 
You can get a van organizer to keep some items that might be loitering around in places where you can easily access and use them. 
Budget
Camping has no specific budget! The amount you will spend on the road depends on what you plan to do, where you plan to go, what you plan to eat, and how comfortable you plan to be. You can opt-in for a fifth-wheel campervan as long as you can foot the bills. 
However, it is essential to know that the more you are ready to spend outdoors, the more fun and excitement you get. This doesn't mean you should lavish on less essential things. However, your welfare and comfort are much more important out there. Therefore, you should be ready to break the bank for a comfortable adventure. You can prepare a budget of about $40,000 to $ 50,000 for a class B RV that will make your adventure unforgettable. 
Safety
In whatever you do out there, make your safety a priority! Ensure that you are getting a class B RV that would keep you safe while on the road. Make sure the RV you are renting or buying has every system working. Check for the doors and windows are perfectly made. Ensure the extinguisher, carbon dioxide car alarm, alarm and other essential parts of the motorhome are working. Make sure the tools and the objects in the van are properly secured. 
Conclusion
There you have it! The ten top-rated class B RVs for the money. These campervans are chosen not only because of their performance and design but also because of their durability, safety, comfort, and interest in mind. Meanwhile, endeavor to stay safe while out there. Ensure you keep to the CDC safety rules and guidelines on the road.