Camping with a large family can be a fun experience. However, it can also be quite challenging to make sure that everyone has their own space without being too crowded. With such a wide variety of styles and brands on the market, which ones are the best for larger families?
You also need to take into consideration how big your family is. Whether it be 4, 6, or even 10 people you need to accommodate, here are 10 travel trailers that are great for that large family.
Some of these are pricier than others. They also vary greatly in size and layout. Remember, there's not a one size fits all travel trailer that works for every family. Look at your family's needs, what you want to spend, and the size range that you are wanting. After all, what you consider essential may not be the case for the next family.
These trailers will require a large truck to haul. Most of these will weigh at least 8000 lbs. dry. Once you load it up with water and all your supplies, you could easily be looking at a load exceeding 10, 000 lbs. Something like a Ford F250, F350, F450 or Ram 2500, Chev Silverado 2500HD, or a Toyota Tundra or Nissan Titan is something you will want to consider. Remember that when it comes to towing a Diesel will tow more than a gas counterpart. Do your research, you will want to make sure you have a little more room in the towing than to max it out at what the truck can handle in towing.
Here are some of the 10 best travel trailers for large families on the market today. We'll go over the best features as well as what we liked and disliked about each.
---
Quick Navigation
10 Best Travel Trailers For Large Families
Choosing A Trailer For Your Family
When deciding which trailer will be the best fit for your family, you need to first determine how much your truck can tow and how big of an area you can store it. It is also a good idea to come up with a budget. These can get expensive fast. You would hate to fall in love with one unit just to find that you can't feasibly make the purchase.
Jayco Jay Sport 12UD
I like the budget friendly, Jayco Jay Sport 12UD. It is the smallest travel trailer that we are going to look at today. This is a tent-style trailer meaning that it is not only lightweight, but it will also fold down small while in storage. There are 2 large beds on either end of this trailer that both folds out when set up. It is also unique in that it has two different dinettes-a standard one and a u-shaped one. Both of these fold down into additional sleeping space.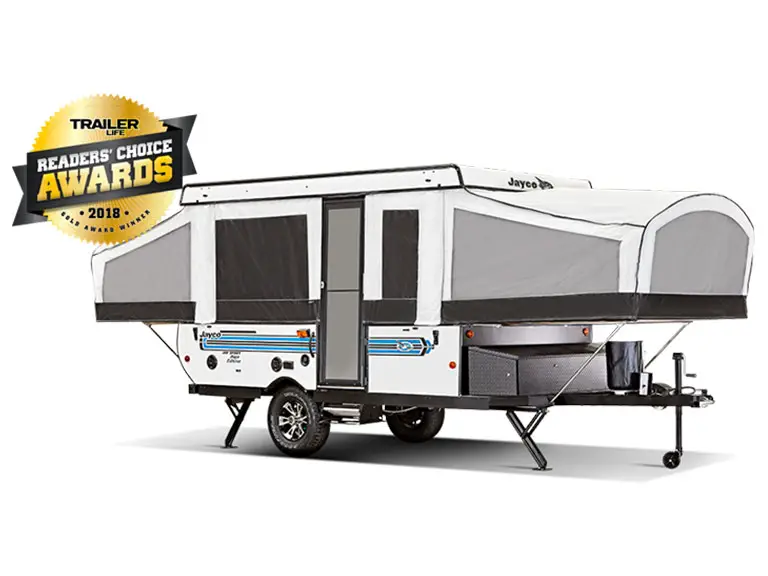 Specifications Include:
Sleeps up to 8
Unloaded Vehicle Weight-1895 lbs
Dry Hitch Weight-240 lbs
Gross Vehicle Weight Rating-2750 lbs
Cargo Carrying Capacity-855 lbs
Travel Length 15′ 6″ (when folded down)
Set up length-21'6″
Exterior Width-85″
Travel height-57″
Front Bunk-60 x 80
Rear Bunk-54 x 80
Interior Height-80 1/2″
Freshwater capacity-28.2 gal
Approximate price $15 067
Cons Include:
No washroom
Less protection from weather and wildlife
More time to set up
Less storage space when folded down for travel
Another great feature of this is its weight or lack thereof. This can easily be towed by smaller SUVs. You will also have a much easier time seeing around you and backing it up. If you are worried about bears, I suggest checking out this link. It has a lot of great information and tips to help keep you safe.
Shasta Oasis 18BH Travel Trailer
The Shasta Oasis is another small unit with big potential. The length is only 22'5″ making this a great candidate to fit into smaller sites. For this reason, I think this is suitable for a wider range of areas and campsites that you can visit without needing to worry about fitting. Not only this, but it is also the most lightweight and can be pulled with a smaller, half-ton truck or a larger SUV. There is a 60 X74 master bed located at the front of the trailer as well as a dinette the converts into a bed. This is a bunk model with 2 small beds of 26X74 at the back.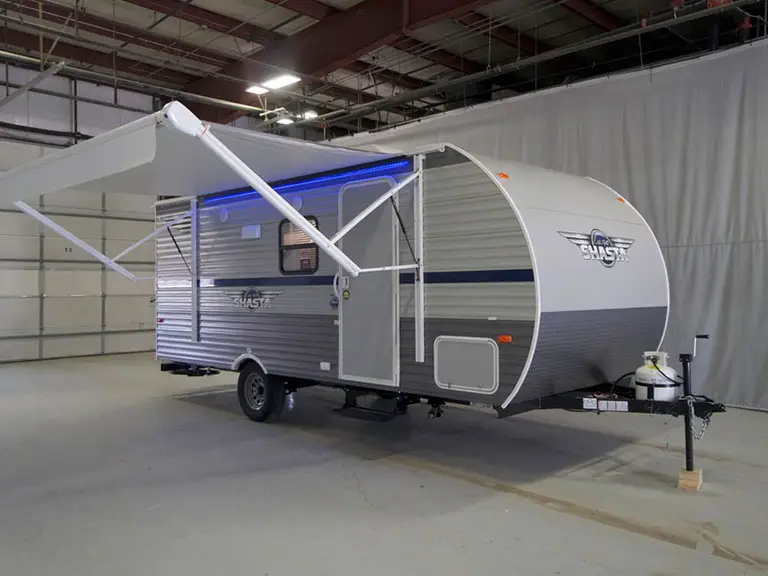 Specifications Include:
Sleeps 5 people
Hitch weight-350 lb
GVWR-5050 lb.
UVW-3229 lb.
CCC-1821 lb.
Exterior length-22'5″
Exterior height-10′ 6″
Exterior width-96′
Fresh water-42 gal
Gray water-36 gal
Black water-36 gal
Awning size- 12′
Approximate base price $15 218
Cons Include:
No slide outs
Smaller tank sizes
Not as many features
This is a base model of camper when compared to many others. Due to this, I found the price to be quite a bit lower than other trailers. However, this can make the areas squishier when housing 4 or more occupants. You may also want to consider a campsite with sewer hookups if you are wanting an extended stay. If you are just starting out and are unsure of how your sewage system works check out How To Dump Your Dark & Grey Water Tanks In 21 Easy Steps.
Keystone Outback Ultra Lite 210URS
This Keystone camper has a layout different from any other travel trailer. The master bed comes in a king size giving you plenty of room to stretch out at night. While there is a slide-out, it doesn't pop out of the side but out of the back. This is where the large bed is. What this means, is that the camper is smaller in length when in storage but still has all solid walls, unlike a tent trailer or hybrid trailer. Other sleeping areas include small-sized bunk beds located at the front, as well as a dinette and sofa sleeper off of the kitchen area. The overall weight of this camper is fairly low making this ideal to tow with a half-ton truck or higher. The low hitch weight is also a bonus.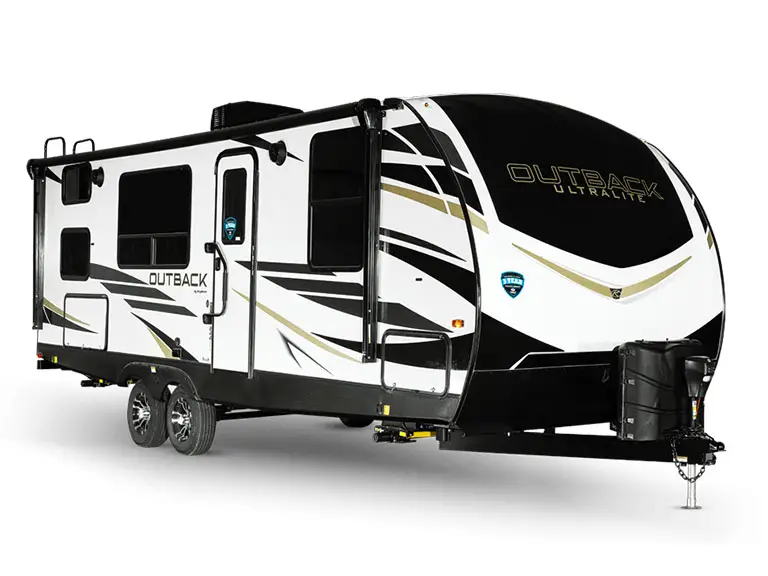 Specifications Include:
Sleeps 6 to 7 occupants comfortably
Hitch weight- 485 lbs.
Ship weight-4670 lbs.
GVWR-6500 lbs.
Exterior length-23′
Exterior height-10'7″
Exterior width-8′
Freshwater tank-60gal
Gray water tank-30 gal
Blackwater tank-30 gal
L.P. Capacity 60 lbs.
Awning length-14′
Approximate price $28 073
Cons Include:
No slides out the sides which create a more cramped interior
Small sized bunk beds that are squishy for adults or older teenage children
Small black and gray water tanks
Keystone Hideout Travel Trailer 272LHS
This Keystone Hideout is perfect for the family with the ability to clean up easily with the built-in central vac system and a hidden laundry chute. The electric, 120-volt fireplace offers a comfortable place to warm up and relax on those cooler nights. The front contains a queen-sized bed. Meanwhile, in the back is a large set of bunk beds measuring 52″X74″. These have a convenient ladder built into them for easy access for young children. There are also two entrances to this unit. The front one uses solid step technology to eliminate trailer bounce as you are entering and exiting. The back one conveniently enters straight into the bathroom.
There is also a dinette as well as a jackknife sofa which will both fold down into beds. These give the trailer the capacity to house 6 people comfortably.
Specifications Include:
Sleeps 8 occupants
Shipping weight-6101 lbs.
CCC-1679 lbs.
Hitch weight-780
Length-30'8″
Height-11'1″
Freshwater tank-42 gal
Black water-30 gal
Gray water tank-30 gal
LPG- 40 gal
2-20lb propane tanks
6 cubic feet refrigerator
Outdoor shower
Approximate base price $28 629
Cons Include:
Only holds 20 lb. propane tanks
Jack-knife style couch isn't generally as comfortable
Small gray and black water tanks
Small refrigerator
Coachmen Freedom Express Travel Trailer 292BHDS
This Coachmen has one slide out which bumps out the 88″ u-shaped dinette and sofa. These fold down into beds. On top of this, there is a standard queen-sized bed located at the front of the trailer. There is a bunk room with 3 additional beds in a separate room at the back. This room is handy in that it contains its own wardrobe area.
Specifications Include:
Sleeps up to 9 people
Hitch weight-738 lb.
UVW-6426 lb.
CCC-1274 lb.
Exterior length-33'5″
Exterior height-10'9″
Exterior width-96″
Freshwater tank-49 gal
Gray water tank-33 gal
Blackwater tank-33 gal
Awning size-18′
Outdoor kitchen
Approximate price $28 903
Cons Include:
Smaller gray and black water tank
Small sized bunk beds
No solid door separating the bunk area (curtain only)
Getting long in length
Once you start to get into the 30' campers, you may start to have issues with parking. Check to see the size of the campsite as well as where you are wanting to store this beforehand.
Keystone Passport 2950BHWE GT Travel Trailer
This is the most popular version of the Keystone Passport trailers. This unit can sleep up to 10 people. By utilizing the queen bed located at the front of the trailer, as well as the large bunk beds at the back which measure 51″ X 74″ you have plenty of space for the family without needing a lot of set-ups. Should you decide you need a little more sleep space, the u-shaped dinette offers a larger sleeping area than standard-sized tables. This also comes with the option of either a tri-fold sofa sleeper or theatre seating. If you go with the theatre style, keep in mind that they will no longer fold down into a bed but will be comfortable for reclining in to relax and watch tv.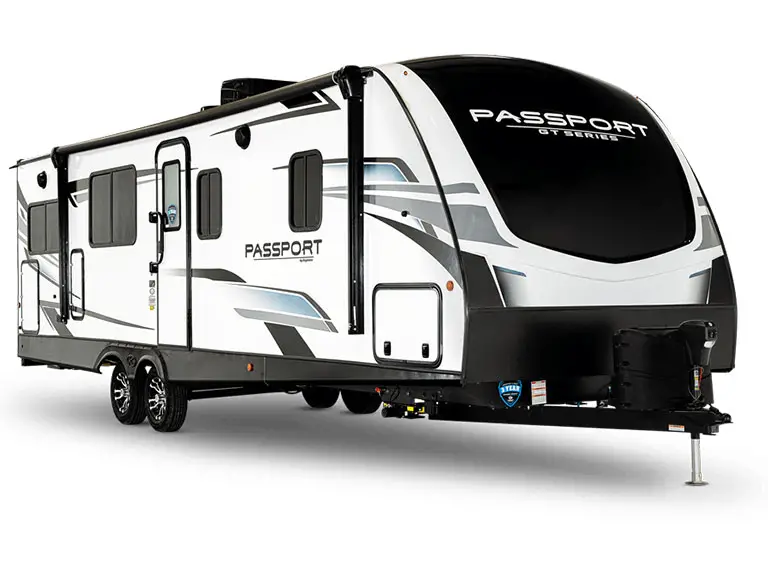 This unit is nice as it is light in weight. Even full, it does not exceed the 10000 lb mark. This makes it easier for hauling with a 3/4 ton truck or larger. This varies slightly depending on the make and model. While it is a few feet shorter, it also has a much lower hitch weight than the Keystone Hideout. This makes it compatible with a higher range of trucks as well as able to fit in more campsites.The table and couch both slide out for extra floor space when set up. This unit is also handy for its double entrances. One leads into the kitchen of the trailer while the second one goes directly into the bathroom. Unlike many new models, this bathroom still features a bathtub and shower combo for bathing those young children.The bunk beds come with a built-in ladder for easy access. There is also lift up storage under the bottom bed as well as a cargo door for storing larger items while traveling. Hyperdeck flooring offers additional peace of mind with its high performance, waterproof features. No need to worry about unseen spills or a roof vent being left open in the rain.
Specifications Include:
Sleeps up to 10 people
Shipping weight-6276 lbs.
Carrying capacity-1524 lbs.
Hitch weight-704 lbs.
Length-33'9″
Height-11′ 2″
Freshwater tank-43gal
Wastewater tank-30gal
Gray water tank-60gal
LPG-40 gal
Sleeping capacity-10
Outdoor kitchen
8 cubic refrigerator
Approximate price $33 794
Cons Include:
Small waste water tank
Small refrigerator
Long in length, may be harder to store as well as take to certain campsites
No solid door separating bunk beds, only a curtain
Long in length
While a smaller fridge isn't necessarily a deal breaker, it might mean that you need to do some shopping in the middle of your trip. This is especially true if your large family is staying for an extended period of time.
Palomino Puma 32RBFQ Travel Trailer
The Palomino Puma trailers offer a spacious living area with various amenities to make your trip more comfortable. It has 3 large slides to maximize your area when set up. The master bedroom contains a high-density foam mattress for extra comfort as well as a slide. This gives it the ability to have a wardrobe as well as tons of closet space. Also, the unit can host a second air conditioning unit in here should you be camping in hot climates.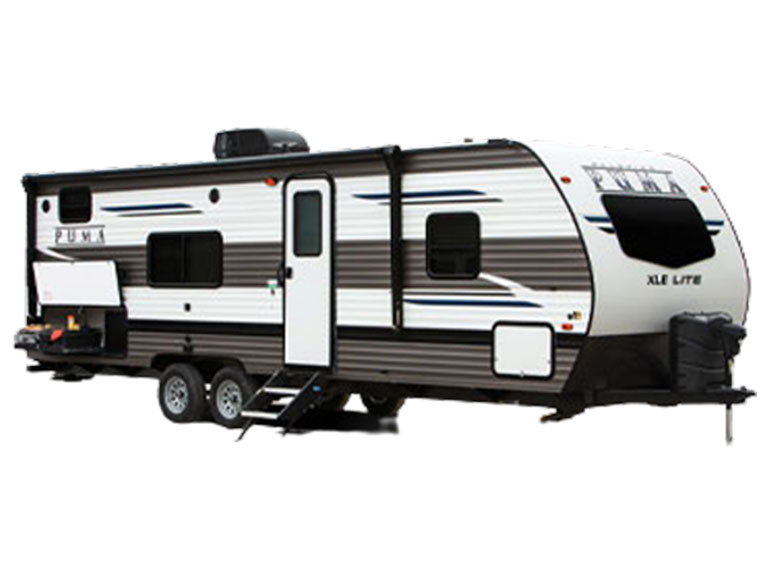 There is also a separate bunkhouse with a solid closing door for each bedroom for a more peaceful night. This room has 2 upper bunk beds as well as a fold-down sofa. There is a wardrobe with extra storage space for clothes and an area for a separate television.In the main area, the couch and table both slide out for more floor space. These both fold down into yet another 2 beds. The L-shaped table adds for a larger sized bed when folded down.This unit also contains a full outdoor kitchen with a cooktop, microwave, sink, and refrigerator. This is great for both cooking and cleaning up. However, unlike the fridge inside the camper, this one will only work when hooked up to a 110-volt power source.
Specifications Include:
Sleeps 8 people
Hitch weight-948 lb.
Gross vehicle weight rating-10 500lb.
Unloaded vehicle weight-8998 lb.
Cargo carrying capacity-1502 lb.
Exterior length-36'9″
Exterior height-11'1″
Exterior width-96″
Freshwater tank capacity-43 gallons
Greywater tank capacity-64.5 gallons
Blackwater tank capacity-34.50 gallons
Length of awning-21′
Refridgerator-11 cubic feet
Approximate price $39 660
Cons Include:
No bathtub, only a shower
Expensive
Very long in size
Heavy hitch weight
Heavy overall weight
Even though your truck may have the weight rating for this camper, it may not have the hitch rating. Check you user's manual beforehand to ensure you aren't at risk of damage or an accident if you haul this unit. Also, having no bathtub can be inconvenient for families with especially young children who need to get washed up.
Forest River Salem 31KQBTS
Forest River offers a premium bunkhouse camper for large families. The three massive slide outs add tons of extra live-in space. This first slide bumps out the u-shaped dinette and couch. Both of these fold down into additional beds. The second and third slides are both located at the back of the trailer in the bunkhouse. These bump out 2 separate sets of bunk beds for a total of 4 more beds. There is also an option to switch one of these beds out for another couch. The ground space left behind as a result of these slides leads to a large entertainment center complete with extra storage and a television.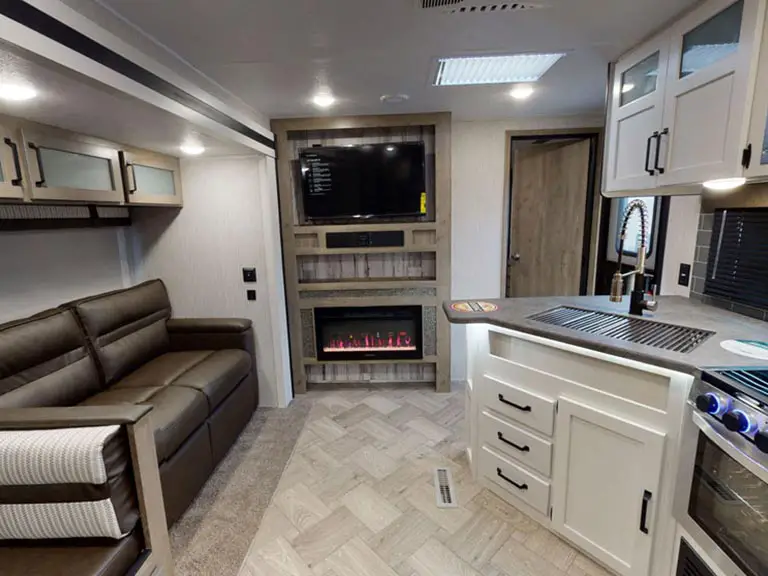 On top of this, there is also a master bedroom located at the front of the trailer. This additional room contains a queen-sized bed.
Specifications Include:
Sleeps up to 10 people
Hitch weight-905 lb.
UVW-8573 lb.
CCC-1292 lb.
Exterior length-36'6″
Exterior height-11'3″
Exterior width-96″
Freshwater tank-39 gal
Gray water tank-54 gal
Blackwater tank-27 gal
Awning size-18′
Approximate price $39 522
Cons Include:
Heavy to haul
Heavy hitch weight
Unit is long making it harder to drive with, park, store and fit into campsites
Expensive
Small black water tank
The length of this unit can make it especially hard for some families. While it does offer a lot of live-in space, parking, towing and storing can all be difficult.
Dutchmen Aspen Trail 3680 FLDS Travel Trailer
Dutchmen has one of the widest ranges of travel trailers meant for larger groups. While they do have a few smaller models, the majority of them sleep at least 6 people with the larger models allowing up to 10. The Dutchmen Aspen Trail 3680 FLDS can sleep up to 10 people comfortably. The queen-sized master bedroom is located at the back of the camper. This is a spacious room as the head of the bed is a slide-out. This room is equipped for a second ac unit should you desire to have one.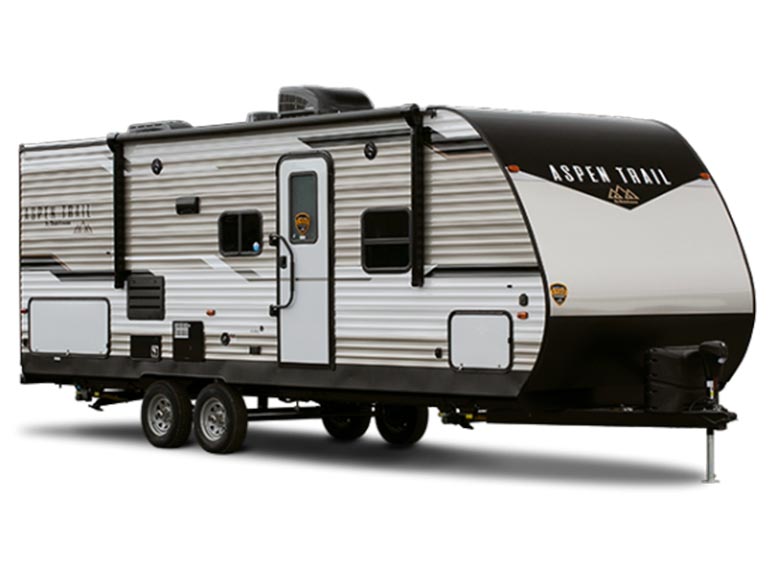 There are two entrances. A large awning has the advantage of covering both of these doors to ensure optimal coverage. The back one leads either into the bathroom or this bedroom. The front entrance boasts a sliding, glass patio style door. This leads to the main part of the camper. There is a fold-down couch as well as a table. These are both located on the second slide out. At the very front of the camper is another L-shaped couch located in front of a 110-volt electric fireplace. This folds down into an even larger bed then the queen-sized one.This camper is unique in that it comes set up for two different types of rear cameras. The first one is used for backing up the unit while the other one is to monitor the traffic behind you. This is especially handy when hauling a unit as large as this one due to the lack of vision it causes.
Specifications Include:
Sleeps up to 10 people
Length39′ 9″
Height (with AC)11′ 5″
Shipping Weight (Average)8,310 lbs.
CCC weight 2392 lbs.
Hitch weight-872 lbs.
Axles-2
Cargo Carrying Capacity1,518 lbs.
Fresh Water Capacity52 gals.
Grey Water Capacity78 gals.
Waste Water Capacity42 gals.
Awning Length20′
Refrigerator Size18 cubic feet
2-20 lb. propane tanks
50-amp hook-up
Outdoor shower
Approximate price $36 402
Cons Include:
Lack of light switches
Large (long)
Overall weight is heavy
Only set up for 2-20lb. propane tanks
Expensive
When considering this unit, make sure to note the size of it. Depending on where you plan to camp, there may be areas or campsites that you will not fit. You will also need to think about the best place to store something as large as this. There is only one light switch inside the main door and that is all. Every light is located on the ceiling and must be turned on by pushing a button in the middle of it. This can be problematic for either young children or for those who are shorter in size.
Keystone Hideout 38FQTS Travel Trailer
Keystone Hideout 38 FQTS can accommodate up to 8 people. This unit is unique in that it has 2 master bedroom areas. These both contain a queen-sized bed. In the rear one, the headboard slides out for extra floor space. With the room at the front of the trailer, the closet slides out for additional storage space.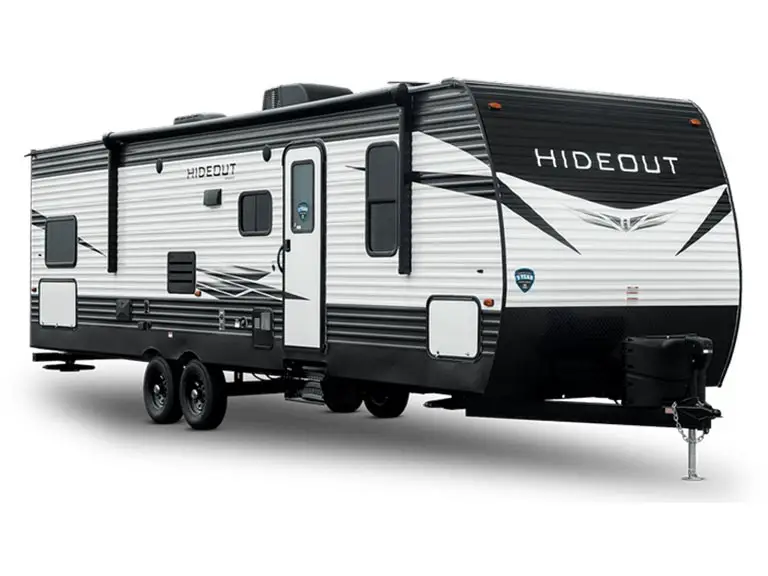 This unit also has a third slide which takes out the table and sofa. While both of these can fold down into beds, there is also an option to switch out the table for a free-standing one. However, if you take this option, you should be aware that the table will no longer act as a bed. On the other hand, you can move this table around. This feature can come in handy for a place to sit down and eat outdoors instead of inside.Easy cleaning is essential when traveling with a large group. For that reason, Keystone has added in a central vac system as well as a hidden laundry chute to their new campers. The ladder on the back gives easy access to the walk-on roof for any repair work needing to be done or to simply fetch that frisby that has gone astray. There are also locations ready for solar panel hookups for the freedom to trickle charge your batteries all day long. The back and sides are both prepped should you desire to add on cameras for easier viewing.
Specifications Include:
Sleeps up to 8 occupants
Shipping weight-9291 lbs.
CCC-2069
Hitch weight-1200
Length-39′ 11″
Height-11′ 4″
Freshwater tank-43 gallons
Waste water-78 gallons
Grey water-78 gallons
Propane 2-30 lbs.
Interior height 81″
12 Volt 55-amp converter
13.5K BTU air conditioner
4 1/2" Crowned roof
Approximate price $40 688
Cons Include:
A heavy hitch weights
Long making it hard to store, tow and fit into many campsites
A heavy overall weight
Expensive
Awning is not long enough to cover the second entrance
The hitch weight on this trailer is quite a bit higher than any of the others covered. At 1200 lbs., many trucks will not be able to handle this unit even though they may have the towing capacity for the overall weight. Your best option is to not use anything smaller than a one-ton truck. If you happen to have a diesel engine, even better. Attempting to tow this with anything not rated for the hitch weight will greatly increase your risk of either damage to the truck or an accident.
Conclusion
While these all sleep 6 people or more, they come in a ton of different layouts, price ranges, and sizes. You have to decide how much you would like to spend as well as your primary usage. If you are wanting more pro-longed stays, you may find a larger model with more features more comfortable. On the other hand, if you don't have a large space to store the unit, don't have a vehicle with a high towing capacity, or if you are simply intending on camping in more cramped areas, you will certainly benefit from a smaller model. It all depends on your family and personal preference.