The Ford Transit is a popular choice for Class B conversion vans and even some Class C motorhomes. The Transit offers most of the features and reliability of a Sprinter van at a more reasonable price point. Ford vehicles are also easier and less expensive to own and operate over time, making them a great choice for most RVers looking for smaller RVs that can do it all. Here we'll take a look at 5 Ford Transit camper vans that you can buy today as well as how the platform performs and compares to similar offerings from Mercedes and RAM.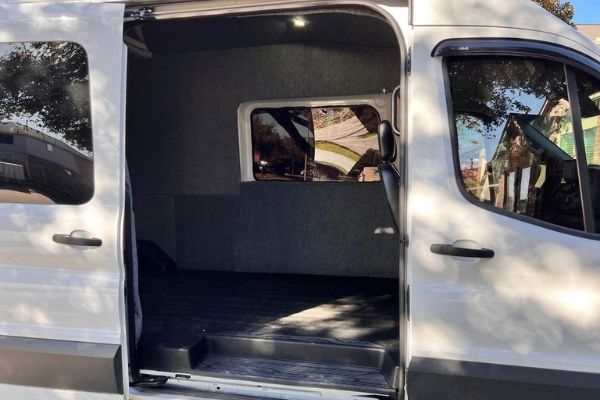 For more information on campervans in general check out these additional articles:
Why are stealth campervans so popular?
Class B VS C: Full-Time Living, Which Is Better?
Leisure Travel Vans Wonder
The Leisure Travel Vans Wonder is a sleek, upscale Class C RV based on the Ford Transit dually chassis. Unlike a class B conversion van which would be built by fitting out the interior of an existing van with RV fixtures and amenities, the Wonder uses a Transit chassis upon which the entire RV living space is added separately. By doing this, Leisure Travel Vans gets the best of both worlds. They utilize the outstanding running gear of the Transit while overcoming the space limitations of the stock Transit van. The end result is an outstanding Class C RV measuring out at a total length of 24' 9". As a Class C RV, there is a full set of RV amenities right from the factory including central air, a dry bath with a separate stand-up shower, and a well-appointed galley. The three available floorplans differ mainly in the sleeping arrangements with two options that can sleep 4. These include a rear convertible living/sleeping area and another option with 2 rear twin beds. The third option offers front twin beds and it sleeps 2.
Prices start at a very reasonable $140,210.
Coachman Beyond
The Coachman Beyond is a Class B motorhome based on the Ford Transit 350 HD van. The total exterior length is 22' 2" and it is available in 3-floor plans. All three-floor plans feature a wet bath, a well-appointed galley, and plenty of cabinet storage space. They differ in their sleeping arrangements with options for a rear sleeping/living area, rear twin beds, or midship twin beds with a rear bathroom. Standard equipment is impressive for a rig of this size. It includes a 2.8 kW onboard gas generator, a 13' awning, hardwood cabinetry, a preinstalled 195W solar panel, a 13.5K BTU A/C with dehumidifier, and a combo furnace/water heater.
Prices start at $161,268 USD.
Pleasure-Way 2022 Ontour 2.2
The Pleasure-Way 2022 Ontour 2.2 is a Class B motorhome based on the Ford Transit 3500 van chassis. It measures at 21' 10" total exterior length with a single available floorplan. That floorplan features a rear convertible living/sleeping area, a wet bath, and a galley. Ceiling height is a respectable 78" throughout the unit making it a great option for taller RVers. Standard features include Corrian solid surface countertops in the galley, a 2.8 KW onboard generator, an MPPT solar charge controller, LiFePO4 house batteries, 300 watts of solar panels, and 11,000 BTU A/C, a tankless water heater, and more. , the OnTour 2.2 is a well-equipped rig worth a look.
Starting at $148.785
Regency RV Ultra Continental
The Regency RV Ultra Continental is a class B motorhome built on a Ford Transit chassis. It measures out at 25' 1" in total length with four available floor plans. Two-floor plans feature a forward driver's side slide-out which will significantly increase the interior space while in camp. The slide-out options include one with a queen murphy bed and another with a twin bed. The queen murphy bed layout has a rear dry bath with a wardrobe closet. It is designed to sleep 2. If you need to sleep more, then the twin bed with slide option provides a total of 3 twin beds with two more twin beds in the rear. The rear twin beds can be bridged with an additional board to make a larger single bed. The two slide floorplans include either two rear twin beds or a larger "Island bed". All 4 floorplans feature a dry bath, standup shower, and well-appointed galley. Regency does not list pricing on their website, but models can be found at dealers on the internet.
listing as low as $172,000
Gala RV Montecarlo LXT
The Gala RV Montecarlo LXT is a class B motorhome based on the Ford Transit 350 with a total length of 22' 2". Gala bills this unit as being capable of sustaining 2 people off-grid for at least a week. It does this by providing standard equipment like 200 watts of solar panels for energy, grey and freshwater tanks that hold 45 gallons each, an 18-gallon black tank, two 100 AH Lithium house batteries, and a 2000-watt inverter. In addition to these class-leading features, the Montecarlo LXT also offers outstanding interior appointments in the galley and living areas. Floorplan and pricing information is missing from their website but they do offer a dealer locator. If you have one near you these units have a lot to offer and are certainly worth a look.
What Are The Upsides Of Ford Transit Camper Vans
Ford Transit vans have become a very popular platform for RV van conversions. This can be attributed to several advantages Transit vans have over the competition. First, they have the highest available ceiling height. This makes them a great choice for taller RVers. At 81.5", the transit has nearly 2.5" of additional headroom over the nearest competition.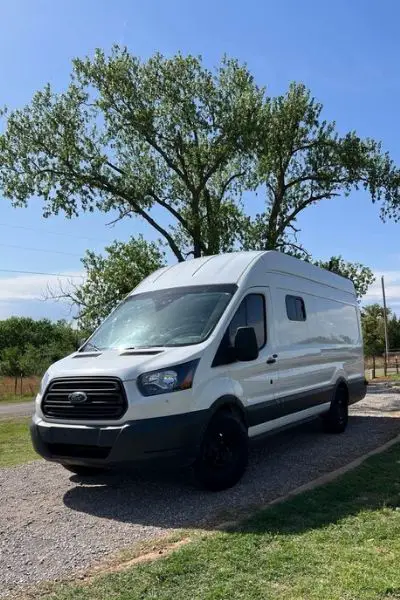 That may not sound like much, but every inch counts in an RV this size. Next, Transits are available with the most advanced all-wheel-drive (AWD) system offered in a van of this type. Ram Promaster is front-wheel drive only. Mercedes Sprinters offer a four-wheel-drive system which is really an AWD drive system with inferior capabilities to the Ford system.
The Ecoboost gas engines offered in the Transit offer excellent gas mileage with class-leading torque and horsepower ratings. If you prefer diesel, they offer one of those as well. The Transit has the best driving system, it will feel more car-like and the Synch infotainment system is far superior to what the competition offers. Finally, and perhaps most importantly, Ford is a well-established company with a broad network of nationwide service centers. No matter where you are in North America you will be able to get your Transit van serviced.
What Are The Downsides Of Ford Transit Camper Vans
While there are many upsides to the Ford Transit, they are not perfect. The biggest two issues related to the Transit are ground clearance and length. Ground clearance maxes out at 5.7" which means the Transit may not be the best choice for those who plan to do a lot of driving over rugged terrain.
The maximum overall length is 22' for the extended versions of the Transit vans. That's over 2 feet shorter than the longest Sprinter van. If you need that extra space for living space or gear storage then the Transit may not be your best choice.
How Do Ford Transit Vans Compare The Sprinters?
The Ford Transit compares very favorably to the Sprinter. The Sprinter has been available for longer and has established itself as the van to be measured against. The Sprinter was the first to offer an all-wheel-drive system and a diesel engine. Ford has caught up to and surpassed them by offering a superior all-wheel-drive system, a comparable diesel engine, and Ecoboost gas engines which are superior to the Sprinter option.
The Sprinter still offers better ground clearance for traveling on rough terrain. The Sprinter is also available in a 24-foot length which is at least 2 feet longer than the extended Transit. However, the Transit has a higher ceiling height option, the Synch system, and a better overall driving experience. Ford also has a larger support network than Mercedes and service, repair, and maintenance costs will be lower on the Transit.
How Do Ford Transit Vans Compare To Ram Promaster?
Ford Transit vans are superior to the Ram Promaster in almost every category. The Transit offers several features like an all-wheel-drive system, diesel engine, and the Sync infotainment system which are just not available in the Promaster.
The Transit high roof option is significantly taller than the Promaster and the gas engine/transmission combinations are better in almost every metric when compared to the Ram offerings. The Promaster does have one significant advantage over the Transit for conversion vans. The walls in the cargo area are flatter and squarer than the Transit. This makes installing interior walls and features easier. It also allows for a larger overall volume than the cargo area of the Transit.
Are Ford Transit Vans Reliable?
Anyone who grew up around Ford knows all the acronyms people attribute to the Ford name. Fixed Or Repaired Daily, Found On the Road Dead, etc. are all things of the past. Since around the mid-1990, Ford's quality has steadily increased to the highly reliable vehicles they offer today.
Sure, the 3 valve V8s and V10s, and 6.0L diesel were terrible engines produced during that time frame but they learned from those mistakes and quickly moved on to much better products. The current lineup of Ecoboost engines, 10-speed automatic transmissions and the 2.0 L Turbo Diesel are all solid and reliable performers that can easily withstand the rigors of van life.
Is The Ford Transit Camper Van The Right Answer?
The Ford Transit camper van is the answer for many people who are asking the right questions. If you need a capable, reliable camper van with strong engine options including diesel and all-wheel drive at a reasonable price then the Transit will fit the bill.
Also, if you're a taller person or prefer a van with more car-like road manners then you should check the Transit out. If you're looking for those things and need a longer layout or more robust off-road capabilities you may be better off springing for a Sprinter. They are significantly more expensive to own and operate but would be better suited to your needs.
Is A Ford Transit Camper Van A Good Buy?
Transit vans have a better price for performance ratio than any other conversion van out there. They are generally cheaper than Sprinters while still offering most of the benefits like all-wheel drive and a diesel engine which people choose the Sprinter for. Those Transit features are as good or better than the Sprinter's at a lower cost.
The only significant differences the Sprinter offers are the larger 24-foot length and better ground clearance for those who travel rough terrain frequently. If you don't need those things then the Transit is a great buy.
The Promaster is cheaper than the Transit but it lacks the Transit's high roof option, all-wheel-drive option, and diesel engine option. Even its gas engines are inferior to the Ecoboost engines found in the Transit. The features of the Transit more than justify the cost increase over the Promaster.