Curious about how much a motorhome can tow? The amount a motorhome can tow will highly depend on the RV type, (A, B, C or Super C) and age, it can range between 3,500 – 40,000 lbs (1,587 – 18,143 kg). Each make and model will have its own unique build to be able to tow maybe more or less than the other motorhomes in the same class.
Typically, a Class B will tow less at 3,500 to 5,000 lbs; a class C can tow from 5,000 lbs to 8,000; A Class A will tow 10,000 to 15,000 lbs and a Super C will tow 10,000 to 40,000 lbs.
If you have a Class B or Class C and you want read more on what it can tow, you can read more about it here or if you want to read more about super C's. To determine your own towing capacity of your motorhome there are a few numbers that are required to know to calculate your own numbers.
How Do You Determine The Towing Capacity Your Motorhome?
To determine the towing capacity of your motorhome, you'll first need the following numbers:
1. Maximum Towing Capacity – found under the chassis or getting the difference between the Gross Combined Weight Rating (GCWR) and the Gross Vehicle Weight Rating (GVWR).
2. Gross Vehicle Weight Rating (GVWR) – found inside the driver's door, under the tire pressure plate. This is the maximum weight the motorhome is allowed to have, fully loaded with fuel, water, people and cargo (includes the tongue weight, but not the towed vehicle).
3. Gross Combined Weight Rating (GCWR) – found under your chassis 'specifications' which will be the GVWR + the tow car/trailer/boat, etc.
4. Gross Axle Weight Rating – Total weight on each vehicle axle
5. Gross Trailer Weight – Total weight of the trailer
6. Tongue Weight – Total weight at the coupling point. Can be computed after getting the weight of the loaded tow vehicle (e.g. your motorhome) and the weight of the tow vehicle and the attached trailer.
7. Hitch Rating – found on the RV hitch where the 'hitch weight rating plate' will indicate how much you can tow. If the number indicated here is lower than the Maximum Towing Capacity, then you have to follow the hitch rating.
8. Occupant and Cargo Carrying Capacity (OCCC) – Also called the 'payload' and it's found on a sticker found only on motorized RVs (the location of the sticker depends on the manufacturer, some are found on the inside of the driver's door). OCCC is the maximum allowable weight of all occupants/passengers and cargo (gas tanks, personal belongings, food, etc.).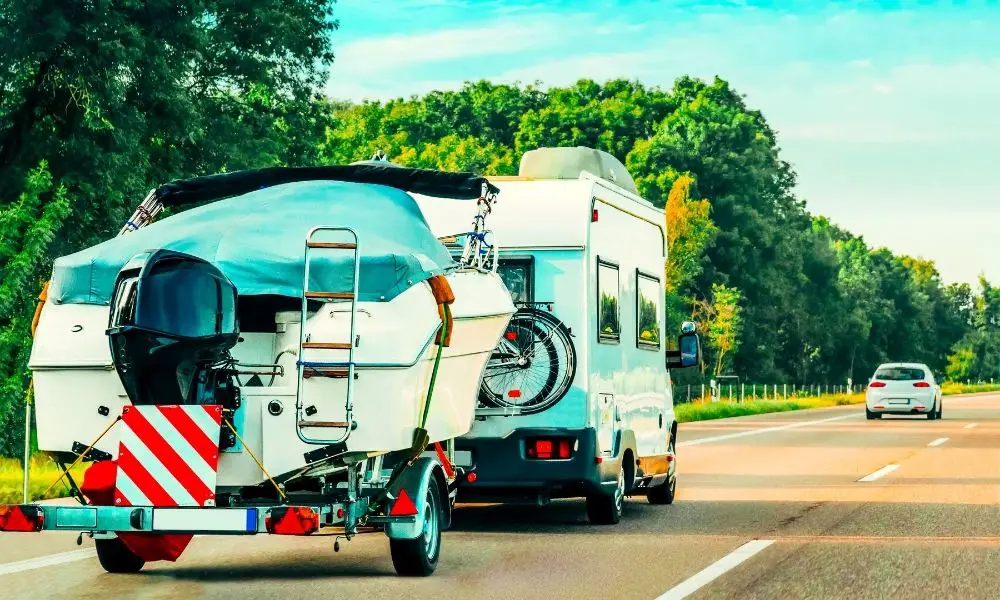 Keep in mind that the size of the engine and the weight of the motorhome (without any load – passengers, cargo, fuel, etc.) determines your RV's capability to tow. Let's say you want to compute for the weight of your unladen RV, you can use this formula:
GVWR – OCC = Empty RV
So when you do want to compute for the GCWR, you basically just need to add:
Loaded RV + Towed vehicle weight = Total Weight (Should be < than GCWR)
In case you're not sure how much your loaded RV is, make sure you also add:
1. Empty RV weight
2. Driver weight
3. Passenger(s)/pet(s) weight
4. Water weight (check the OCCC sticker; should include water in the water heater, and if ever full grey &/or black tanks)
5. Full propane tank weight
6. Food
7. Cargo
Can A Motorhome Pull A Trailer?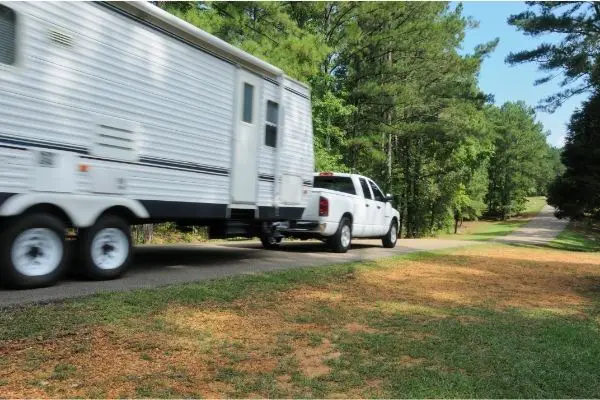 Towing a trailer behind a motorhome is a great idea to add more space for sleeping or towing more toys. A motorhome can certainly pull a trailer depending on the weight of the trailer and the towing capacity the motorhome. It comes down to the calculations of weight of the trailer and the towing capacity of the motorhome.
The table below is a quick guide when it comes to the weight the motorhome can pull (and also the weight of the trailer). Though your personal situation will be a little different than what is listed here. Remember to check the weight & length legal limitations stated in your country/federal/state/local laws (see next section).
Motorhome Classes

Motorhome Weight (lbs)

Can Tow (lbs)

Be Wary

Of

Things Usually Towed

Class A*

13,000-30,000

10,000-15,000

Length Restrictions

Tow-behind car

Class B

6,000-8,000

< 5,000

Weight Restrictions

Small/lightweight boats, ATVs motorcycles, snowmobiles, light campers

Class C**

10,000-12,000

5,000-10,000

Length & Weight restrictions

Some can pull boats, trailers or longer items (keeping within legal length restrictions)

Super Class C

10,000-50,000

Up to 40,000

Length & Weight restrictions

Pull boats & trailers at the same time (keeping within legal length restrictions)
*Heavier types with smaller engines won't be able to pull much
**Small Class C may not be able to pull much; Usually shorter than Class A types, some are on heavy-duty truck chassis
Table below shows the average weights and GVWR for the different types of trailers (and should only serve as a guide—please check the actual Owner's Manual):
Travel Trailer Classes

Trailer Type

Average Empty Weight (lbs)

GVWR (lbs)

Campers

Pop-up Camper

Teardrop Trailer

A-Frame Camper

Small Travel Trailer

Large Travel Trailer

Fifth Wheel Camper

2300

1700

1700

2800

6700

12700

2700-4000

2000-4000

2500-3600

1900-4500

6300-10500

17000-2000

Utility Trailers

Small Open Utility Trailer

Small Enclosed Utility Trailer

Large Enclosed Utility Trailer

700

1000

2700

1000-3000

2000-7000

4000-10000

 

7600

14700-22500

Other Trailers

Canoe / Kayak Trailer

Jet Ski Trailer

Motorcycle Trailer

Fishing Boat Trailer

Tow Dolly

Car Trailer

Large Boat Trailer

Small Horse Trailer

Large Flatbed Trailer

Dump Trailer

Gooseneck Flatbed Trailer 72

Large Livestock Trailer

200

300

500

600

600

1900

2200

2900

3000

6700

7200

7300

200-800

800-3000

1300-3500

900-6000

3000-5000

6000-15000

5400-34400

7000-8000

2900-26000

3000-30000

15900-36000

14000-24000
What Is The Best Way To Tow A Car Behind A Motorhome?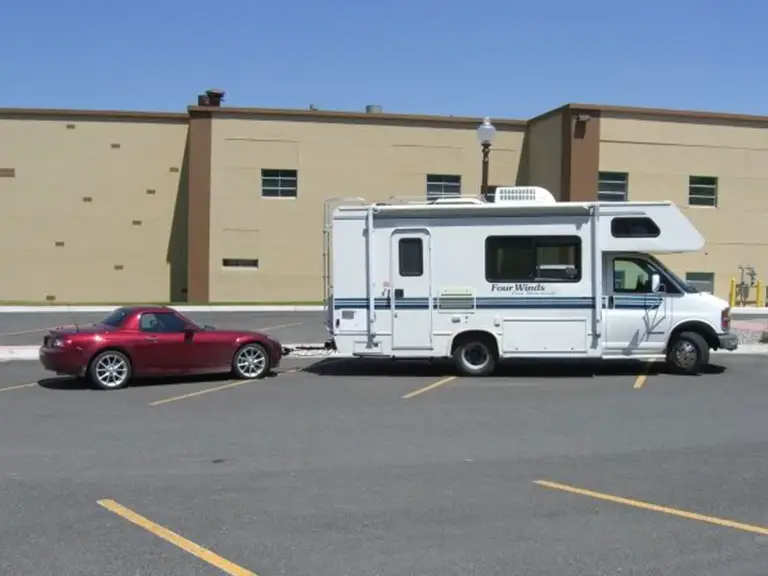 When it comes to towing a car behind a motorhome, there are a couple of ways to do so: Flat, dolly or on a trailer. The best way for most RVer's to tow a car is with a tow dolly or flat towing due to the weight and function, though each has advantages and disadvantages for each method. It really comes down to your situation. While Car trailers are great for car enthusiasts that want to protect their car, it is not as functional for most RVers. Here's a list of advantages and dis-advantages for each of the towing methods below.
Towing Type

Advantage

Dis-Advantages

Flat

Light weight
Almost any motorhome can tow
Adds very little weigh to towing the towing vehicle – 100 lbs
Low cost for the tow bar
Minimum fuel usage added due to the light weight
Easy storage when not in use

Not all cars can be towed flat 
Additional wear to the vehicles tires and bearings.
Modifications need to be made to the vehicle – baseplate install
Max vehicle weight is 5000
Adds milage to vehicle odometer.

Tow Dolly

Only front wheel cars can be towed
Does not add more length to the total towing length
Low cost
No modifications needed on the vehicle

Not all rear wheel drive can be towed
Can add up to 1000 lbs more to the towing
Vehicle needs to be below 5000 lbs – small and mid sized vehicles.
Need space for storage when not in use

Trailer (open

car hauler)

Any car can be towed
No wear on the vehicle
Some protection to the vehicle

Adds more weight to the total tow (2000 lbs)
Moderately Expensive $5000 to
Adds more cost to fuel consumption
Extra length makes it more difficult to park and tow

Enclosed Car

trailer

Any vehicle can be towed
Protects the vehicle from the elements
Can store other items in the enclosed trailer
No wear on the vehicle

Heavy – 2,500 to 3,000 lbs
Expensive over $10,000
Adds extra cost to towing the vehicle
Large size makes it difficult to park and tow
Conclusion
With all this in mind, I'm hoping this article helps get your motorhome and trailer all set for the trip ahead as it serves as a guide to towing with a motorhome. It can seem daunting, especially if you're new to this, but it isn't as scary as it seems.