Having your RV kitted out with a washer or dryer may seem like the ultimate convenience when you're on the road. However, RVs do not typically come with washers and dryers already installed. Newer, high-end Class A, Super C's, Park Model RVs sometimes have factory-fitted washers and dryers and many of those over 30 feet in length will have plumbing for laundry appliances in existing closet space.
Class B and Class C motorhomes will generally not have hook-ups for washers or dryers due to space restrictions, but there are exceptions. Using an RV park's laundry facilities is also an option but not so if you plan to go off-grid. So, what are all the choices out there? Let's take a deeper dive into the best ways to do laundry while RV-ing, looking at how you can install your own washer dryer and which rigs come with their own laundry appliances.
Can I Install My Own Washer Dryer In My RV?
Although almost all large RV parks have laundry facilities, washing and drying clothes at busy times can be a challenge, and if you are boondocking then this is not an option. If your RV comes with hook-ups then installing your own appliance can be done simply by a professional, or if you have the skills, you may want to do the installation yourself. You will need to have a supply of both hot and cold water available, an electrical outlet, and in some cases, a drain.

If you are thinking of having a washer dryer installed, first consider what your options are. There are two main types of RV washer dryers;
A stackable washing machine
A washer/dryer combo
Stackable washing machines are a popular option when there is space in your RV for placing one appliance on top of the other. Compact in size, they generally run on 15 amps and will need a power outlet of approximately 120 – 220 volts, depending on appliance size.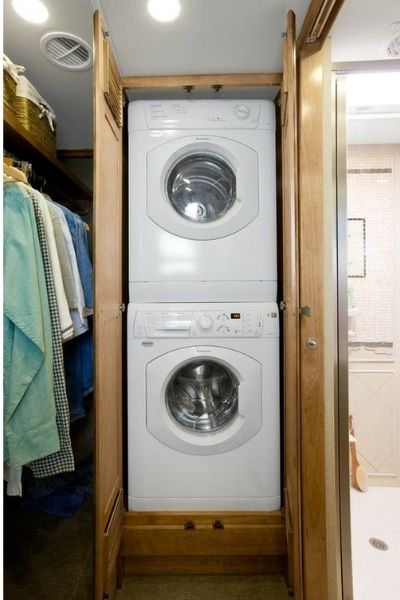 Washer/dryer combinations will also run on around 15 amps and require a 120-volt source with around 300 – 500 watts of power. They are often used when available space is compromised but much like home washer dryers, they can take longer to dry clothes. The plus side is that, unlike a single dryer, most combination units do not need to be vented, which can be an advantage.
*Remember most RVs run on 30 amps so when considering electricity consumption, you will need to consider the other appliances your RV is using.
What Is Best For My RV – A Vented Or Ventless Dryer?
The best option depends on your own individual use and budget. Vented dryers are typically more expensive and require a vent hole to be drilled in your RV so the air used during a cycle can escape. Remember that you will need to clean this vent regularly too.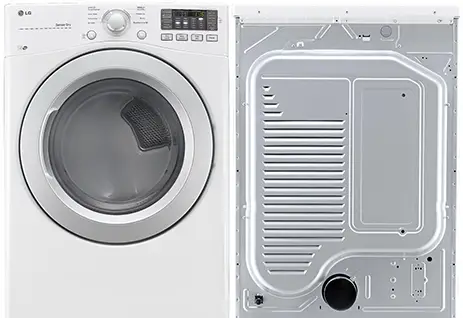 A ventless dryer pulls in cool air which is heated and moisture is drawn into a chamber that can be emptied, eliminating the need for a drain. Although no drill hole is required like the vented option, clothes can often take longer to dry.
How To Install Your Washer Dryer
It's advisable that a professional plumber or electrician installs your RV's washer dryer. However, if you have the necessary skills, then installing a washer dryer combo is easier than starting from scratch and putting in your own hook-ups.
You will need the following to set up your appliance successfully:
Connections to hot and cold water
An electrical outlet
A vent for your dryer
Hook up the drain hose
Before you start, note the amount of water capacity your washing machine holds and if this tallies with the capacity you have in your RV's grey tank.
Creating a vent in your RV:
The preferred choice of drying appliance is vented. For this, you will need a hole leading to the outside. It can feel daunting drilling a large hole in your rig so preparation is key. You will need:
Safety glasses
A drill
Hole saw drill bit
Pilot hole drill bit
Steps:
Move the appliance away from the wall so you have enough space to work.
Mark off from the inside of your RV where you want the vent to be. Sometimes there is a vent sticker labelled by the manufacturer but we recommend checking for metal studs with a pin point metal detector so you don't come into contact with it while drilling.
Measure, and measure again!
It's better to have no bends in the washer dryer vent hose, so mark off where the vent comes into contact with the wall.
From the inside, begin drilling a hole in your RV with your hole saw.
Use the pilot drill bit to create a pinpoint from both sides. This will allow you to see from the outside exactly where to line your drill up to.
Begin drilling with the hole saw, using the pilot hole as a guide until you have created a full circular hole.
From here, you can attach your dryer vent flapper, seal with silicone and drill on with screws.
From the inside, using the aluminum ducting from the washer dryer, connect to the dryer vent.
To connect to the water, you will need to attach the red and blue (hot and cold) water hoses to your RV's hook-ups. You will then need to attach the drain to the grey tank and plug in your appliance to an electrical outlet to make it fully operational.
I Don't Have Hook-ups In My RV – Can I Still Have A Washer Dryer?
If you don't have hook-ups, you can still have a washer dryer. You can have hook-ups installed by a professional electrician or plumber who will ensure your wires are routed correctly. Remember, if your RV did not come factory fitted with hook-ups then you will need to consider that you will be adding to your RV's dry weight with a new appliance.
As an alternative to hook-up installation, you can use a portable washing machine cum dryer. There are various products available online, including single and twin tubs for both washing and drying, and others of different capacities and sizes. Most are for small loads but capacity does increase for larger appliances. Prices range from approximately $120 – $260. Powered versions typically run off 230 volts and vary in size.
Advantages Of Portable Washer Dryers:
Usually simple to operate with a drainage tube and intake hose
Easily transported to different locations in your RV
Easy to add and drain water
Environmentally friendly
Saves power and energy
Boondocking And Washing
If you are boondocking, you will need an alternative way of doing your laundry too. Some RVers take enough clean clothes to last until they can go to a laundromat, others use hand-crank washers with no electricity required, eco/hand spinning solutions for drying only, and even foldable wash kits with washboards, towel and clothes lines and inflatable hangers.
How Do I Maintain My Washer Dryer?
There are various ways of maintaining your washer-dryer to get as much life out of it as possible. As with home appliances you will need to do the following:
Clean the whole of your appliance regularly to prevent grime build-up and keep your machine performing
For ventless dryers, clean and wash the vent every couple of months to remove detergent build up as well as lint. You may need ladders to reach the outside of your RV
Try to keep doors open when not in use to prevent moisture becoming trapped inside
Regularly check your hoses to ensure they aren't worn or cracked – also ensure they are no blockages inside them
Remove product build-up and bacteria in your washer dispensers frequently, this will ensure your clothes are being washed effectively