Towing a camper with an EV is possible as long as the total weight of the camper does not exceed the maximum towing capacity of the electric vehicle's maximum towing capacity. Though currently there are not many all-electric trucks to choose from.
As more trucks roll out on the market, we will discover the limitations of all electric towing. Today we can only rely on the information provided by the manufactures claims of towing capacity.
What Electric Trucks Available Today?
As of this writing (2/9/2022), only the Hummer EV from GMC is currently available for customer deliveries. Rivian is expected to begin deliveries of the RT1 Launch Edition pickup starting as early as March 2022 with the R1S SUV following in as early as June 2022.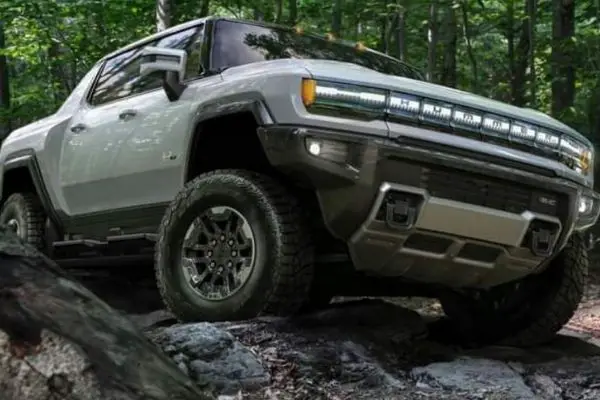 The Ford F150 Lightning is expected to be shipping to customers sometime in the spring of 2022, although no firm date has been set yet. No other manufacturers currently have firm plans to have deliverable vehicles in 2022.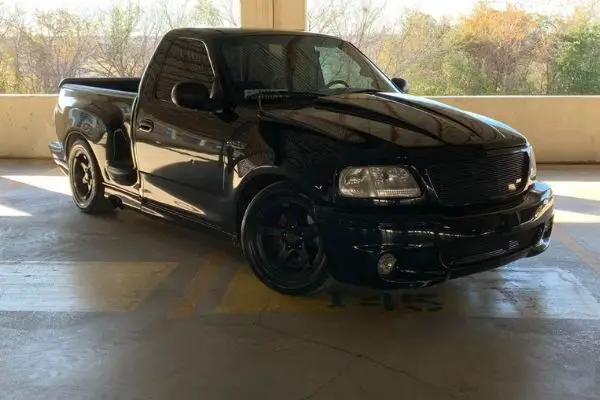 Is Towing With An EV Different Then With Regular Vehicle (Truck)
Fundamentally towing with an EV is exactly the same as with a regular vehicle. The major difference you can expect are the following: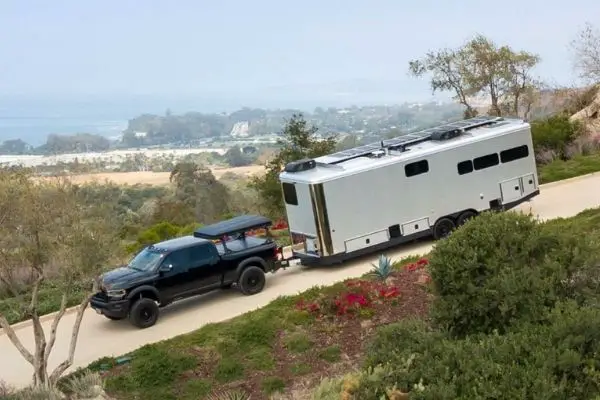 Range issues. Towing a trailer will significantly reduce the range of your EV tow vehicle. The amount of reduction will depend on a number of factors including the weight of the trailer, the aerodynamics of the trailer, weather conditions and terrain. Real world tests suggest that you can expect about a 75% range reduction when towing any enclosed trailer of around 3,000 lbs.
Roadside assistance. Many RVer's use roadside assistance programs to assist them in the case that they have a failure while on the road. Currently, most roadside assistance programs are not equipped to deal with the needs of EVs. For example, most roadside assistance programs will bring fuel to you if you run out. At the moment, there is no equivalent service for EVs.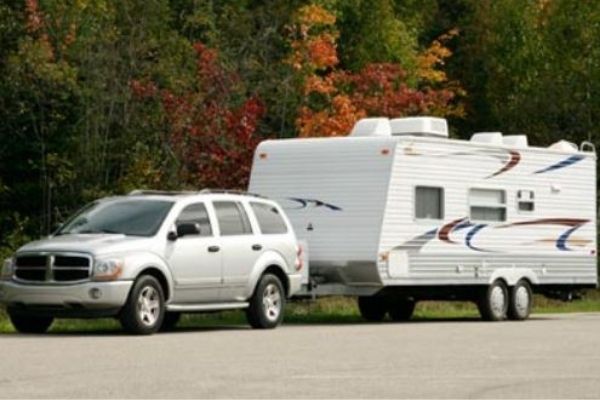 How Much Weight Can An Electric Truck Tow Today?
Given that only the Hummer EV is truck currently shipping to customers, you can tow up to 7,500 lbs. If you consider all currently available EVs and those that are projected to be shipping in 2022, the following are some of the options you can choose from.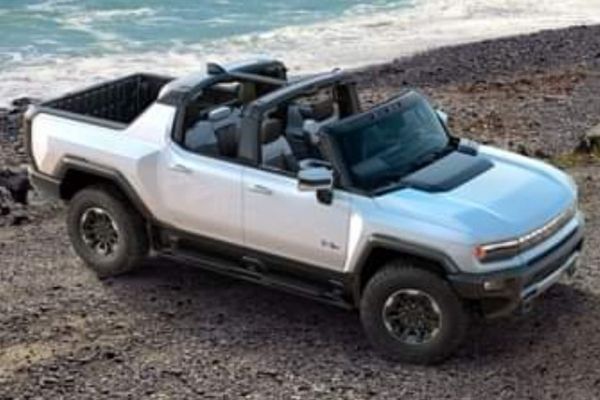 Note that many of these have very low towing capacities. Too low in fact to tow anything but the smallest travel trailers. It's also important to look at the total tow package offered by each vehicle you are considering. EV manufacturers squeeze every bit of range out of their vehicles by trying to keep them as lightweight as possible.
This often leads to flimsy vehicle structure which can translate to features like very low tongue weight capacity for the included hitch receiver. For example, the max hitch tongue weight for a Tesla Model Y is only 350 lbs. This may limit your trailer choices to units below the max towing capacity.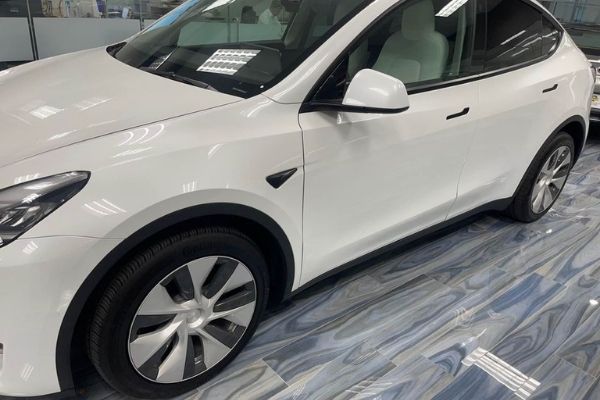 Electric Vehicle
Max Range (not towing)
Towing Capacity
Availability

GMC Hummer EV Pickup Edition 1

329 mi/529 km

7,500 lbs/3,402 kg

December 2021

Rivian R1T

300 mi/482 km

11,000 lbs/4,990 kg

March 2022

Rivian R1S

300 mi/

7,700 lbs/3,493 kg

June 2022

Ford F150 Lightning

230 mi/ 370 km – standard

300 mi/ 482 km- extended

10,000 lbs/4,536 kg

Spring 2022

Tesla Model X

333 mi/ 536 km

5,000 lbs/2,268 kg

2015

Tesla Model Y

303 mi/ 488 km- standard

326 mi/ 525 km – long range

3,500 lbs/1,588 kg

2020

Tesla Model 3

278 mi/ 447 km – standard

360 mi/ 579 km – long range

2,000 lbs/907 kg

2017

Hyundiai Ioniq 5

256 mi/ 412 km – AWD

303 mi/ 488 km – RWD

1650 lbs/748 kg

2022

Kia EV6

274 mi/ 441 km

2,300 lbs/1,043 kg

2022

Audi Etron

212 mi/ 341 km

4,000 lbs/1,814 kg

2022

Volvo XC Recharge

223 mi/ 359 km

2,000 lbs/907 kg

2022

Volkswagen ID.4

240 mi/ 386 km

2,200 lbs/998 kh – RWD

2,700 lbs/1,225 kg – AWD

2021

Kia EV6

274 mi/ 441km

2,300 lbs/1,043 kg

2022
How Far Can An Electric Truck Drive?
The maximum range for electric trucks ranges from about 230 miles to around 350 miles. Those ranges are under ideal conditions with no load in tow. Those ranges are affected greatly when you add the weight and added wind resistance of a trailer behind the vehicle.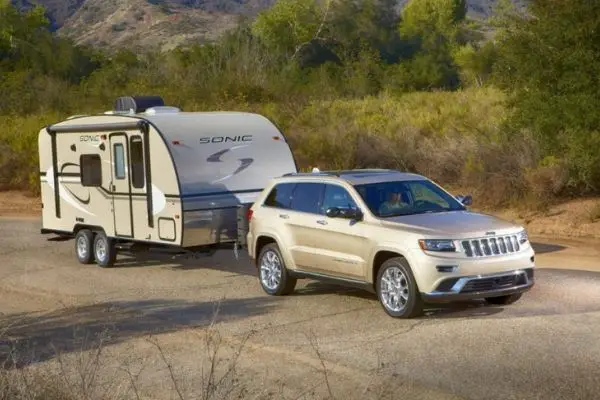 Range issues are the biggest factor that will hamper the adoption of electric vehicles for towing applications. Real-world examples using Tesla EVs have shown you can expect about a 70% – 75% reduction in range when towing a standard travel trailer of around 3,500 lbs. To put that in perspective, a Tesla without a trailer has a range of around 300 miles.
While towing a 3,500 lb travel trailer at highway speeds on relatively flat ground that range can fall to around 95 miles. Due to limitations in infrastructure and the amount of time, it takes to charge an EV, towing with one is impractical at best when compared to towing with fossil fuel-powered vehicles.
How Can You Get More Distance Towing With An EV?
At the moment, you are at the mercy of the laws of physics. More weight and more wind resistance = shorter range. The only practical way to extend the range in a towing EV is to either minimize the weight of your trailer or minimize the amount of drag the trailer creates when moving down the road.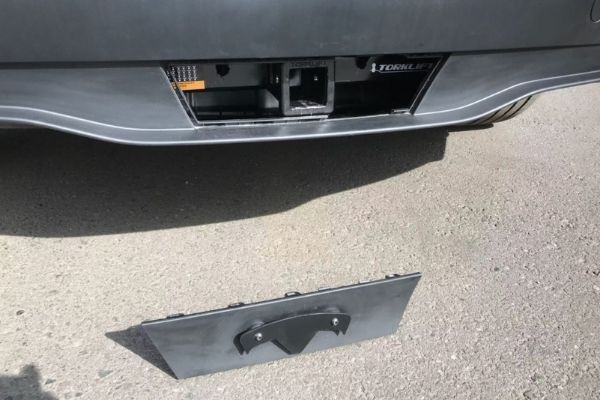 If you already own a trailer, minimizing the drag could be quite challenging so you may be limited to keeping the weight down. If you are shopping for an EV towable trailer then keep it small, lightweight, and sleek to minimize its effect on your EV range.
The previously mentioned example was a gentleman towing what appears to be a Keystone Springdale 1800. This is a 3,500 lb+ standard design travel trailer so it will have a normal front profile and the wind resistance of a typical large travel trailer. Towing this unit, they saw a reduction in range on their Tesla Model Y from around 300 miles to 95 or a 70% range reduction.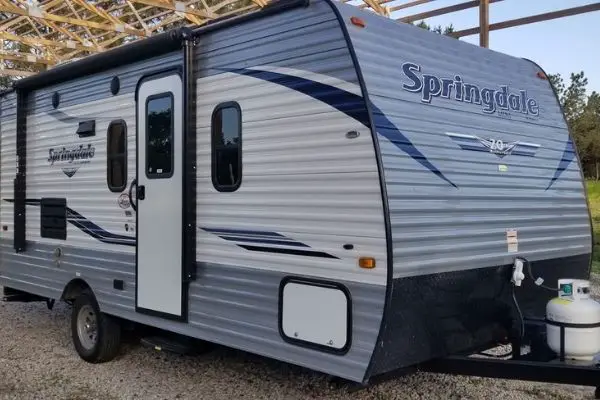 Going with a smaller, lighter, more aerodynamic trailer, this actual owner states he gets about 150 miles between charges when towing at 55 mph on flat ground. His trailer is a Safari Condo Alto travel trailer which he tows behind his Tesla Model X 100D.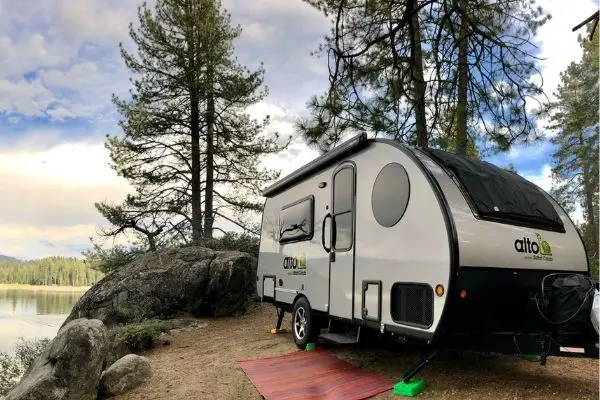 The Model X 100D has a range of 290 miles when not towing a trailer so this particular trailer lowers the effective range by about 50%. The trailer itself is an expanding clamshell teardrop design with an empty weight of 1825 lbs. The teardrop shape is relatively aerodynamic when compared to larger traditional travel trailer designs.
The expanding clamshell design improves aerodynamics further by allowing the trailer height to collapse while on the road. This makes for a very small face profile when even compared to other teardrop-style trailers.
Would The Electrifying Airstream Help With Towing?
The eStream is an electrified concept trailer developed by Airstream. It looks like your typical Airstream trailer but hiding under that shiny metallic skin is a whole lot of features and technology geared toward addressing the issues of towing with an EV. For starters, under the floors is a complete EV battery system that powers the trailer.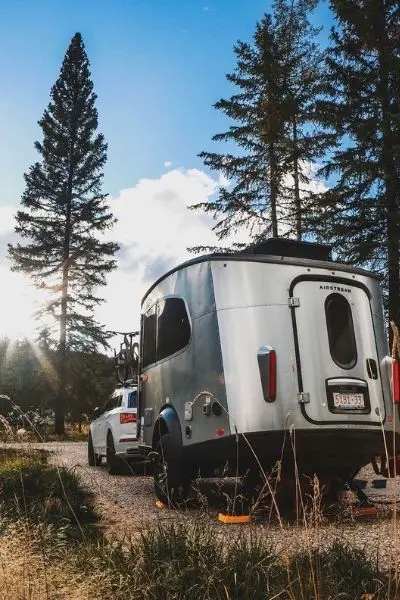 Both of the trailer's wheels have drive motors that are powered by the internal battery system. The trailer includes sophisticated control software and a unique hitch that allows the trailer to follow the tow vehicle essentially weightlessly under its own power. This essentially removes the extra weight of the trailer from the tow vehicle's range.
The trailer also comes equipped from the factory with a large roof-mounted solar array which can be used to keep the internal batteries charged, even while on the road. Presumably, you can also charge your EV while in camp from the solar panels.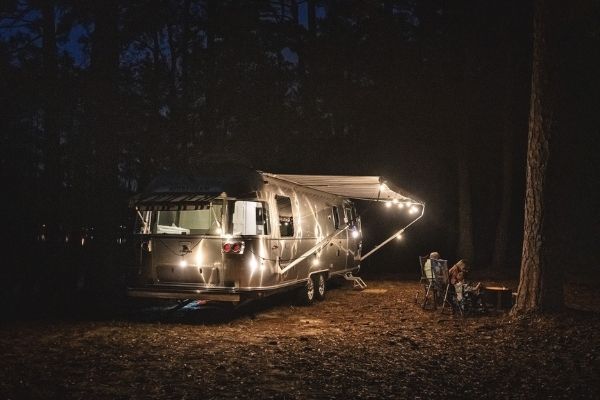 This is just a prototype trailer and it is not available to the public. However, in the short term, this type of set-up will likely be necessary to provide the range necessary to make EV-based RV towing practical.
Unfortunately, it is likely to dramatically increase the cost of a towable RV beyond what anyone would consider acceptable. The main selling point of a travel trailer over a motorhome is the lower cost and complexity of the unit. This trailer, if it ever sees production will likely offer none of those advantages.